After Biden-Putin Call, U.S. Still Unsure Whether Russia Will Invade Ukraine
After an hour-long call between U.S. President Joe Biden and Russian President Vladimir Putin, the White House remains uncertain as to whether the Kremlin may ultimately order military action against Ukraine amid flaring tensions in Eastern Europe.
Speaking to reporters after the leaders' conversation on Saturday, a senior U.S. administration official said that Biden was "very direct with President Putin about our concern, the safety and security of Americans still in Ukraine" after the U.S. leader and his top officials called on U.S. citizens to leave the country before the end of the weekend.
And Biden was said to have outlined the consequences of a potential attack, including "severe economic costs" that U.S. officials have warned about for weeks as well as "irrevocable reputational damage caused by taking innocent lives for a bloody war choice."
The senior administration official said "the two presidents agreed that our teams will stay engaged in the days ahead," but asserted that "Russia may decide to proceed with military action anyway, that is a distinct possibility."
The White House's national security adviser, Jake Sullivan, had said on Friday that such action was "a very, very distinct possibility" and that "our view that military action could occur any day now and could occur before the end of the Olympics is only growing in terms of its robustness."
Pressed by a reporter on the phrasing, the senior administration official on Saturday's call said "we don't have full visibility into President Putin's decision-making" and recommended reporters direct their questions to the Kremlin.
But the senior administration official also offered further insight into the basis of the White House's assessment, saying "we are not basing our assessment on what the Russians say publicly," but rather on "what we are seeing on the ground," including the growing "Russian buildup on the border with Ukraine, and no meaningful evidence of de-escalation nor any real interest in de-escalation."
"The trends that we have been talking about for many weeks now are continuing," the senior administration official added. "Beyond that, I don't think we have any ability to offer as to our plans going forward."
The senior administration official said that U.S. officials remain committed to a diplomatic solution as "the stakes are too high not to give Russia every chance to avoid an action that we believe would be catastrophic," but "it remains unclear whether Russia is pursuing its goal diplomatically as opposed to through the use of force."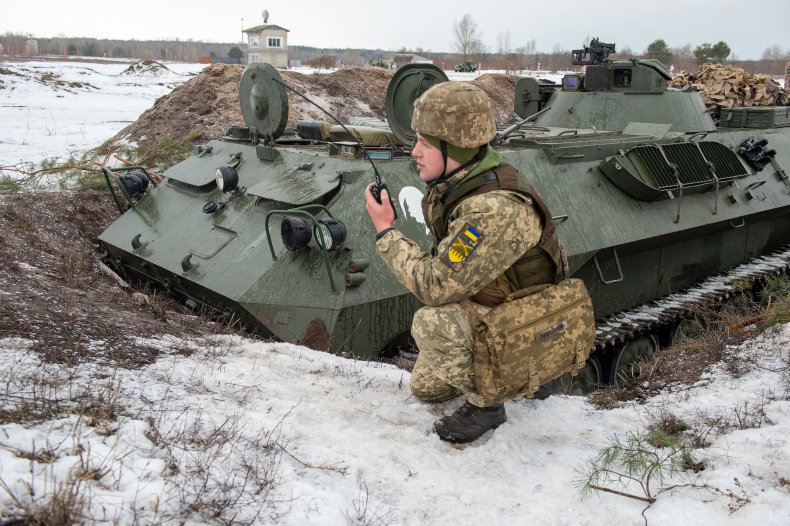 On the eve of the heads of state's latest talk, Russia's ambassador to the United States, Anatoly Antonov, criticized the increasingly stark tone of the White House's warnings that Moscow may pursue military action against Ukraine.
"Jake Sullivan's remarks sound alarmistic," Antonov told Newsweek late Friday. "We see such statements only as a desire of the U.S. administration to maximize the magnitude of the propaganda campaign against our country and foster the impression among the public that 'aggression' is imminent."
"Claims by politicians of Russia's plans to 'attack' Ukraine during or after the Olympics are not substantiated by any evidence," Antonov said. "Washington continues just to splurge by invoking some kind of intelligence and not providing its details."
Satellite imagery has shown an unprecedented number of Russian troops amassed along Ukraine's borders, including in Russia and in its ally, Belarus, where joint exercises continue. But Moscow has repeatedly denied any plans to conduct such an operation, which if conducted before March 20, a month after the Winter Olympic Games end and a week after the conclusion of the Paralympic, would constitute a potential violation of a non-binding Olympic truce endorsed by the United Nations and Russia's close partner, China.
"Even local commentators note that American citizens' trust in such baseless allegations has dropped dramatically," Antonov said. "In turn, the Russian leadership has stated on many occasions that our country is not going to attack anyone."
Two U.S. officials, familiar with U.S. intelligence, with whom Newsweek has spoken confirmed that intelligence showed that Russia could stage an invasion of Ukraine in a matter of days, while a third felt there "there is no pragmatic reason for the Russians to invade on a mass scale" and, rather, "right now Moscow continues to show force and test the international response."
Current and former U.S. officials were also divided as to whether U.S. intelligence concerning a potential "false flag" plot by Moscow against Russian-speakers in Ukraine to be used as a pretext for an invasion was genuine or possibly a narrative deliberately fed to the U.S. by Russian intelligence.
The senior administration official on Saturday's call said there was "no fundamental change" following the Biden and Putin's conversation.
Hours before the call, former President Donald Trump, whose first of two impeachments stemmed from an alleged quid quo pro offer of sending weapons to Kyiv in exchange for an investigation into Biden's family dealings in Ukraine, stated in a call to Fox News that "nobody was ever tougher on Russia" than him, but that he "got along with Putin very well" and "we respected each other."
As for expectations of Russian military action, Trump referenced Biden's earlier comments in which the current U.S. leader predicted that Putin "will move in" on Ukraine, and said he felt the latest call between the two world leaders would produce little results.
"When [Biden] originally said, 'He's going in,' everybody was like, 'Did he just say that?,' nobody could believe it, but he said it," Trump said. "And it was almost like a card. Ukraine went crazy when they heard that. Now, the phone call I think is perfunctory. I don't think much is going to come out of it."
Ukrainian officials, who remain locked in an eight-year war with pro-Moscow separatists in the east, have sought to downplay the impending nature of possible Russian military action. A senior State Department official spoke to the gap in assessments out of Washington and Kyiv in response to a reporter's question on Friday.
"With regard to our conversations with Ukrainian officials about this matter, they've been very professional," the senior State Department official said, "and the Ukrainians understand why we are taking these steps even if all of them don't necessarily agree, as you noted, with our threat assessment and with our assessment of the extent to which potential conflict is imminent."
While Moscow has sought security guarantees against the expansion of the NATO alliance, and its military activities along the country's western borders, the Russian Defense Ministry reported on Saturday of an apparent incident on the country's eastern frontier, near the Pacific island chain that separates Russia and Japan.
"On February 12, 2022, at 10:40 a.m. (Moscow time), a U.S. Navy Virginia-class submarine was discovered in the area of ​​the planned exercise of the Pacific Fleet forces in the territorial waters of the Russian Federation near the Urup Island of the Kuril Ridge," the Russian Defense Ministry said.
"In the mode of sound underwater communication, the crew of a foreign submarine was given a message in Russian and English: 'You are in the territorial waters of Russia. Come up immediately!'" the ministry added.
The Russian military stated that the warning was ignored and that Russian Udaloy-class frigate Marshal Shaposhnikov responded with "appropriate measures," effectively chasing the U.S. underwater vessel off.
Reached for comment, a Pentagon spokesperson told Newsweek that U.S. defense officials "are aware of press reporting about an alleged naval incident in the Pacific," but "we cannot confirm the details of these reports at this time."