After Calls to Defund Police, Democrats Consider 20% Increase to Capitol Police Budget, Making It Biggest Force in the U.S.
Following the deadly Capitol riot from almost two months ago, House Democrats are considering a major increase to the U.S. Capitol Police (USCP) budget—a rate that would make it the biggest police force in the nation, despite calls within the party last year to defund national police forces.
The legislative branch subcommittee of the House Committee on Appropriations met on Wednesday to hear Acting USCP Chief Yogananda Pittman request an increase of USCP's 2022 budget of $619.2 million, a 20 percent hike from last year's budget, citing that additional resources to train, equip, recruit and provide wellness resources for officers are necessary after the January 6 insurrection. USCP is the police force specifically dedicated to protect Congress, and its budget currently accounts for 10 percent of the entire legislative branch budget.
Pittman told the lawmakers the increased funding would include money for 212 new officers for "mission critical requirements" such as a "quick standby force," "threat assessment agents" and "dignitary protection agents."
"USCP employees are our greatest assets," Pittman said. "Therefore our budget request focuses on our employees, and on meeting mandatory salary requirements, overtime for critical training and securing securing capabilities within the general expenses to increase resources available to our personnel."
Democrats listening to Pittman's argument said there was a "clear" need to increase spending on USCP—the very same day House Democrats voted along party lines to pass the George Floyd Justice in Policing Act, which includes provisions intended to reduce police violence especially against Black Americans, as well as improve law enforcement practices across the country.
"Increases are needed," Representative Tim Ryan (D-OH), chair of the legislative branch appropriations subcommittee, said in his opening statement on Wednesday. "But we need to understand what the increases will mean and what they will be used to accomplish."
Ryan has previously expressed support of the George Floyd Justice in Policing Act.
The move demonstrates contradiction by the Democratic Party when it comes to action on racial justice issues. While more progressive Democrats have called to defund the police, Democrats' at-large support of expanded police budgets isn't new policy, according to Alec Karakatsanis, founder and executive director of Civil Rights Corps, a non-profit organization that works to challenge systemic injustice in the U.S. legal system.
He said to Newsweek that although some Democrats called to defund national police forces after the death of George Floyd while under police custody in Minneapolis last year, the party's longtime stance has been to bolster police unions and increase the size, weaponry and technology of police departments, contributing to police violence in communities and the rise of mass incarceration.
"The Democrats have been the ones pushing for expanded power and weaponry to police, even though they knew in every major U.S. city, the police were disproportionately using that weaponry, and that money, to target Black populations," Karakatsanis said. "I don't think this is a break with the Democratic Party. It shows just how hard it will be to get mainstream Democrats behind very basic principles of racial justice and ending mass incarceration."
Activists like Karakatsanis have been very critical of Democrats potentially channeling more funds to USCP because it's not clear how more dollars will address these structural gaps that made the failures on January 6 possible.
"This is money that is going to one of the least accountable, most corrupt and most useless collections of police and military force that exists in the federal government, and that's saying something," Karakatsanis said.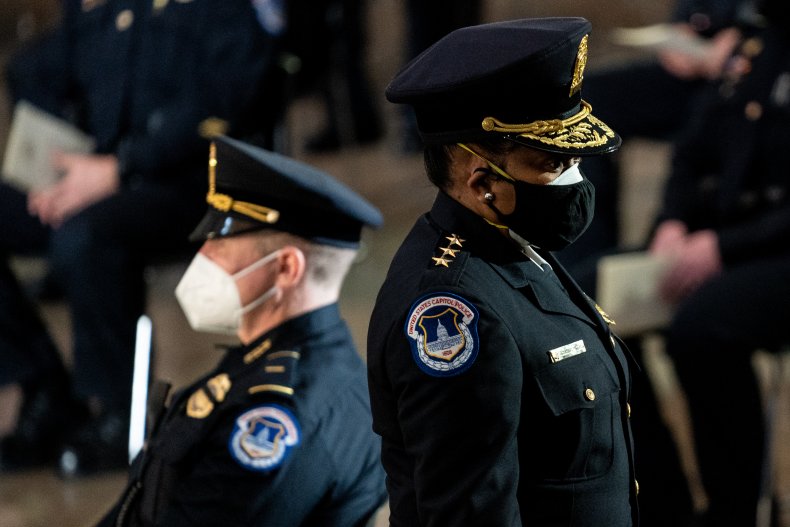 A spokesperson for the subcommittee confirmed in an email to Newsweek on Thursday that Democrats hadn't yet made a choice regarding Pittman's request: "So far the request is just that—a request—and the committee has not taken any action on it."
Pittman told lawmakers her request for additional funding was a consequence of the mishandled, violent mob who breached the U.S. Capitol building in January.
"The events of January 6 demonstrate that you USCP must quickly assess and adjust to successfully carry out our mission, and this world requires a significant investment in staffing training tools and information gathering resources needed to meet the ever-changing security challenges, including the threat of domestic terrorism," she said in her opening statement, citing a 93 percent increase in threats to Congress in the first two months of 2021 compared to the same time period last year.
Karakatsanis said requests like Pittman's follow a dangerous precedent for police forces to ask for more money when something goes wrong.
"I think we've seen as a pattern, generally, that police departments use their own brutality and misconduct and incompetence to justify more and more money every single year for better training and better equipment and better technology...this is a cycle that we see repeated throughout the country and police departments," Karakatsanis said. He added that USCP had "more than enough" officers and weapons to protect Congress on January 6, especially given other police forces in the area surrounding the Capitol.
A lack of resources didn't cause the breach, he said, and the "missing piece" contributing to the lack of security response that day is "police forces themselves are aligned with white supremacy and right-wing political activity."
"No amount of extra officers, or a fence for that matter, will fix what is clear: the decision makers in several federal law enforcement and military agencies simply did not see a crowd of almost entirely white people who carry around Confederate flags and Trump flags and symbols of hate as a threat," D.C. Councilmember Charles Allen wrote to Newsweek on Thursday.
USCP is overseen by the Oversight Board, which is protected from public accountability because board activities are not public available, Forecast reported. The Capitol Police chief is a member of the Board by virtue.
"There are huge structural problems with the Capitol Police," Karakatsanis said. "It's incredibly un-transparent...it's [an] incredibly corrupt and brutal police force traditionally, and the majority of its arrests are very poor people in the surrounding D.C. area. They've been ruthlessly targeting homeless people of color in D.C. for years."
Half of USCP reported incidents are traffic stops and minor drug arrests, which largely affect poor people in the D.C. area, with only a few arrests actually occurring on Capitol grounds, according to a report by First Branch Forecast.
The same report found that USCP's budget has increased about 333 percent since 1995, whereas the legislative branch budget has only grown by about 31 percent in that period. Forecast said accountable congressional oversight of the use of USCP's growing budget was more of an issue than a lack of funding.
"Kids on field trips and homeless residents nearby get treated with greater scrutiny and are subject to more heavy-handed interventions by these officers on a daily basis," Allen said. "And the worst part is this federal agency doesn't have to answer for their behavior to the D.C. residents who endure it, even for traffic stops conducted off the Capitol grounds. I don't see how anyone can look at what happened on Jan 6. and think the U.S. Capitol Police was just missing an extra $100 million in order to protect the one asset under their jurisdiction."
Pittman's request for an additional $103.7 million would be dedicated to a 91 percent increase in screening technologies, 131 percent increase in security systems, a 43 percent increase in training services, as well as $2.5 million for USCP's student loan repayment program, "a critical competent for employ recruitment and retention."
Newsweek has reached out to USCP for comment on the 2022 budget request.
Update: This story has been updated in include a quote from Charles Allen.