After Florida Shooting, Former Attorney General Says He Regrets Making 'Devil's Bargain' With the NRA
As the gun control debate continues in Washington in the wake of last month's Florida school shooting, a former attorney general said he regrets "being in the pocket of the NRA" during his time in U.S. politics.
Former Ohio Attorney General Marc Dann, who resigned in 2008 after admitting to having an extramarital affair with a staffer and being embroiled in sexual harassment allegations against another member of staff, admitted in an opinion piece for Cleveland.com that he "made a devil's bargain" with the National Rifle Association to advance his political career.
"While I didn't enter politics to be an advocate for the NRA, I quickly learned that unless I became one, I wouldn't be around to advocate for the issues I did care about," the former Democratic politician wrote. "So, I made a devil's bargain with myself: To stay in office, I adopted pro-gun positions that made me uncomfortable."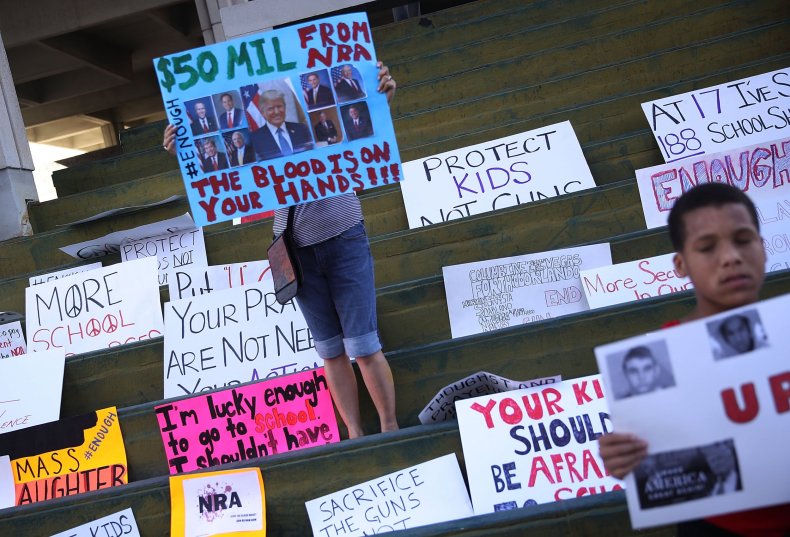 The former politician, who represented Mahoning Valley in the Ohio Senate from 2003 until 2006 before becoming attorney general, said his political success happened "in large part because the NRA and Buckeye Firearms had 'educated' pro-gun voters about my unwavering commitment to the Second Amendment."
Dann accused the NRA of bullying tactics and called on today's politicians to stand up to the rifle association in the wake of the February 14 shooting at Marjory Stoneman Douglas High School in Parkland, Florida, which saw 17 students and teachers killed.
The former politician said the NRA's "finely-tuned propoganda operation, funded by the manufacturers of assault weapons used in mass shooting after mass shooting," convinced him and hundreds of other officeholders and candidates "that even talking about gun safety would end their political careers as quickly as a legally-acquired AR-15 snuffed out lives last Valentine's Day."
Read more: Why the NRA is so powerful and why gun control advocates have reason for hope
Dann admitted that he made policy decisions that "endangered people across the state" in order to maintain his relationship with the NRA.
He said his support for Substitute House Bill 347, which passed in 2006, made him realize he had "taken the wrong path." The bill banned cities and villages in Ohio from regulating firearms at the municipal level and nullified pre-existing regulations, including assault weapons bans enacted by cities such as Cincinnati, Cleveland and Columbus.
The former politician recalled how his support for HB 347 disappointed his own mother, who had become a strong advocate for "sensible gun laws" after Dann's father legally purchased a gun from a local shop and used it to kill himself in Cleveland Metropark in October 2000.
"My mother and I both acknowledged that stronger gun laws might have saved him," Dann wrote.
Dann, who now works as a lawyer in Cleveland, said that in hindsight he wishes he had refused to be complicit in accepting money in exchange for support for the NRA.
"I know now, after far too many lives have been sacrificed on the altar of the NRA's lies, that I should have pushed back. I should have told my constituents they were being duped by shills for a firearms industry that profits from fear-mongering and murder," he wrote. "And I should have been willing to risk my political career if they chose not to believe me."
Dann called on today's lawmakers to not repeat his own mistakes and "avoid the nightmares I have each night."
"Listen to your mother, learn from your father, live by your principles, and don't be afraid to lead," he wrote.
After the shooting, a host of politicians, including President Donald Trump, were strongly criticized for accepting campaign donations from the NRA.
Trump benefitted from more than $30 million in NRA spending during the 2016 presidential election, with the rifle association investing $11,438,118 in campaign efforts for him, and $19,756,081 in efforts against Hillary Clinton.
Florida Senator Marco Rubio also was confronted by Parkland shooting survivors over his past decision to accept donations from the NRA. Rubio received $9,900 in donations from the rifle association: half of the funds before the Florida Senate primary, and the other half after winning the Republican nomination.
Asked by 17-year-old survivor Cameron Kasky if he could promise not to accept a "single donation from the NRA in the future" during a town hall on gun control hosted by CNN, Rubio did not provide a direct answer, saying only that the influence of groups like the NRA did not "come from money."
After Florida Shooting, Former Attorney General Says He Regrets Making 'Devil's Bargain' With the NRA | U.S.