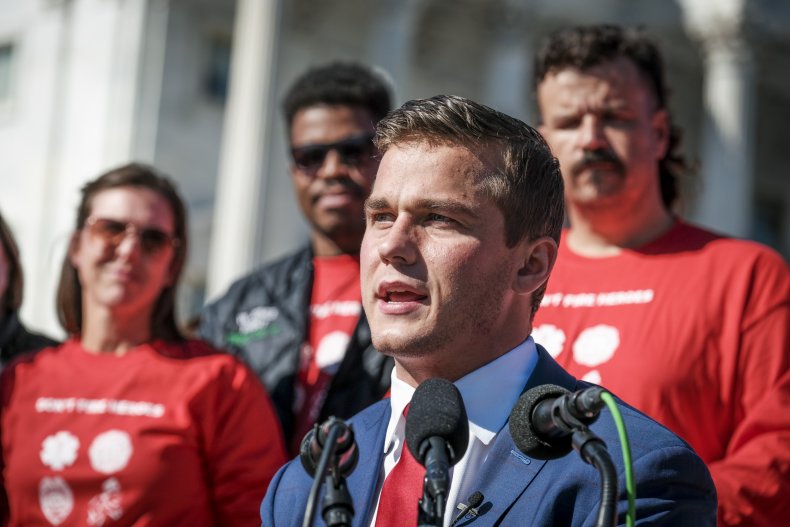 Representative Madison Cawthorn (R-N.C.) has announced that he is getting divorced after only eight months, citing stress from his political career and "irreconcilable differences" as key factors in the demise of his marriage.
The 26-year-old freshman GOP House member announced that he and his wife Cristina Cawthorn had "mutually decided" to end their marriage in a statement issued by his communications director Luke Ball on Wednesday. The couple married on April 3, roughly three months after Cawthorn was seated in the House.
"When my wife Cristina and I were engaged, I was not a member of Congress," Cawthorn said in the statement, which was shared on Twitter. "I felt called to serve and we both agreed that I should run. Our victory was unprecedented. But overnight, our lives changed. That change has been both hectic and difficult. It's neither the pace nor the lifestyle we had planned for."
"From the outset, we committed to make things work, to fight for our marriage, and seek counsel to balance the enormity of such a transition in life," he added. "Together, we realized that balance was not attainable, and that we had irreconcilable differences between us. While it was an enormously difficult decision, Cristina and I have mutually decided to divorce. We ask for privacy as we work through this privately."
The couple married on the 7-year anniversary of a car crash that left the future congressman unable to walk. Representative Cawthorn tweeted that the wedding was "the greatest honor, privilege and adventure of my life" on April 4, while noting the significance of the choice of date by adding that his "life has once again changed."
The divorce announcement came one day after the first-term Republican urged attendees of Turning Points USA's AmericaFest conference to "get married young" and "have as many kids as possible." He also advised the young conservative crowd to "drop out" of college unless they were becoming doctors or lawyers, calling higher education "a scam" while describing himself as a "proud dropout."
Cristina Cawthorn, a 27-year-old Instagram fitness influencer known as Cristina Bayardelle before marriage, is a graduate of Florida International University. She has competed in CrossFit events on multiple occasions and was licensed as an anesthesiologist assistant by the state of Florida in February. The couple were introduced by a mutual friend at a gym in Miami.
Representative Cawthorn, a staunch supporter of President Donald Trump who has backed false claims that the 2020 election was "stolen" from the ex-president, has been frequently embroiled in controversy during his short tenure in Congress.
In February, a BuzzFeed News article detailed sexual misconduct allegations from multiple former classmates of Cawthorn at Patrick Henry College, the small Christian liberal arts school that he dropped out of after achieving mostly "D" grades during a single semester. The congressman has denied the allegations.