After Uvalde, Texas Gov. Tells Schools to Prioritize Active Shooter Drills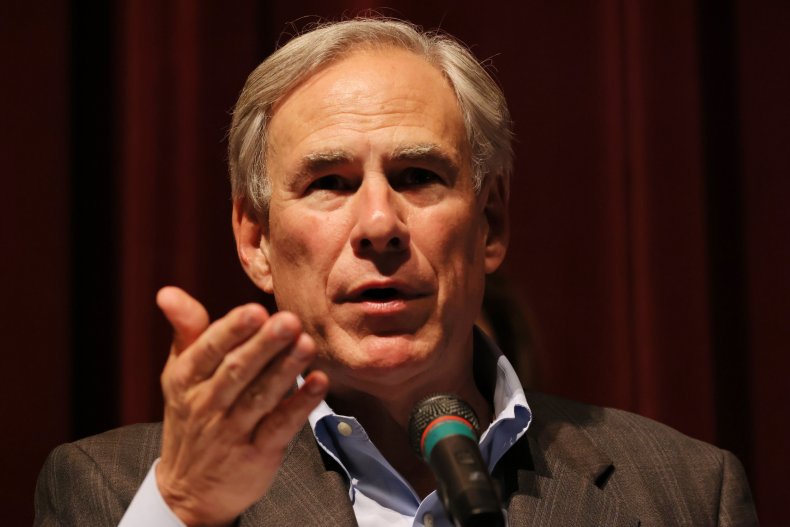 Republican Texas Governor Greg Abbott is urging schools to prioritize "active shooter" training drills after the deadly mass shooting at Uvalde's Robb Elementary School.
Abbott requested training that would help schools boost "school-based law enforcement" in a letter sent Monday to Dr. Pete Blair, executive director of Texas State University's Advanced Law Enforcement Rapid Response Training Center (ALERRT). The governor made the training request following heavy criticism of the police response to the shooting, which saw officers largely avoid the gunman before he killed 19 children and two adults on May 24.
"We sadly recognize we cannot do anything to bring back the precious lives that were taken," Abbott wrote in the letter. "However, we must do everything in our power to prevent the same tragic ending from happening again. An important part of these prevention efforts must focus on the proper training of law enforcement and school administrators on how to respond when they face the threat of an active shooter on their campus."
"Training must begin before the next school year begins," he added. "This vital training, which is delivered by veteran first responders with proven experience in active attack response and police training, will help law enforcement on school campuses better respond to these situations."
Abbott also requested that ALERRT provide a "debrief" on the shooting and "other relevant situations" for police, school administrators and additional "decision makers charged with school safety in all of our public schools."
ALERRT has trained over 130,000 law enforcement and fire officials, as well as more than 200,000 civilians, since being established in 2002 with a mission to "provide the best research-based active shooter response training in the nation."
Blair told Fox News that training sessions taking place over the coming weeks and months would focus on school resource officers, with the caveat that it "wouldn't be possible" for the training sessions to be "all done by the beginning of the year."
Abbott initially praised police for what he called "amazing courage" in their response to the Uvalde shooting. He reversed course days later amid heavy criticism of police and his praise of the response, explaining that he had been "misled" and was "absolutely livid."
Uvalde school district Police Chief Pete Arredondo has received particularly strong backlash for his role in the response to the shooting. Arredondo was responsible for the decision to treat the gunman as a "barricaded" subject rather than an "active shooter," which Texas Department of Public Safety Director Steven McCraw later called the "wrong decision."
While debates about whether to adopt stronger gun control measures continue in Texas and at the federal level, Abbott has ignored suggestions that he should call a special session of the Texas state legislature to address the issue.
Last week, Abbott instead asked lawmakers to form special legislative committees to discuss "the twin issues of school safety and mass violence." Democratic Texas state Senator Roland Gutierrez argued that the committees were part of an attempt to "bamboozle" Texans.
Over 250 conservative gun-rights supporters, including top donors to Abbott's campaign and the Republican Party, urged the passage of stronger gun control measures by signing a letter published as a full-page ad in The Dallas Morning News on Sunday.
Newsweek has reached out to ALERRT for comment.