Aggressive Bears Destroying Campsites, Chasing Hikers Prompt Warnings
Officials with the Glacier Bay National Park in Alaska issued a bear advisory after two separate encounters between humans and a brown bear over the span of days.
The encounters—one of which involved a group of six hikers and the other involved two campers—prompted officials to remind park-goers to remain alert and to properly store bear attractants.
According to the National Park Service, brown bears are commonly found living in coastal areas of Alaska.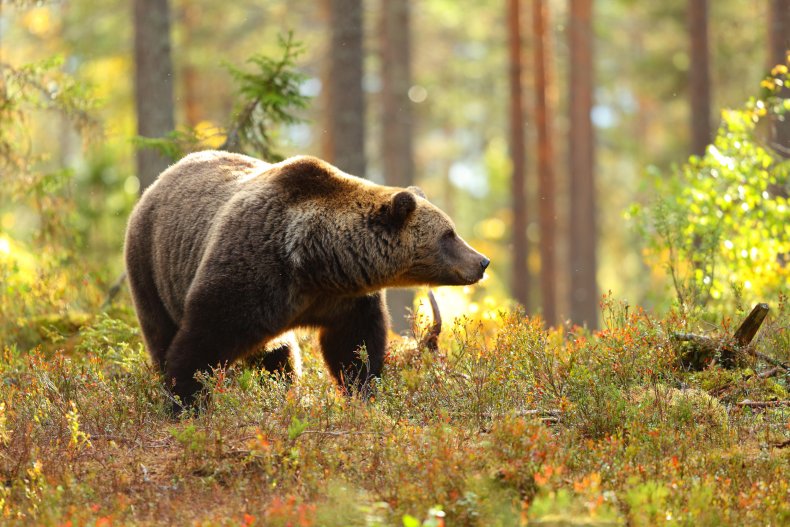 Brown bears share similar characteristics to grizzly bears, including a shoulder hump, short and round ears and a face profile that appears "dished" in between the eyes and tip of the snout.
The United States Department of Agriculture's Forest Service said people in bear country should store their attractants in bear-resistant containers and dispose of trash in bear-resistant dumpsters.
While the organization said bears recognize familiar food sources, like berry patches, streams and rivers and decaying logs that contain insects, they also remember campsites.
"While bears are attracted to any edible food, they also might try to feast on items we might not consider edible," the agency reported.
Some of these items include:
Toothpaste
Shampoo
Lotion
Soap
Cooking utensils
Officials said in a release issued by the National Park Service that on July 9, a group of six hikers was charged at by a brown bear.
"The group was able to deter the bear by deploying bear spray and yelling," the release said.
Days later, on July 12, two campers were approached by a brown bear.
"The campers retreated in their kayaks," officials said. "The bear remained onsite and destroyed their camping equipment."
A nearby vessel picked up the campers and brought them to safety.
It did not appear that a bear obtained any food in both situations, and officials said they do not know if both incidents involved the same bear or two different bears.
The agency also cautioned against camping in the area and recommended that park-goers remain alert.
"Two important keys to minimizing the potential for conflicts include storing food and attractants properly and keeping control of gear and property at all times as well as being prepared for bear encounters," the release concluded.
Tania Lewis, the terrestrial wildlife biologist for the park and the leader of the bear management program wrote to Newsweek that officials are not pursuing any aversive conditioning to deter the bears from the area.
She noted that it is an important habitat for many bears in the area, and it is unlikely that officials can positively identify the bear or bears involved in the incidents.
And, Lewis said, officials said there was no indication that the campers tried to deter the bears to protect their gears before retreating to their kayaks.
"Our advisory is aimed at letting people know what happened and discouraging people from camping in the area for the next month so that the bear does not have the opportunity to encounter gear again for a while," she explained. "This approach has worked well in the past in Glacier Bay National Park."
There have been other reports of bear encounters with humans.
A woman in California was knocked to the floor in her house by a bear when she left her door open as she took out the garbage.
Another bear in California got into a house through a window and destroyed the interior while looking for food.
One man was hiking alone in Wyoming when he was severely mauled by a grizzly bear.
Updated 07/19/2022, 2:58 p.m. ET: This story has been updated with comments from Tania Lewis.