A bear entered a home where Airbnb guests were staying on Wednesday, and "proceeded to destroy the house looking for food," according to the California Highway Patrol (CHP).
In a post on Facebook on Thursday, the CHP said that on the previous evening, it assisted the Placer County Sheriff's Office with an "extremely aggressive bear" in Truckee, California.
The bear entered the home through a window, and when law enforcement responded, it "charged at Officers multiple times until they were able to get it back outside," the CHP said. The guests locked themselves in rooms due to the animal's "aggressive nature" once the omnivore came inside.
The CHP also noted that the bear had three cubs with it that were in a tree outside.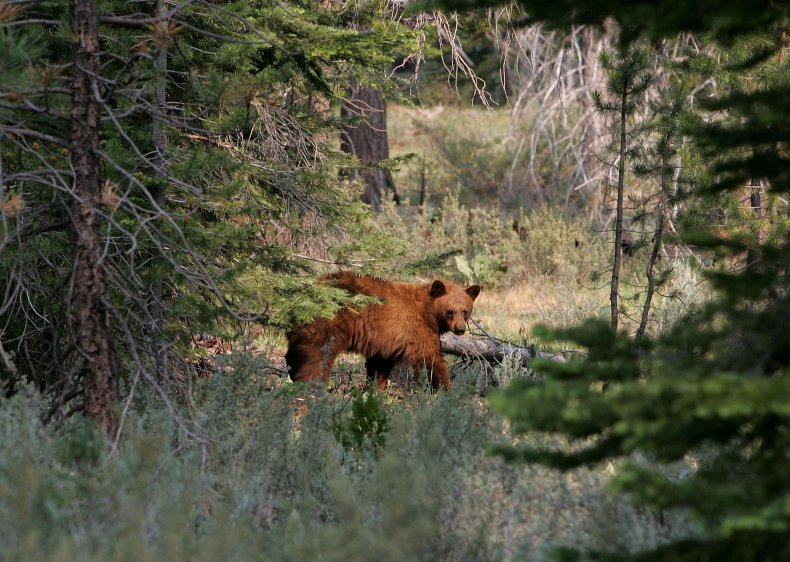 "Good reminder to all who live up here and all that come to play up here, you are in Bear country and it was their home first!!!" the CHP said in its post.
Newsweek has reached out to the California Highway Patrol for additional comment.
The National Park Service notes that bear attacks on humans are rare, and that "most bear encounters end without injury." Bear safety advice can be found on the National Park Service website here.
When Bears Attack
In a separate incident this week, a 90-year-old woman in Tennessee escaped a bear attack with non-life-threatening injuries after she fought it off with a lawn chair. The woman was sitting on her porch when the mother black bear and three cubs approached her. She picked up a lawn chair and shook it in their direction, when the mother "made a lunge" at her, she told a local news station. The Tennessee Wildlife Resources Agency (TWRA) euthanized the bear after the attack, following state guidelines.
In another encounter this week, a mother and her daughter in Great Smoky Mountains National Park were scratched by a bear that clawed through their tent.
In a press release, the National Park Service wrote Monday that the "bear's behavior appeared to be inconsistent with predatory behavior, but rather that of a food conditioned bear."
"Human-bear conflicts peak in late May and June when natural foods, like berries, are not yet available. Bears are attracted to the smell of food and garbage in our developed areas, like campgrounds and picnic areas," the National Park Service stated.
Meanwhile, a woman in Connecticut on Monday returned home and found that a bear had broken in through one of her windows.
Speaking to CBS affiliate station WFSB, Shannon Davis said the bear rummaged through her kitchen before leaving, indicating that the bear was likely "food-conditioned."