Agitated Bees Attack Arizona Family, 4 People Injured
Firefighters blasted bees with foam to protect an Arizona neighborhood after the insects attacked and injured two adults, two young children and two dogs.
The attack happened after a homeowner in Glendale attempted to remove a beehive they had discovered in their shed on Sunday, fire officials said.
Agitated by the attempt, the bees began to sting the family, AZfamily.com reported.
Fire crews were called to the home near Peoria and 59th avenues around 5 p.m.
One adult was able to drive themselves to the hospital for further treatment and is said to be in stable condition, ABC15 reported.
Two children under the age of six were injured in the attack and are doing fine, according to the news station.
Both dogs injured in the incident are reportedly in critical condition and thought to be receiving treatment at a local veterinary office.
Glendale Fire Department told Newsweek that firefighters sprayed foam on the bees "for the safety of the people in the neighborhood."
Fire officials are asking people to call a professional beekeeper to remove hives.
Newsweek has contacted local beekeepers for comment.
Arizona is home to a large population of bees descended from Africanized Honey Bees (AHBs).

These bees—sometimes referred to as "killer bees"—can become highly defensive when protecting their hive, according to the Arizona Department of Agriculture.
"A good safety precaution is to maintain at least 100 feet, or the width of a four-lane highway, from any AHB hive," it states on its website. "It is always advisable to exercise caution with respect to all bee activity, whether in managed or feral hives."
Disturbing these colonies can be fatal. According to Southern Arizona Beekeepers Association website a "large number of these attacks are preventable."
It advises: "You should not attempt to move or exterminate honey bees yourself. Call someone experienced in dealing with honey bees – they need to be dealt with in very specific ways to ensure safety."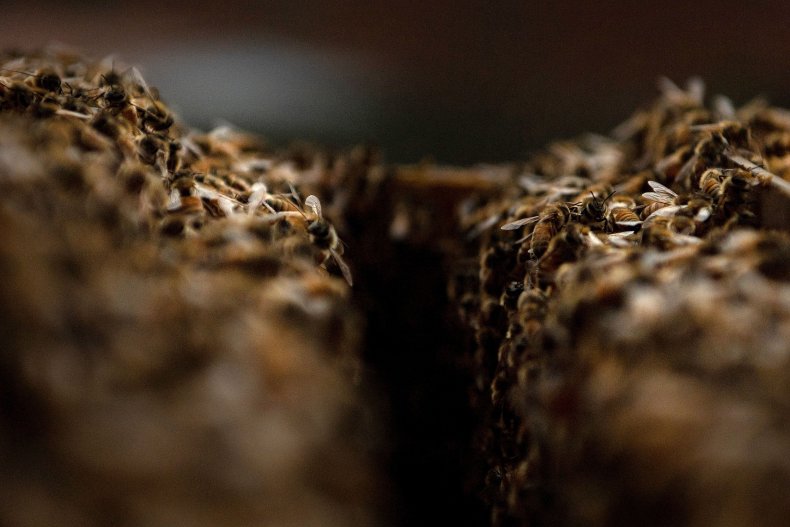 The latest attack is by no means the first to make headlines.
In December 2019, Glendale's Sahuaro Ranch Park was closed after bees attacked a family who came across a hive while fruit picking, AZfamily.com reported.
One man, 40, was stung more than 100 times, leaving him covered "head to toe" in bee stings, firefighters said at the time.
A woman, 72, and two men, ages 39 and 19, were also stung in the attack.
Beekeepers were called in to remove the hive before the park was reopened the following day.
In another attack in 2018, a California woman was left seriously injured after being stung more than 200 times.
Between 30,000 and 80,000 bees reportedly swarmed around the woman after she parked her car near a hive hidden in bushes, the Associated Press reported at the time.
"She probably had a few hundred if not a thousand bees just embedded into her hair and crawling all over her face," Orange County Fire Authority Firefighter Ryan Wilson, told CBS San Francisco.
Four firefighters, who did not have enough time to don protective gear, were injured in the rescue, which involved using a carbon dioxide fire extinguisher on the bees.
"She was kind of just struck over with fear, and I kept grabbing her, telling her, 'Let's go,' and she had bees all over her arms," Wilson said. "So we made the decision just to grab her, and take off and get out of the area, because we didn't know where the bees were coming from."
Firefighters responding to the attack did not have enough time to wear the protective gear needed for such incidents and instead grabbed a carbon dioxide fire extinguisher to use on the bees.