Ahead of Trump CPAC Speech GOP Senator Rick Scott Says Biden Won Election Fair and Square
Republican Senator Rick Scott of Florida said President Joe Biden won the 2020 election fair and square ahead of former President Donald Trump's appearance at the Conservative Political Action Conference (CPAC) on Sunday.
During an appearance on Fox News Sunday, host Chris Wallace asked Scott, "Did Joe Biden win this election fair and square?" Scott replied, "Absolutely."
"Absolutely Joe Biden is the president," Scott said. "We went through the constitutional process. Joe Biden won the election."
Scott, who is the chair of the National Republican Senatorial Committee, then implied that unsubstantiated allegations of widespread voter fraud should be taken seriously, saying "are there people that believe we've got to focus on making sure people feel comfortable their elections are fair? Yeah."
When asked by Wallace if he supports "making it harder to vote," Scott said "of course not," and added, "We should create a process where people get to vote but make sure no vote is ever diluted."
In an emailed statement to Newsweek on Monday, Scott said "free and fair elections are the cornerstone of democracy."
"It is my goal to always have 100 percent participation and zero fraud in our elections," Scott added, noting that he previously expanded early voting, streamlined the voter registration process, and improved voter education and participation as governor of Florida.
Trump is scheduled to speak at CPAC in Orlando, Florida, on Sunday afternoon. It will be his first major public appearance since leaving office in January. The former president has spoken at CPAC in previous years, but it was unclear if he would appear at the conference following his 2020 presidential election loss until last week.
Trump is expected to use his time to discuss the future of the Republican Party and the conservative movement, according to The Hill. He is also expected to attack President Joe Biden's immigration plan by highlighting "disastrous amnesty and border policies." There has been speculation about whether he will also repeat allegations that he lost the election to Biden because of widespread voter fraud. Those allegations have been frequently cited during the conservative event, making the timing of Scott's comments Sunday notable.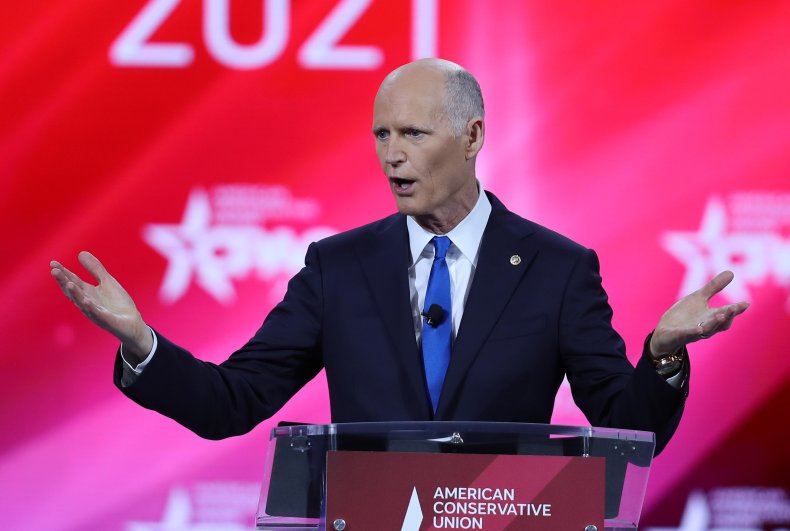 Former Republican Congressman Mickey Edwards, who was previously the chair of CPAC, said Saturday that attending Republicans were "living in an alternate reality."
"The people at CPAC are living in an alternate reality in which facts don't matter. The Constitution doesn't matter. They have no principle except whatever their leader says," Edwards said during an interview with CNN.
While voter fraud allegations have been a consistent theme at the event, there was one moment where that was challenged.
According to NBC journalist Jane Timm, a CPAC attendee asked how to fix the voting machines that "switched thousand and thousands of votes," to which GOP attorney Charles Spies responded that "there is just zero evidence that's true."
Spies then noted that ballots were counted three times in Georgia after a CPAC moderator suggested there was evidence of vote-switching in the state.
This article has been updated to include the response from Scott.