CPAC Officials Rebuffed by Shouts of 'Freedom' From Attendees After Reminding Them to Wear Masks
Calls for "freedom" filled an indoor ballroom in Florida after the organizers of the Conservative Political Action Conference (CPAC) requested attendees adhere to the venue's policy and wear face masks.
"I know this might sound like a little bit of a downer," Dan Schneider, executive director of the American Conservative Union said on the stage at the Hyatt Regency Orlando in Orlando, Florida. "But we also believe in property rights. And this is a private hotel, and we believe in the rule of law, so we need to comply with the laws of this county that we're in."
Schneider added that "like your house," the private hotel gets to set its own policies, before then turning to Carly Patrick, CPAC director.
"We are in a private facility, and we do want to be respectful of the ordinances that they have, as they're a private property," Patrick said. "So please, everyone, when you're in the ballroom, when you're seated, you should still be wearing a mask. So if everybody can go ahead, and work on that."
The organizer's announcement was first met with an uncomfortable silent pause before attendees broke out with "boos," cries of "freedom," and one person who said "that's un-American."
"I know it's not the most fun," Patrick responded to the jeers before Schneider interceded.
"You have the right to set their own rules in your own house," he said. "And we're in somebody else's house, so we need to comply with our rules. So thank you all for putting on your masks, I wear a mask when I'm in the halls. We're gonna comply with our rules."
Any guest not wearing a mask will be asked to wear one, according to a statement a Hyatt spokesperson provided to Newsweek. The statement also confirmed face masks "are made available" to guests who don't have face coverings.
"All guests attending CPAC are asked to sign a Code of Conduct, developed by CPAC organizers, which includes specifics on Hyatt's face coverings policy and Orange County, Florida's face coverings mandate," the spokesperson said. "In addition, the hotel has various communications touchpoints in place throughout the hotel to consistently remind guests of local face coverings mandate and Hyatt policy. Hotel management and local authorities are committed to enforcing the face coverings mandate."
Many of the conference's political attendees have openly refused the idea of wearing face masks, which are recommended by the Centers for Disease Control and Prevention (CDC) to prevent the spread of COVID-19. The CDC says face masks can deter the transmission of the virus via the air.
Some conservatives have been critical of advice from the scientific community regarding mask-wearing, in some cases claiming mask requirements infringe on their individual rights. Last year, President Donald Trump targeted then-Democratic nominee Joe Biden for wearing a face mask during the 2020 campaign, turning the safety device into a political symbol of American personal freedoms. This painted Biden, who has adamantly spoken in support of wearing masks, as aggressively dictating individual rights.
Other conservative lawmakers have used Trump's same language regarding COVID-19 restrictions. Governor Ron DeSantis of Florida, who has received criticism for the state's pandemic response, opened the conference Friday morning with a speech, greeting attendees who traveled from out of state and speaking of Florida as a place that isn't bogged down by COVID-19 restrictions, saying, "Welcome to our oasis of freedom!"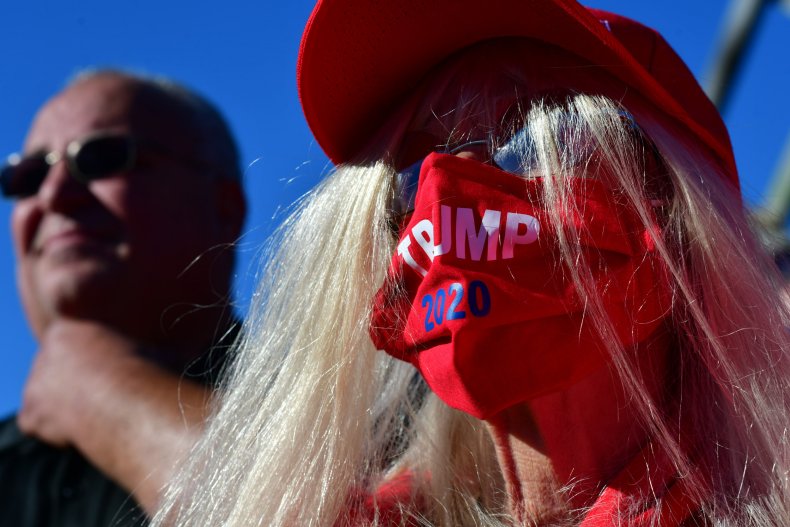 Sen. Ted Cruz of Texas took to the stage shortly after and also rebuked wearing protective face masks.
"We're gonna wear masks for the next 300 years," Cruz said. "And by the way, not just one mask—two, three, four—you can't have too many masks! How much virtue do you wanna signal?"
GOP Rep. Matt Gaetz of Florida was later spotted posing with fans and walking through the hotel without a face mask. Accounts from within the conference have reportedly shown few attendees wearing face protection, despite the organizers' announcement.
The Hyatt spokesperson confirmed that hotel guests who are not willing to wear masks will be asked to leave the premises or given the option to stay in their hotel room for the duration of their stay.
"At this time, we can confirm that some guests have been asked to leave the hotel property, and left the property without incident, as a result of not complying with the face coverings mandate in place."
The spokesperson added that the hotel has been monitoring the situation at the conference and taken "precautionary measures," such as implementing temperatures checks for employees.
Update: This story has been updated to include a statement from the Hyatt spokesperson.