Ahmad Alissa's Facebook Posts About Islam, Hacking and Needing a Girlfriend
The suspect in the Boulder shooting posted on his Facebook page about Islam, kickboxing and needing a girlfriend.
Authorities on Tuesday identified 21-year-old Ahmad Al Aliwi Alissa, of Arvada, Colorado as the gunman who allegedly opened fire inside the King Soopers supermarket on Monday, killing 10 people including a police officer.
He has been charged with 10 counts of first-degree murder, Boulder Police Chief Maris Herold said.
Authorities revealed little about the suspected shooter in Tuesday's news conference, but a Facebook page that appeared to belong to the suspect provided some further details.
That page was taken down on Tuesday, shortly after Alissa's name was released by law enforcement. Newsweek reviewed the page before it was removed.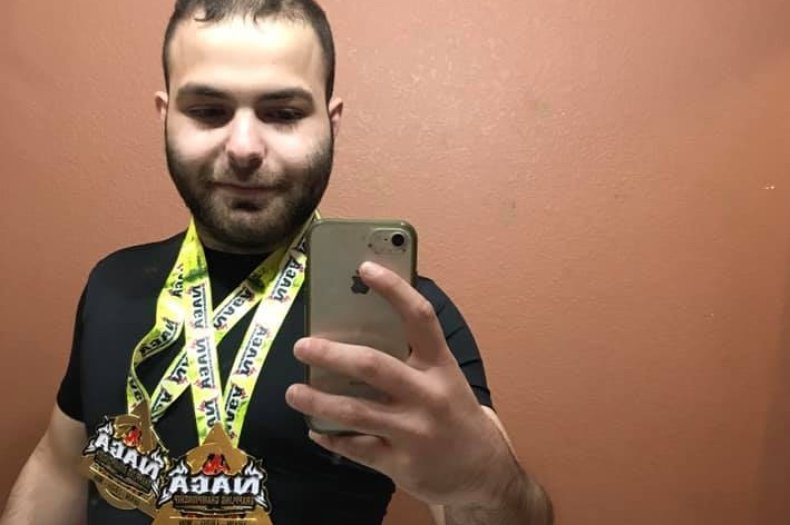 A Facebook spokesperson confirmed to Newsweek that it had removed accounts linked to the suspect from Facebook and Instagram under its Dangerous Individuals and Organizations policy. The spokesperson said it will remove any additional accounts belonging to the suspect or accounts created by others in his name, and that Facebook is in contact with law enforcement about the matter.
According to the Alissa's Facebook page, he attended Arvada West High School before enrolling at Metropolitan State University Denver in 2018.
However, a university spokesman told Newsweek he is not, and has never been, a student at MSU Denver.
Alissa studied computer engineering and computer science and is a fan of kickboxing and wrestling, according to a bio and posts on the page. He also shared a photo that showed him wearing several medals apparently linked to the North American Grappling Association.
His page also featured several posts with quotes from the Prophet Muhammad, a key figure in Islam. "Muslims might not be perfect but Islam is," he once wrote on his profile, according to Heavy.com.
And in one 2019 post, he indicated that he wanted a girlfriend. "#NeedAGirlfriend," he wrote in the post on September 5 that year.
The post attracted several comments, including a reply that said: "Inshallah you find your future wife and live a happy life hunny."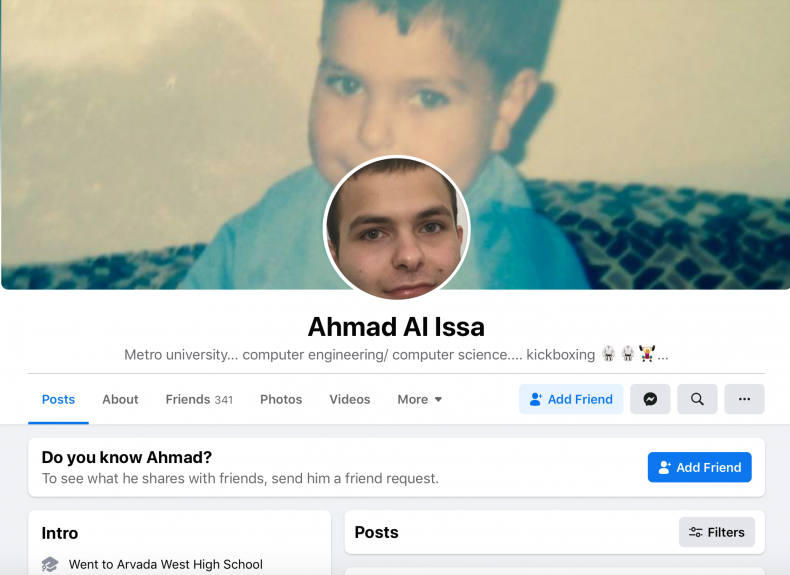 Another person responded: "U dont need one. Your young. Make sure you can support yourself so you can support her. Then have a wife."
According to his older brother Ali Aliwi Alissa's Facebook page, which was also taken down on Tuesday, his family was originally from Raqqa, Syria.
He told The Daily Beast that his family have lived in Colorado for 20 years and are "so sorry" for the victims. He also said that authorities had searched his house after the shooting.
He described his brother as "very anti-social" and paranoid, and said he believes he is mentally ill.
"[It was] not at all a political statement, it's mental illness," Ali Alissa said. "The guy used to get bullied a lot in high school, he was like an outgoing kid but after he went to high school and got bullied a lot, he started becoming anti-social."

Some of Ahmad Alissa's past Facebook posts indicated the paranoia that his brother mentioned.
"Just curious what are the laws about phone privacy because I believe. my old school (a west) was hacking my phone. Anyone know if I can do anything through the law?" he wrote in a post in March 2019.
"Yeah if these racist islamophobic people would stop hacking my phone and let me have a normal life I probably could," he wrote in another post in July 2019.
During Tuesday's news conference, authorities said Alissa was shot in the leg after engaging in a shootout with police inside the store.
He was being treated at a hospital and is expected to be booked into the county jail later in the day.
Boulder County District Attorney Michael Dougherty said investigators have not established a motive for the shooting, but believe he was the sole shooter.
Boulder police officer Eric Talley, 51, was confirmed as one of the 10 people killed on Monday evening.
Officials released the names of the nine other victims, who range in age from 20 to 65, after their families were notified.
Monday's massacre is the seventh mass killing in the U.S. this year, The Associated Press reported. It comes a week after eight people, six of them Asian women, were killed in three Atlanta area spas.
Update 3/23 2 p.m. ET: This article has been updated with comments from Facebook.
Update 3/23 3 p.m. ET: This article has been updated with a comment from MSU Denver.