One of the suspects in the Ahmaud Arbery murder case fell behind in his training as a law enforcement officer and worked for several years without the authority to conduct arrests.
Gregory McMichael who, along with his son Travis, has been charged with the murder of the 25-year-old Arbery, spent nearly 25 years working as a chief investigator for the Brunswick District Attorneys Office before his retirement in 2019.
According to documents obtained by sites including News4Jax and 11alive, McMichael was informed by the Georgia Peace Officer Standards and Training Council (POST) in 2014 that he had not completed enough hours of his training.
Because of his deficit in training hours, McMichael had in fact not had any arrest powers since 2006.
"Until his arrest powers are restored, he is to hand over his badge, any identification cards identifying him as a Deputy Sheriff or District Attorney's Office Investigator, his department issued firearm as well as his department issued vehicle equipped with emergency lights and sirens," the memo said.
McMichael told investigators he fell behind in his training due to health reasons after suffering two heart attacks. McMichael said he also had to file for bankruptcy due to "overwhelming medical bills" for himself and for cancer treatment for his wife.
McMichael was told that he must complete his training hours by May 8, 2014 and pay a $400.00 application fee and request a waiver from the Georgia POST or risk suspension.
After it was found he spent eight years without any desk powers, Glynn County District Attorney Jackie Johnson moved McMichael to desk duty instead of firing him, reported WSBTV.
After McMichael was granted a waiver and allowed to continue working at the office, Johnson wrote a letter to Georgia POST director Mitch Jones to thank him.
"This situation has been a great embarrassment to me and to Investigator McMichael. It has negatively impacted my office, and I have taken measures to ensure that this doesn't happen again," Johnson said. "Please accept my sincere apology."
In 2019 Georgia POST suspended McMichael for failure to maintain training in 2018. Another memo shows that after Johnson's office suspended McMichael for two weeks, he was moved to a non-officer position from February 2019 until his retirement in June that year.
"McMichael will not engage in any activity that would be construed as being law enforcement in nature. To that end, Mr. Michael will not carry a firearm or badge, nor will he operate any vehicle in the motor pool outfitted with lights, siren, or police radio equipment," the memo states.
It is unclear if McMichael made any arrests during the eight years he did not have the power to do so. The Brunswick District Attorneys Office has been contacted for comment.
Johnson has been criticized for her handling of the Arbery case, along with Waycross District Attorney George Barnhill. Johnson recused herself from the investigation on February 27 because of the conflict of interest as McMichael used to work at her office.
The case was then handed to Barnhill, despite already suggesting to the Glynn County Police Department that no charges should be brought forward.
Johnson has been accused by two county commissioners of telling police not to arrest the McMichaels immediately after the shooting, which she denies.
Greg and Travis McMichael remain in custody charged with murder following their arrest more than two months after Arbery was shot.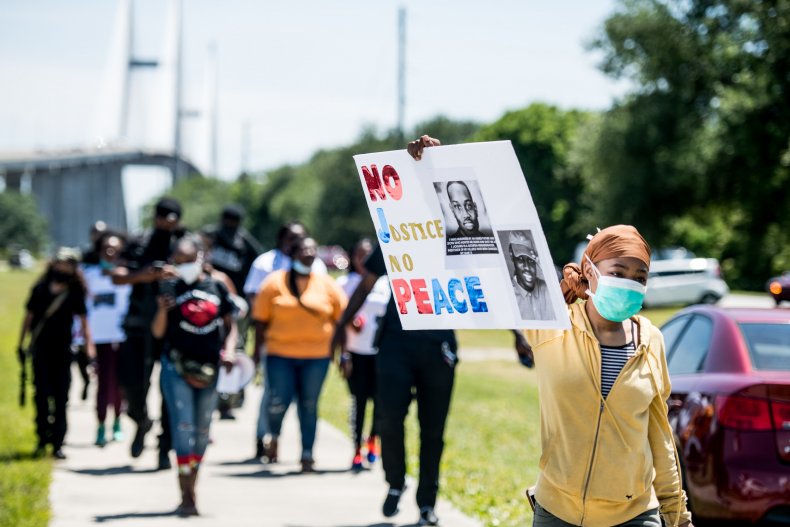 Correction, 5/14/20, 12 p.m. ET: This article was updated to correct the omission of the word "not" in the sentence: "Johnson has been accused by two county commissioners of telling police not to arrest the McMichaels immediately after the shooting, which she denies."