Ai Weiwei Pulls Works From Denmark Display to Protest Refugee Policy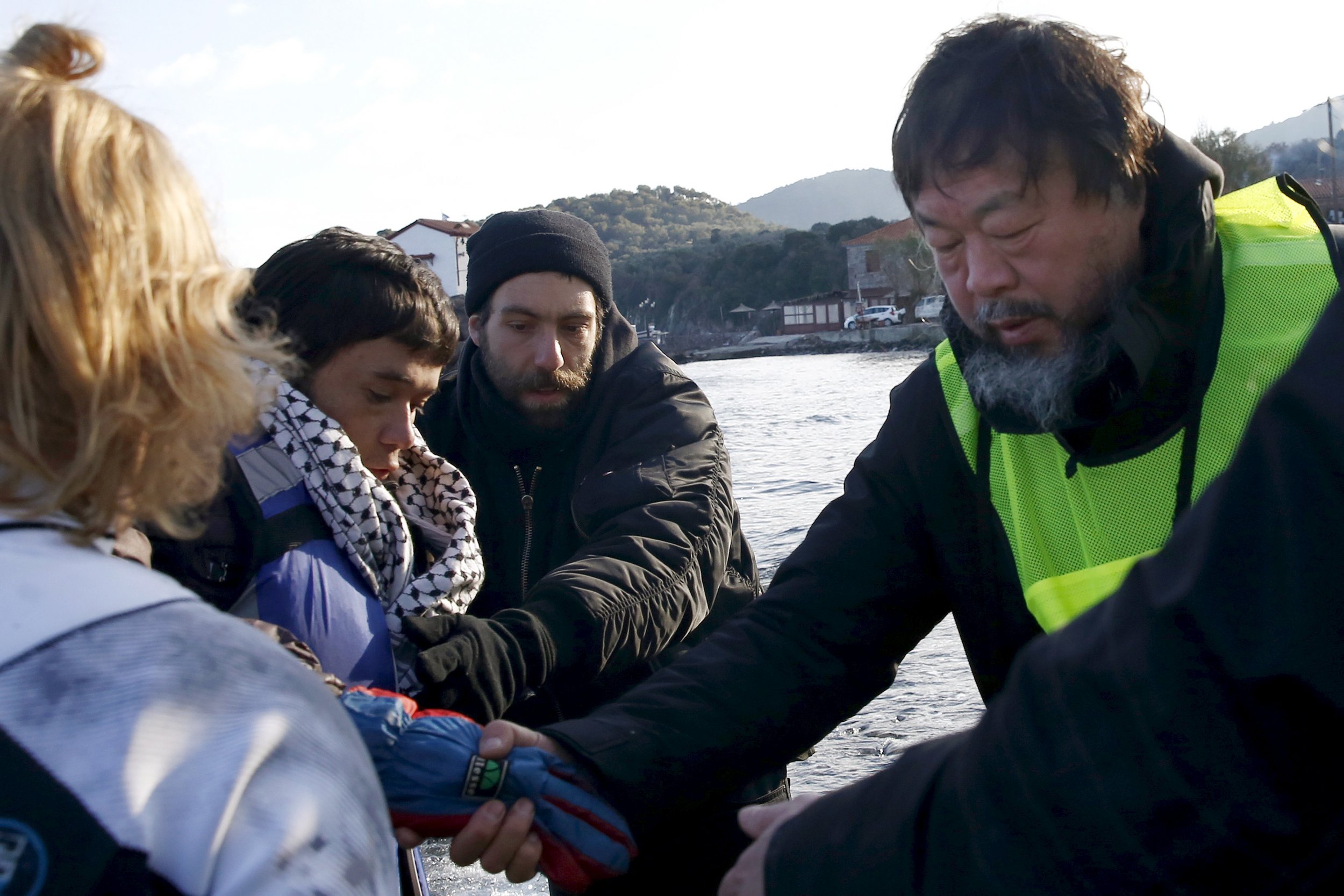 Denmark approved a proposal Tuesday that allows authorities to confiscate refugees' valuables, and renowned artist and social activist Ai Weiwei wants to pull the plug on displays of his work in the country.
On Wednesday, following the Danish parliament's decision to pass measures to deter refugees from choosing to seek asylum in Denmark—including one that allows authorities to seize valuables from those entering to help pay for their stay—Ai announced his decision on Instagram and Twitter, where he has roughly 204,000 and 310,000 followers, respectively.
"Ai Weiwei has decided to close his exhibition 'Ruptures' at Faurschou Foundation Copenhagen, Denmark. This decision follows the Danish parliament's approval of the law proposal that allows seizing valuables and delaying family reunions for asylum seekers," reads an Instagram post on Ai's account dated Wednesday. "Jens Faurschou backs the artist's decision and regrets that the Danish parliament chooses to be in the forefront of symbolic and inhuman politics of today's biggest humanitarian crisis in Europe and the Middle East, instead of being in the forefront of a respectful European solution to solve the acute humanitarian crisis."
The Associated Press reported that curator Jennie Haagemann said the artist had called the owner of the foundation about the decision. The AP also reported that Ai would like to remove his work from the Aros museum in Aarhus, but that officials there had not yet heard directly from the artist. Erlend Hoeyersten, that museum's director, expressed his respect for the artist's criticism of immigration policies, but added, "I also find it unreasonable that an entire people is punished for the government's policies."
Ai's most recent Instagram post, roughly two hours after the announcement, juxtaposes a photo of a Carlsberg beer advertisement saying, "Welcome to the world's happiest nation," with a link to a news story about Denmark's approval of the controversial bill.
The Chinese artist is known worldwide not only for his social activism, which he is vocal about on social media and elsewhere, but also for the political critiques infused in his work. One installation shown in 2015 at Alcatraz, the famous former prison in San Francisco, consisted of hundreds of Lego portraits depicting individuals who had been imprisoned or exiled for their beliefs, actions or affiliations—including Mohammed al-Roken, Martin Luther King Jr. and Edward Snowden.
Ai himself has clashed with the Chinese government over his outspoken nature. Last July, just a few months after the Alcatraz exhibition closed, Ai got his passport back from Chinese authorities after four years—he was detained and held for 81 days in 2011 and subsequently not allowed to travel.
In September, Ai and fellow artist Anish Kapoor walked 8 miles across London to show solidarity with refugees entering Europe, a crisis to which the Chinese artist has devoted a great deal of his attention. Most of Ai's recent Instagram feed is filled with photographs and videos of refugees, revealing snapshots of their experiences from a studio he set up on the Greek island of Lesbos.
"As an artist, I have to relate to humanity's struggles.... I never separate these situations from my art," he said. "The border is not in Lesbos," he added, speaking of the frequent entry point for refugees into Europe, but "in our minds and in our hearts."