Air Traffic Controller 'Shocks' Flyers With Claim About Night Flights
Some flyers were alarmed after an air traffic controller claimed to share a peek behind the scenes of his job.
The aviation professional, posting anonymously as @doaviation on TikTok, responded to another TikToker who asked users to "name one thing in your industry or profession that the general public would be shocked to know about."
"I'm an air traffic controller," responded @doaviation in a May 25 video with 712,000 views.
"There are about 139 federal standalone air traffic control towers in the United States," he said. "I work at one. And every night, 84 of those—about 60 percent—shut down. And all the controllers go home, and there's nobody there to work traffic, and then they come back in the morning and reopen."
Finally, he said, "During those hours, when the control tower is closed, it's the pilots' responsibility to talk to other pilots and make sure that they're not going to hit each other."
These details took much of his audience aback, with some viewers saying the inside view of air traffic control would alter their flying patterns.
"I guess I'm never taking a red eye again!!" one comment exclaimed.
"I am, indeed, SHOCKED to know this," another said.
The Federal Aviation Administration (FAA) told Newsweek in a statement, "If an air traffic control tower is closed, it is usually during hours where there is limited or no air traffic. Every air traffic control facility has standard procedures to operate safely when it's closed."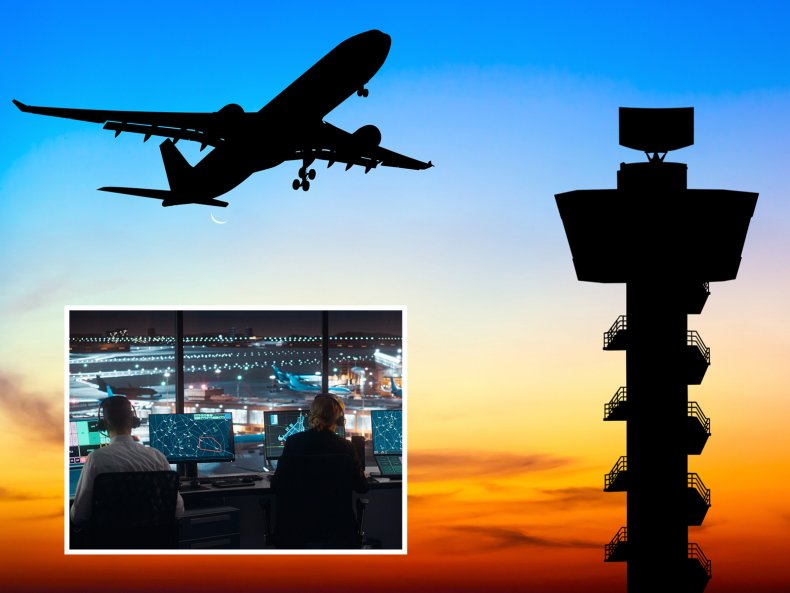 The FAA added that facilities called Terminal Radar Approach Controls (TRACONs) direct pilots until they reach their final approaches to airports where control towers are closed.
"Once they're in the tower's airspace, pilots know to communicate their positions on the airport's common frequency," a spokesperson said.
The FAA did not answer what proportion of air traffic control towers shut down at night.
Air traffic controllers have raised an alarm about their staffing conditions in the past.
A partial government shutdown in January 2019 forced controllers to work long hours without payment, according to the National Air Traffic Controller Association. Employees also worried about safety, saying that a new text messaging system to communicate directly with pilots in the cockpit was stalled by the shutdown.
In 2018, an air traffic controller became "incapacitated" while working alone during a busy shift at the Las Vegas airport. The controller slurred her words in communication with 29 pilots both in air and on the ground for about 40 minutes before losing consciousness.
In response, the FAA modified its staffing rules to require two controllers in a tower "until a certain time," according to KSVN-TV.
However, the agency said that two controllers would not be required to work after midnight, telling the station that "facilities will not combine to one position prior to midnight or 90 minutes after the start of the shift, whichever is later."
Newsweek reached out to @doaviation for comment.