Airbnb Host Discovers 'Bougie' Guests Ate Off 22K Gold-Trimmed Plates Then Chucked Them
An Airbnb host claimed her recent guests were so "bougie" they brought their own 22-karat gold-trimmed plates to eat off, then promptly chucked them afterwards.
The host shared the find on her TikTok channel, @thevrconsultantsultans, after she went to the property, in the Poconos, Pennsylvania, earlier this December.
"They threw away gold," the onscreen caption says. The property is "The Cozy Cabin," as advertised on Blue Penguin Properties.
The description does state: "We offer a fully equipped kitchen stocked with cooking essentials in addition to all dishes, utensils and cookware."
The woman, called Jenny Radick, told the camera: "Are you ready for how bougie were your last AirBnB guests, lake house edition?
"My guests were so bougie, that they didn't want to use our plates. They brought their own plates. That's fine, never happens, but do whatever you want.
"They brought their own plates, threw them away when they were done, and what kind of plates are they? 24-karat gold plates.
"Not just plates; plates, plates, plates, bowls. Like should I go through this garbage can?"
She films herself going through the trash, which shows plates with a floral pattern, and golden edge, which look relatively clean.
The stamp on the back says "the hallmark of quality warranted 22 karat gold."
Speaking to Newsweek, Radick explained two guests had stayed over Christmas, as she theorized: "My guess is that the guests' family brought 'extra' plates to accommodate all the people and forgot to bring them home; then chucked them instead [of] leaving them.
"When I was throwing away garbage I opened up the garbage can outside and they were right on top!
"Like I said it's my belief that the guests' family brought over extra plates for extra settings, they were washed afterwards and they found nowhere to put them, to store them or they forgot to bring them home, so they just threw them away."
She confirmed four large plates, five small plates and four bowls were left behind.
"We've never had anyone throwaway plates before! We do have people throw away some of our things if they break it, they try to stuff it in the trash so that we don't see that it's broken. We're pretty good about noticing things missing, but people can throw away whatever they like of their own stuff.
"When I looked at the back and I saw it said 22 karat plated gold I just laughed and laughed. I couldn't believe that they wouldn't just wrap them up and take them home. But someone made mention in the comments that you can't put them in the microwave or else they will spark," she added.
Her clip amassed nearly 6 million views, and can be seen here, as people shared suggestions over what she should do with the crockery.
Christina Breu advised: "Take them plates, wash them and resell them."
EtheridgeHouseHold commented: "Girl get those out of the trash can, wash and sanitize them! And yes dig through that trash! They left it, it's now yours."
Karendewhirtst273 reckoned: "They threw away grandma's plates."
Jessica Dunek thought: "They thrifted plates on the way into town so they didn't have to wash dishes."
"There's a first time for everything and this would result in my dumpster diving for all of that. Those plates look like they're worth a pretty penny," Beboppin521 admitted.
In the comments, when asked if she ended up keeping the plates, the host replied: "Oh yes I did!"
Radick told Newsweek: "I kept them! They're In my office waiting for me to decide what to do with them. I was thinking of doing another TikTok and doing a random drawing and sending them to someone who wants them.
"I don't think that I'll sell them, I think it's more of a fun question mark of why they were there, why they cleaned them before they threw them away, why they gently placed them in the trash. I've thrown away plates before and it's my favorite thing to smash them in the garbage can."
In a follow-up video she claimed she did go through the garbage, saying: "I found a painting, a tin of cookies, snowboarding boots with binding and I also found a sheet covered in poo. What can you do. It's AirBnB."
In another video, she filmed herself eating a cookie off the floral gold-trimmed plates.
It's thought the plates are from Canonsburg Pottery, founded by John George, in its namesake town in Pennsylvania.
Website Worth Point explained the company was well known for its "[e]arly dinnerware items [which] had hand-painted designs, many with floral motifs and gold or colored lining."
Various websites sell the crockery, with a 31-piece set on Etsy for $300. The firm officially ceased operations in 1978.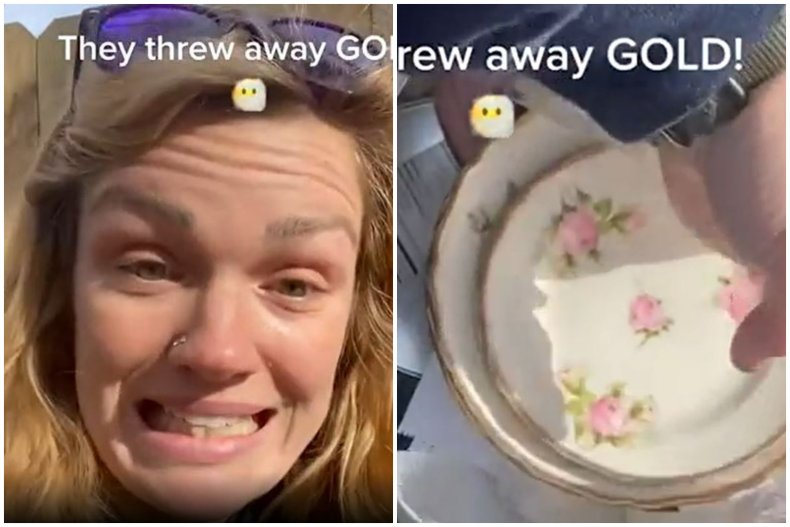 UPDATE 01/04/22, 11:00 a.m. ET: This article was updated with comment, video and photos from Radick.