Airport officials seized more than 23 pounds of cocaine hidden inside an electric wheelchair at an airport in Charlotte, North Carolina.
According to U.S. Customs and Border Protection Officers (CBP), an arriving passenger at the Charlotte Douglas International Airport was encountered inside while utilizing the electric wheelchair on Tuesday.
In the 2022 fiscal year, CBP officers have seized more than 34,700 pounds of cocaine inside the United States. CBP also reported seizing more than 100,000 pounds of methamphetamines and 89,300 pounds of marijuana.
In 2021, CBP officers seized a total of 914,000 pounds of illegal drugs, including nearly 97,000 pounds of cocaine. In 2020, CBP seized more than 1.1 million pounds worth of illegal drugs, including 58,000 pounds of cocaine.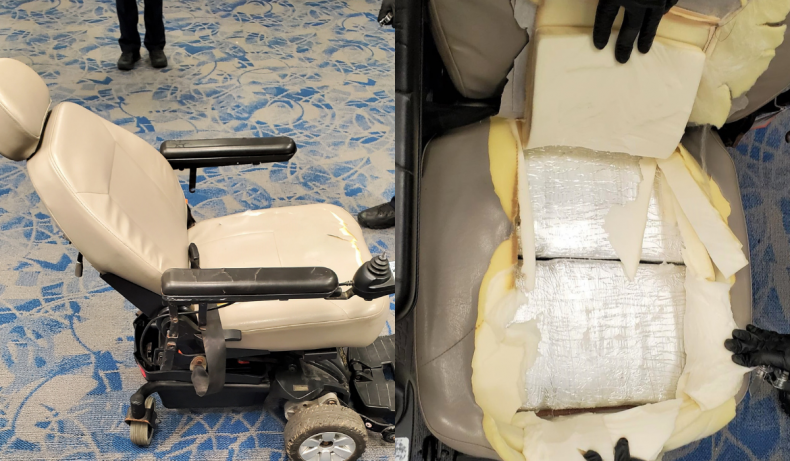 Alexander Lopez-Morel, 22, reportedly arrived off a flight from the Dominican Republic when he was encountered by CBP officers.
After further inspection of the wheelchair, CBP officers discovered packages concealed inside the seat cushions. The substance tested positive for cocaine, officers said.
Officials discovered a total of four packages containing over 23 pounds of cocaine—an estimated street value of $378,000, according to officials.
"This seizure demonstrates the dynamic border environment in which CBP officers operate at CLT," CBP Area Port Director Charlotte Barry Chastain said. "Our officers are determined to adapt and respond to these threats in an effort to stop narcotics reaching our communities."
Lopez-Morel was arrested by CBP officers and charged with felony trafficking in cocaine. The seized cocaine was turned over to several agencies for further investigation.
Newsweek reached out to U.S. Customs and Border Patrol for comment.
In January, Colombian officials seized nearly 22,000 coconuts filled with liquid cocaine. According to officials, the 500 bags of coconuts were intended to go to Italy.
Dissolving powder cocaine is a common technique for drug smugglers since it can be disguised inside various items. For smugglers ingesting liquid cocaine, numerous methods such as small packets or even condoms are popular.
In February, CBP agents seized more than $1.6 million worth of cocaine at the U.S.-Mexico border in Texas.
Another incident in February involved a law enforcement officer allegedly carrying a package of cocaine inside her vagina and bra.
Shelian Cherine Allen was being inspected by CBP at Fort Lauderdale-Hollywood International Airport in Florida when the cocaine was allegedly discovered.
"Allen also had 90 pellets of packaged cocaine inside her stomach, which she had swallowed," officials said in a statement. "In total, Allen had approximately 1,350 grams of cocaine on or inside her body when she entered the United States."