Nigeria: Aisha Buhari 'To Sue' Opposition Governor Fayose Over Corruption Claims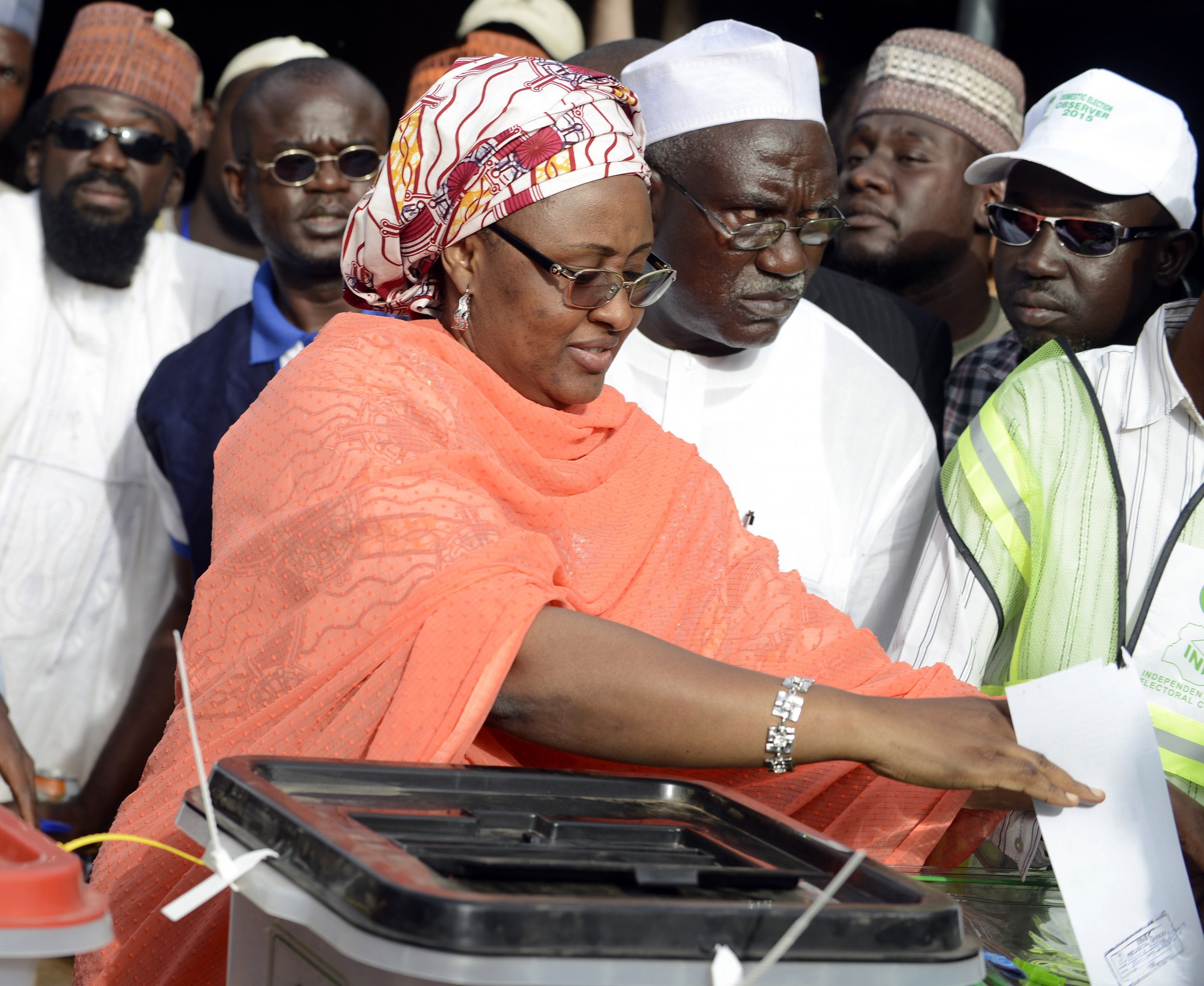 The wife of Nigerian President Muhammadu Buhari has not taken kindly to suggestions from an opposition governor that she was involved in a U.S. corruption scandal.
Aisha Buhari, the spouse of President Buhari since 1989, is reportedly preparing to sue Peter Ayodele Fayose, the governor of the central Nigerian state of Ekiti, and two of his media advisers, Idowu Adelusi and Lere Olayinka, according to Nigeria's Premium Times.
Fayose, a member of the opposition People's Democratic Party (PDP), accused Aisha Buhari earlier in 2016 of involvement in a bribery scandal involving former U.S. Congressman William J. Jefferson, who was sentenced to 13 years imprisonment in 2009 after being convicted of 11 counts of corruption. In an apparent error, Fayose actually referred to the case as the Halliburton scandal—where Nigerian officials accused American oil company Halliburton of corruption in 2010 before settling out of court—which is a completely separate case. But the Ekiti governor insisted he was correct despite the First Lady's threat of a lawsuit. Fayose made the accusation after his personal bank account was frozen by the country's anti-corruption agency, the Economic and Financial Crimes Commission (EFCC).
In the court documents for the Jefferson case, one Aisha Buhari in Nigeria was named as the holder of one of the accounts from which transfers were made to the disgraced Democrat, who was found to have taken around $500,000 in bribes. But a spokesman for the Nigerian Presidency, Garba Shehu, flatly denied that the president's wife had any connection to the case, a view also backed up by Ibrahim Lamorde, the former head of the EFCC.
Aisha Buhari herself took to Twitter to express her frustration with Fayose's allegations, referring to him as "a mad dog that isn't chained" in a tweet sent from her official account. The tweet was subsequently deleted and the First Lady did not publicly confirm whether it was sent by her.
In court documents obtained by Premium Times on July 20, Aisha Buhari applied for the right to issue writ of summons against Fayose and his two advisors. She had previously written to Fayose to say that allegations she was involved in either scandal were "very wild and unfounded."
Fayose's lawyer, Mike Ozekhome, insisted that his client was correct, stating that Aisha Buhari was named in the court judgment on Jefferson, whom he claimed was also involved in the Halliburton case. Ozekhome also said that his client enjoyed immunity from civil or criminal proceedings due to his status as a state governor and advised the First Lady to wait until October 2018, when Fayose's tenure expires, before launching legal action.
Newsweek reached out to both Aisha Buhari and Fayose for comment, but received no reply from either by the time of publication.
President Buhari, a member of the All Progressives Congress, defeated former President Goodluck Jonathan of the PDP in an election in March 2015 that marked Nigeria's first-ever peaceful transfer of power.