Nigeria's Buhari Unconvinced By Devaluing Naira After Currency Plunge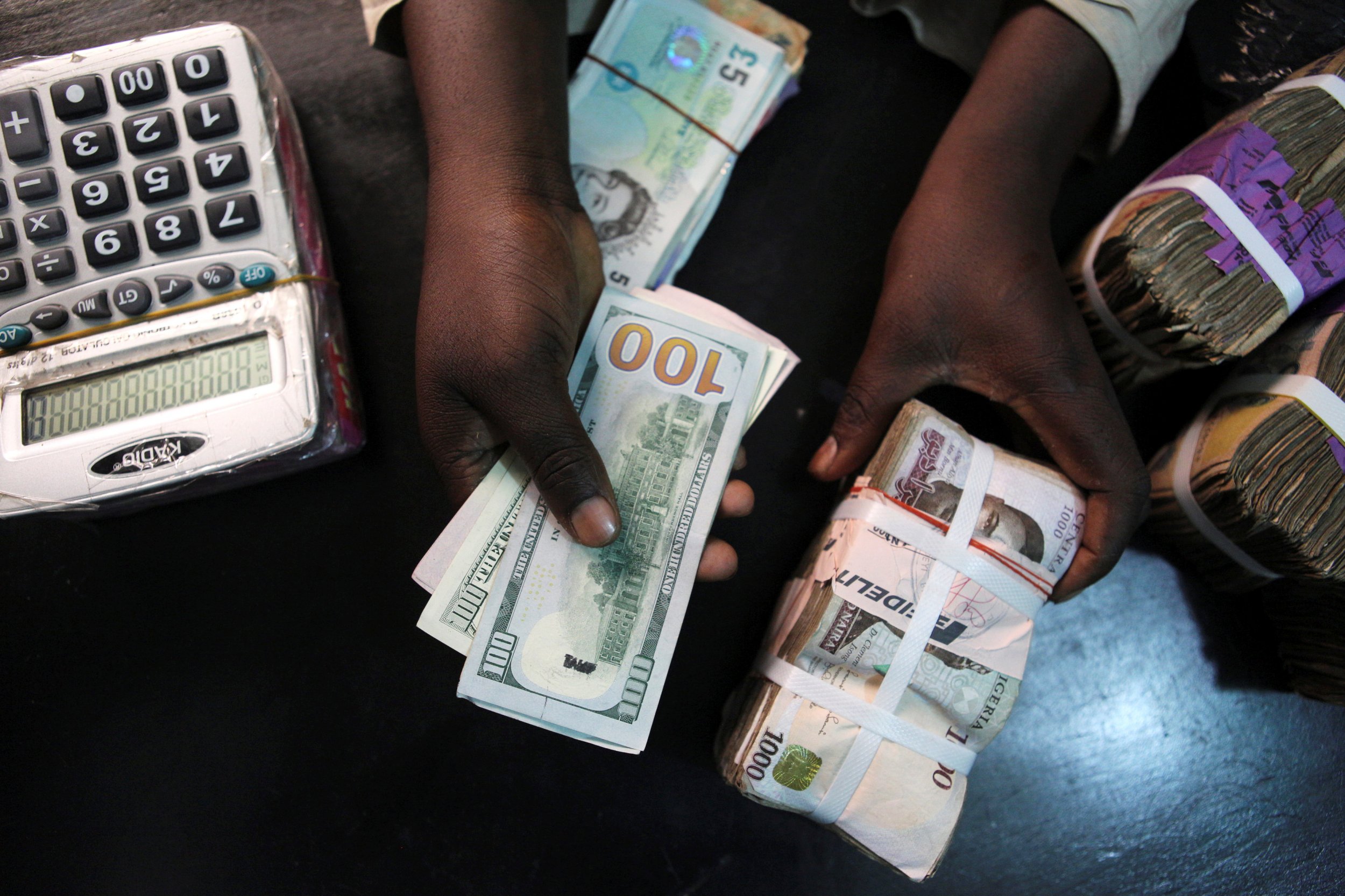 Nigeria's President Muhammadu Buhari says he is not convinced of the benefits of removing a currency peg that has seen the value of the country's currency plummet.
After 16 months of having the naira pegged at 197 to a dollar, the Central Bank of Nigeria (CBN) abandoned the fixed rate on June 20 and allowed the Nigerian currency to float freely. The exchange peg contributed to an enduring shortage of foreign currency, which saw the U.S. dollar trading for more than 300 naira on the black market.
Since the peg was removed, the value of the naira has plunged, ending at 282 to the dollar on Monday. Central bank governor Godwin Emefiele wrote in a leaked letter to Buhari that he was "reasonably optimistic" that the rate would stabilize at around 250 to the dollar after the initial period of weakness.
Prior to the peg's removal, Buhari had consistently resisted pressure from institutions including the International Monetary Fund (IMF) to devalue the naira. Speaking to a group of business leaders in the capital Abuja on Monday, Buhari said he did not like the returns he was getting from the CBN. "How much benefit can we derive from this ruthless devaluation of the naira? I'm not an economist neither a businessman—I fail to appreciate what is the economic explanation," said Buhari, according to Reuters.
Nigeria's economy has been pummeled by the global fall in oil prices and a decrease in production from 2.2 million barrels per day (bpd) at the start of 2016 to around 1.6 million bpd. The West African country is highly dependent on the oil and gas industry, which constitutes around 70 percent of government revenues. The fall in oil production is largely due to militant activities by groups including the Niger Delta Avengers (NDA), who have launched scores of attacks on oil pipelines and infrastructure in the oil-producing Niger Delta region since February.
Nigerian Petroleum Minister Emmanuel Ibe Kachikwu said in an interview with Bloomberg TV on Monday that oil production had actually rebounded to 1.9 million bpd due to an ongoing ceasefire agreement, which Kachikwu said had been put in place in earlier in June. The NDA, however, have publicly denied that they had agreed to a ceasefire and that they are in negotiations with the government, though their attacks have tailed off in recent weeks. Nigeria's budget for 2016, which set aside a record $31 billion for spending on infrastructure and the economy, is based on oil production at 2.2 million bpd.