The Key Issues for IMF Chief Christine Lagarde in Nigeria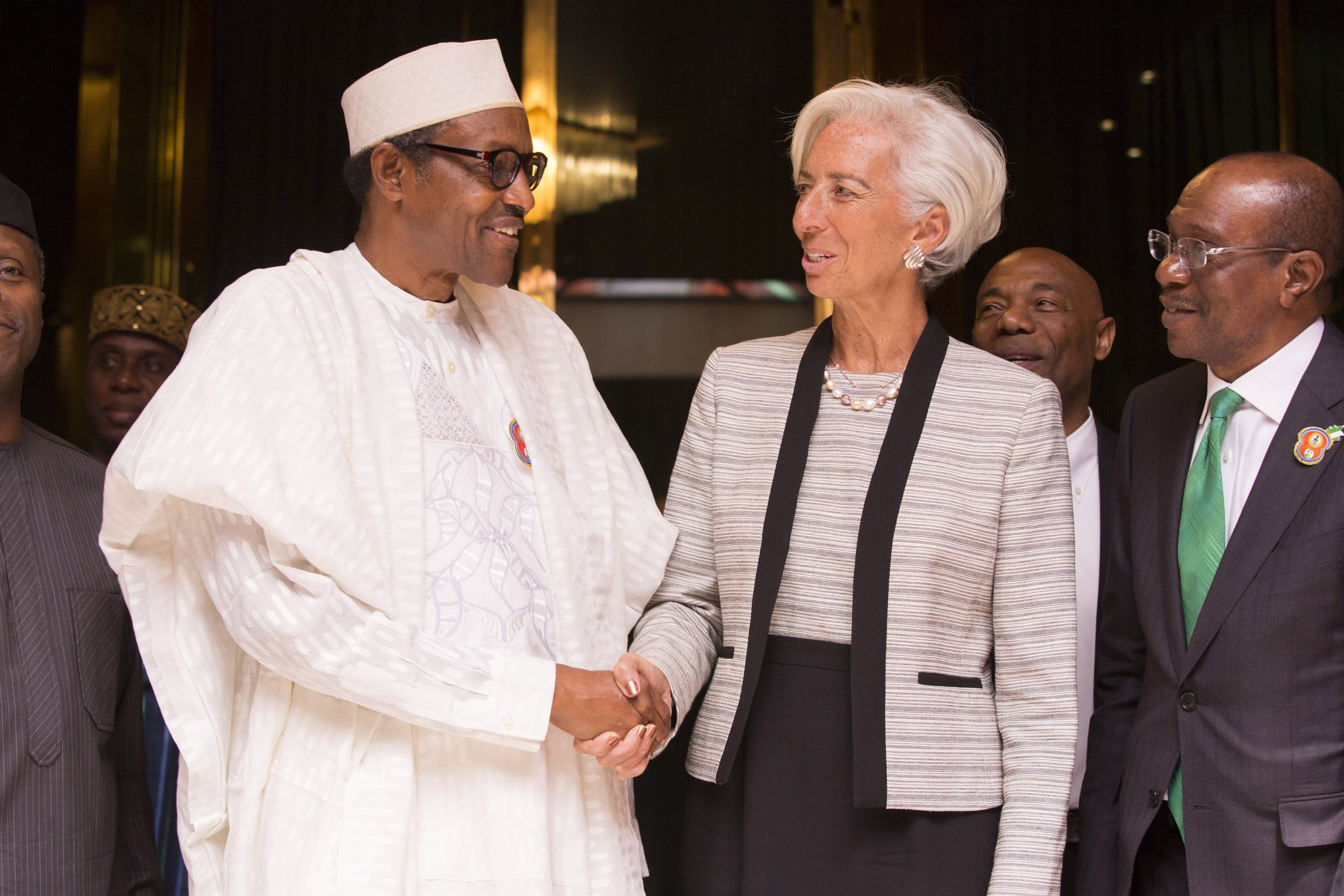 The International Monetary Fund's (IMF) managing director Christine Lagarde met with President Muhammadu Buhari on Tuesday as part of a four-day visit to Nigeria.
Lagarde dismissed suggestions that she was visiting Nigeria to agree a new IMF loan for the country, which has been hit hard by the global slump in oil prices. Her visit comes at a time of economic scrutiny in Nigeria. It is only a few weeks after Buhari's first budget, in which he announced huge increases in capital expenditure and foreign borrowing as Nigeria tries to move away from its dependency on oil. As well as her discussions with Buhari, Lagarde is due to meet with Nigeria's Finance Minister Kemi Adeosun and address the National Assembly on Wednesday afternoon.
Newsweek spoke with experts to look at what the Nigerian government and Lagarde might discuss.
1. Lifting foreign exchange restrictions
In a bid to deal with falling oil prices—which had hit as low as $39 a barrel in December 2015—the Central Bank of Nigeria (CBN) has taken several steps to reduce access to foreign currency and retain the value of the naira. These include restrictions on the importing of 41 categories of items—which covers hundreds of arbitrary items, from soap to toothpicks—that could leave Nigerian companies without adequate raw materials to make their products. "This is obviously not what the IMF, or any free market-oriented economist, would advise the Nigerian government to do," says Malte Liewerscheidt, senior analyst on Nigeria at U.K.-based risk consultancy Verisk Maplecroft. Indeed, the IMF has been openly critical of measures the CBN has taken in recent months and Lagarde is likely to ram this point home in her meetings with government officials and stakeholders.
2. Scrutinizing the budget
In his maiden budget announced on December 22, 2015, Buhari announced plans to raise spending by 20 percent in 2016, with $31 billion going towards improving infrastructure and the economy. The Nigerian president said he would seek 900 billion naira ($4.5 billion) of overseas funding and claimed that oil would make up just 820 billion naira ($4.1 billion) of the 3.9 trillion naira ($19.6 billion) forecast for 2016. "Everyone agrees that the revenue assumptions are a little bit optimistic," says Manji Cheto, vice president of political risk analysts Teneo Intelligence. "Nigeria has not particularly had a great history in non-oil revenue accumulation so obviously that's a major downside risk." Following her meeting with Buhari on Tuesday, Lagarde tweeted that she was "impressed" with the government's response to low oil prices, but the challenge, according to Cheto, will be whether the budget can actually be implemented.
3. Ending corruption in the government
Buhari was elected on a pledge to stamp out corruption in the Nigerian government and recover billions of dollars allegedly misused or stolen by previous government officials. He has taken a number of steps in this direction, notably the arrest of Sambo Dasuki, Nigeria's former national security advisor, on charges of allegedly stealing $2 billion of government funds earmarked for arms to fight the militant group Boko Haram. A December 2015 report by corruption watchdog Transparency International, however, found that 75 percent of Nigerians believed that corruption in the government had increased over the past 12 months. Lagarde praised Buhari's "very important" fight against corruption and encouraged the president to deliver upon his ambitious agenda.
4. Boko Haram's impact on the economy
As well as its human cost, Boko Haram's six-year insurgency in northeast Nigeria has had a devastating economic impact on the country. Kashim Shettima, the governor of the militants' home state of Borno, estimated in September 2015 that the cost of rebuilding infrastructure destroyed by the group would exceed $1 billion. Boko Haram's attacks have internally displaced more than two million people, whom Buhari pledged would start returning to their homes in 2016. But as long as Boko Haram is still active and capable of carrying out attacks, the issue of rebuilding the northeast will remain unresolved. "Unless they can get a degree of stability in the north, the question of economic development is not a question at all," says Cheto.