Alabama Election Polls: Can Roy Moore Still Beat Doug Jones After Child Sex Abuse Allegations?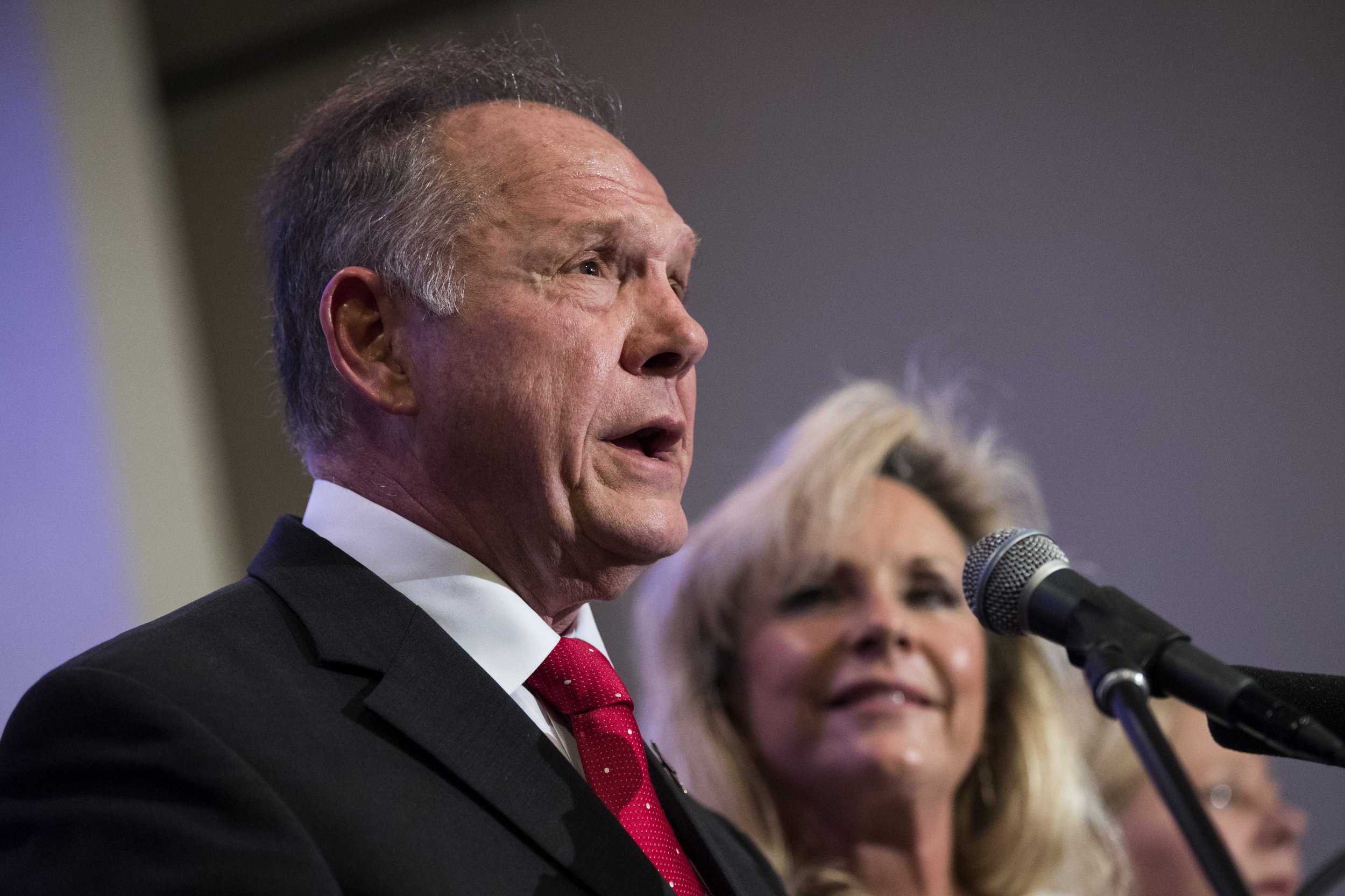 Roy Moore has faced nine allegations that he preyed on teenage girls when he was in his 30s. In one case he allegedly had sexual interaction with a 14-year-old, and in another he is accused of attempting to rape a 16-year-old. Regardless, the latest polls suggest he has every chance of being elected a United States senator representing Alabama next week.
Related: Roy Moore, accused child molester, co-wrote course guide that said all women are unfit for office
Almost a month after the first allegations against Moore emerged, polls show an almost even matchup between the Republican and his Democratic opponent, Doug Jones. The latest poll, of 1,276 likely voters conducted by Big League-Gravis and released Tuesday, gave Jones a slender advantage, 48 percent to 44 percent. However, two other polls conducted over the past week, by Emerson and CBS News/YouGov, gave Moore the edge by 3 and 6 percentage points, respectively.
Colonel Lee Busby, a former top aide to current White House chief of staff John Kelly who entered the race as a write-in candidate last week, garnered 5 percent of the support in the Emerson poll.
The polls represent a sharp contrast from those conducted prior to the allegations against Moore, when he was often shown to have double-digit advantages. But after taking a big initial hit following Leigh Corfman's account that Moore met her outside a courtroom with her mother at the age of 14 and later took her back to his home and initiated sexual activity, Moore's poll numbers have recovered.
He has also recovered support from leading members of his party. Despite the White House initially stating that it would leave the fate of the election to Alabama voters, President Donald Trump officially endorsed Moore on Monday. The president later telephoned Moore, and reportedly ended the conversation by saying, "Go get 'em, Roy!"
On Tuesday, he reaffirmed his support.
"We certainly don't want to have a liberal Democrat [from Alabama] that's controlled by Nancy Pelosi and Chuck Schumer," he said at the White House.
Shortly after Trump's endorsement, the Republican National Committee announced that it was reinstating its support of the embattled candidate. Both the Republican establishment and Trump had backed Luther Strange, who was appointed to fill the Senate seat vacated by now-Attorney General Jeff Sessions, during the Republican primary.
Even if Moore prevails, doubt remains whether he would have long to savor his victory. Senate Majority Leader Mitch McConnell reiterated Tuesday that Moore would likely face an immediate ethics committee investigation if elected.
"I had hoped that Judge Moore would resign, withdraw from the race," he said. "That is obviously not going to happen. If he were to be elected, I think he would immediately have an issue with the ethics committee, which they would take up."