Alabama Pizzeria Tells Unemployed 'We Will Literally Hire Anyone'
An Alabama pizzeria has posted a novel job ad in a bid to entice people to join their staff, saying "we will literally hire anyone."
Dave's Pizza, located in Homewood, shared a banner to their Facebook page, advertising positions were available. The post, uploaded last Wednesday, simply says: "We will literally hire anyone. If you're on unemployment and can't find a job, call us; we'll hire you."
In the comments people asked how to apply, and Dave's responded, saying: "We prefer for you to come introduce yourself and set up an interview... Come introduce yourself, if you have a resume bring it; let's talk. Ask to speak to a manager. THANKS for asking!"
It seems as if Dave's has been on the hunt for staff for a while, with another photo shared on their Facebook page last September, also indicating they were hiring. A physical banner has been erected on what's thought to be the exterior of the restaurant, which says in big, bold lettering: "We are hiring. All positions available. Please apply inside."
The post has attracted a lot of attention amid the current job climate, as the U.S. grapples with wages, employment and benefits in the wake of the pandemic, with small businesses struggling to find workers.
A survey conducted earlier this year by the National Federation of Independent Business revealed nearly half of small businesses were finding it difficult to recruit staff. Some 44 percent were struggling to fill vacancies in the wake of the COVID-19 pandemic, the report showed.
Job openings reached their highest level across the country since 2000, according to the U.S. Bureau of Labor Statistics, in June. Some 559,000 new jobs were advertised in May, up from 278,000 added the previous month, as the economy recovered.
Unemployment claims are seen as a real-time measure of how the job market is faring, with figures indicating a recovery. A Labor Department report, released on August 12, showed the previous week's unemployment claims dropped to 375,000, down from 387,000 one week prior.
It's a steep decline from the high of more than 900,000 applications seen in early January, but current figures are still above pre-pandemic levels, of around 220,000 claims per week.
Despite this, there remains claims of a "labor shortage," as customer service industries, including restaurant, retail and tourism, appeared to struggle to fill vacancies. "Now hiring" signs have become commonplace across many states, with companies turning to incentives to try and attract new workers.
Chains from White Castle to Wendy's have upped their minimum wage offer, handing out pizzas at interviews as well as giving out signing-up bonuses. McDonald's went as far as to offer free iPhones to new employees, while Disney World has offered workers a $1,000 hiring bonus.
The perks echo Marc Perrone's—the president of the United Food and Commercial Workers International Union (UFCW)—assertion that there's an overall wage shortage, rather than a labor one.
"It's not a person shortage; it is in fact a gap in what employers want to pay and what workers are willing to work for," he told Newsweek.
He refuted claims Americans were choosing to live off their stimulus packages and increased unemployment checks rather than work, although he noted it did "further exacerbate the problem."
In a bid to help struggling Americans at the start of the pandemic, amid record job losses and business closures, unemployment benefits were increased by $600 a week, and later $300 a week.
Some have claimed the increase in cash from the government has been a factor in the lack of employment uptake by some. By the end of July, 22 states had put an end to the monetary boost, with the higher rate set to expire nationally on September 6.
"Beyond weekly ups and downs, the trend in total filings should remain downward over the coming weeks. Overall, job growth should pick up and labor shortages should ease as near-term constraints—virus concerns, child-care issues and enhanced unemployment benefits—diminish," Rubeela Farooqi, chief U.S. economist at High Frequency Economics, wrote in a report in July.
Back at Dave's, which describes itself as "a family with a great passion for pizza, good beer and music, but mostly for our loyal and crazy local community," one former worker raved about the outlet.
Tommy Cox, who claims he worked at the pizza joint around 2008 and again in 2012, commented on the job ad on Facebook, praising the restaurant.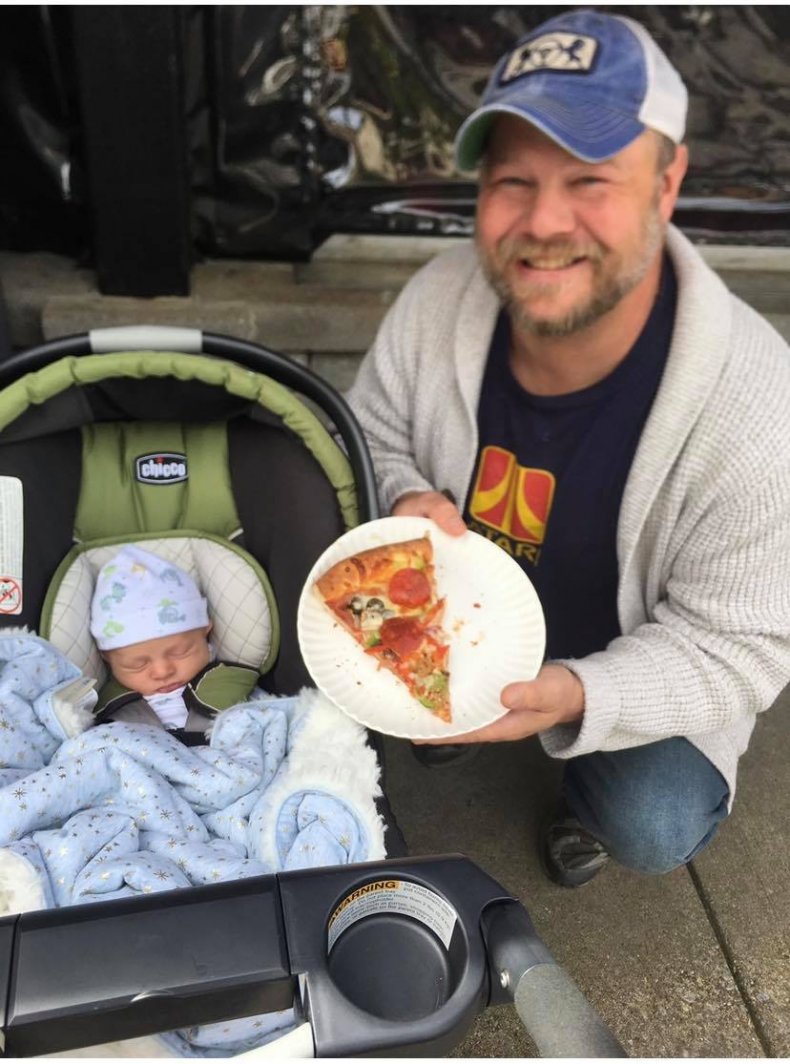 Cox, from Alabama, who runs an automotive detailing company, told Newsweek: "It was a really fun atmosphere great team work with the servers, most I'm still friends with to this day. There were also some great cooks and servers Brett hired women from a local group that helps women get a second chance when they might have trouble finding other work. As far as pay it was like every other restaurant in town, right around state/fed minimum. With tips I averaged between $15-$20/hr most nights."
Cox, who took his 2-and-a-half-year-old son, Thomas Blair Cox IV, to the outlet for his very first trip to a restaurant when he was 2 months old, said many places in his home state appeared to be in the same position.
He added: "I think the ad put it how a lot friends that are business owners feel, but are afraid to put it out there like that. Almost every restaurant in the Birmingham metro area are struggling to get employees. A quick glance at local groups you'll see customers complaining about waiting for food, places being closed for lack of labor, hours that they are open, etc.
"There is a place called Your Pie by my house that was closed for over a month from a labor shortage. Most of my friends and family are spread across the southeast and the labor shortage seems similar across the board in service and retail. I think this is for a number of reasons from people being scared to get back out with the Delta variant, extended un employment, moving into the gig economy, taking care of kids who may have lost child care, etc."
Newsweek reached out to Dave's Pizza for comment.