One branch of McDonald's is reportedly offering employees iPhones in an effort to attract new workers, according to a photo circulating on Twitter.
The photo appears to show a hiring sign at a McDonald's restaurant advertising a free iPhone to new staff members after six months' employment, as long as they meet the employment criteria.
The tweet, shared by user @brogawd_, has been liked more than 190,000 times and shared more than 30,000 times. The user @brogawd_ shared the photo and said: "LMFAO G MCDONALDS IS STARVING."
The unidentified McDonald's restaurant is not alone in getting creative with its hiring tactics.
Last month, it was reported that a McDonald's franchise owner in Tampa, Florida, was offering job applicants $50 to turn up to an interview.
However, Blake Casper, the franchise owner, said that his restaurants had more success hiring using referral programs, signing bonuses, and allowing people to apply via text message, rather than the $50 interview reward.
The hiring tactics are facing a backlash, however, as social media users have reacted to the photo of the iPhone incentive with outrage, claiming that the fast-food chain would have more success hiring if it paid its workers more and provided better working conditions.
One Twitter user shared a photo of the sin edited to read "Now hiring—living wage and reasonable hours," while another said: "They could just offer livable wage instead of this theatrics."
Other users are skeptical about the iPhone offer, fearing that employees may be let go five months into the position, or that the "employment criteria" may be impossible to meet. Social media users are also joking about the condition of the iPhone McDonald's is claiming to give away, saying it could be an old model or have a smashed screen.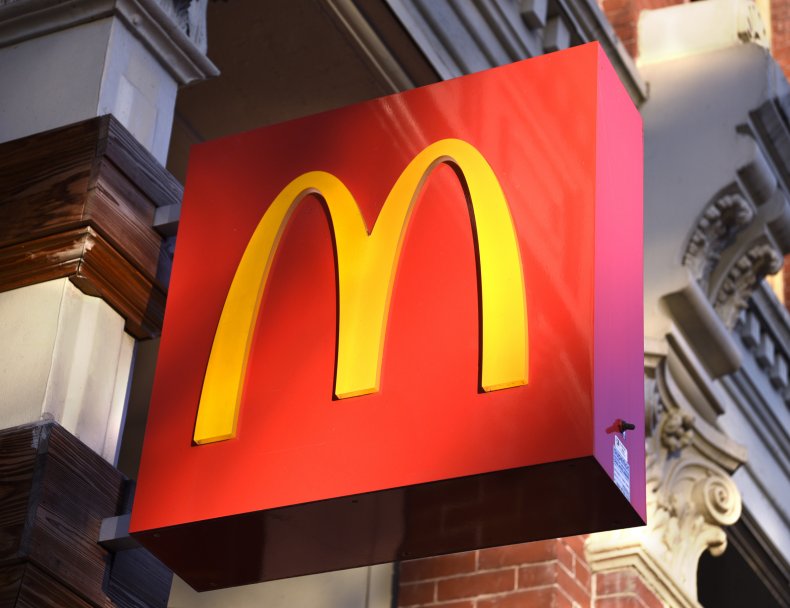 Earlier this month, McDonald's said it would raise the hourly wages of current employees at McDonald's-owned restaurants by an average of 10 percent.
Over the next few months, the entry-level range for crew will increase to at least $11 an hour and up to $17 an hour, depending on location. Meanwhile, the starting range for shift managers will rise to at least between $15 and $20 an hour, depending on the location.
If McDonald's is struggling to hire, it is not alone. Multiple photos have emerged of signs in restaurants windows saying that they are closed or understaffed because their employees quit.
One sign on a Hardee's window said: "Due to no staff, we are closed. We are hiring," and a Wendy's sign said: "We all quit!! Closed!!"
A sign on a Chipotle window said: "Attention Chipotle customers. Want to know why we're closed? Ask our corporate offices why their employees are forced to work in borderline sweatshop conditions for 8+ hours without breaks. We are overworked, understaffed, underpaid, and underappreciated.
"Almost the entire management and crew have walked out until further notice. People should be [more than] profits."
Newsweek has contacted McDonald's for comment.