What McDonald's Wage Raises Actually Mean for Employees
McDonald's has said that it will raise the wages for some of its employees but what impact will the pay increase have on most of its workforce?
In an announcement on Thursday, the fast food giant said that it would raise the hourly wages of current employees at McDonald's-owned restaurants by an average of 10 percent.
In a move that will be rolled out over the next few months, the entry level range for crew will go to at least $11 an hour, up to $17 an hour, depending on where the restaurant is located.
Meanwhile, McDonald's said that the starting range for shift managers would rise to at least between $15 and $20 an hour, depending on the location. In a statement, the company added that "36,500 hardworking employees" would benefit from the increase.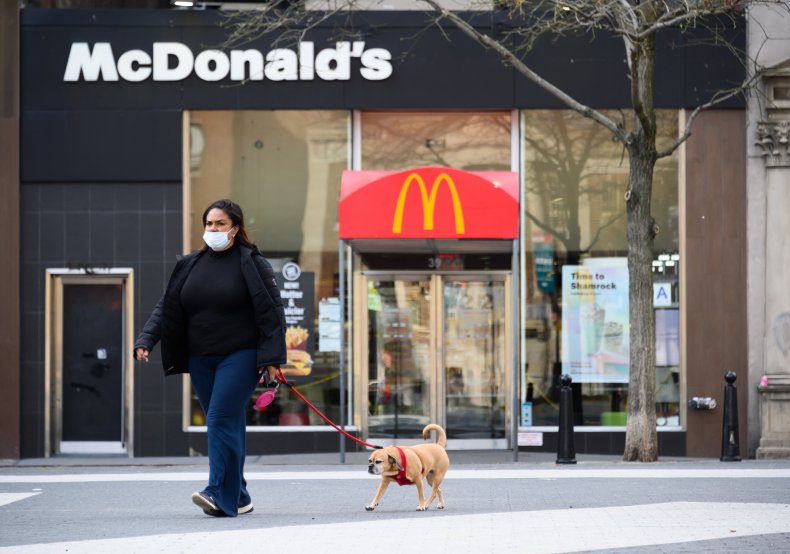 President of McDonald's USA, Joe Erlinger, said in a statement that was tweeted: "These actions further our commitment to offering one of the leading pay and benefits packages in the industry."
However, certain media outlets focused on how the pay increases only affect the 650 company-owned restaurants in the United States and not the 95 percent of McDonald's roughly 14,000 restaurants in the U.S. that are independently owned.
The corporate office only directly controls staffing and pay at the company-owned locations while franchisees make their own decisions about wages.
McDonald's has not yet suggested that a similar move to increase wages would be undertaken by franchisees although it appears that discussions on how to hire and keep workers are ongoing across all outlets, Business Insider reported.
Citing a message sent to employees seen by the publication, Erlinger said McDonald's will "encourage all owner/operators to make this same commitment to their restaurant teams in ways that make the most sense for their community, their people, and their long-term growth."
The pay hikes signal inflationary pressures building across the U.S. as bottlenecks in the supply of goods and labor meet demand as the country reopens, Bloomberg reported.
To meet such pent-up demand, the fast food chain said it also seeks to hire 10,000 workers in the next three months.
And while McDonald's says that the average worker wage would go up to $13 an hour, with some getting $15 an hour later this year, this level still falls short of the minimum demanded by the Fight for $15 organization, backed by the Service Employees International Union.
Next Wednesday, McDonald's workers plan to strike in 15 cities, as they call for a $15 minimum wage a day before the company's annual shareholder meeting.
When asked if it would push to increase franchise outlets wages, McDonald's provided a statement to Newsweek by Mark Salebra, chair of the U.S. national franchisee leadership alliance, who referred to its "variety of unique employee programs and benefits locally as franchisees."
Salebra said that owner/operators were "leading an effort to implement an enhanced employee value proposition."
"This platform includes a set of industry-leading best practices on pay and benefits that independent owner/operators can implement however they deem appropriate to stay competitive in their local markets," the emailed statement said.
Update 05/14/21, 03:35a.m. ET: This story has been updated to include a response to Newsweek from McDonald's USA.