Alec Baldwin Admits He's Going Through 'Really Tough Time' After 'Rust' Shooting
Alec Baldwin has admitted that he is going through a "really tough time" as he spoke about his life in the aftermath of the fatal Rust shooting.
On October 21, star and producer Baldwin was handed a gun that went off during rehearsals on the movie's New Mexico set, leading to the accidental killing of cinematographer Halyna Hutchins, and the injury of writer-director Joel Souza.
As a police investigation into the incident continues, the actor took to his Instagram account on Friday to share a message thanking fans for their support.
"I wanted to take a moment to say thank you to all the people who sent me such kind words and best wishes and strength and hope and prayers and so forth," the 30 Rock star said in the self-shot clip.
"Lots of encouragement and lots of really, really great sentiments from so many people," he went on. "I got hundreds of emails from friends and family and colleagues and people, some that I hadn't heard from in quite a while, to send me strength and good wishes. I am very grateful for that."
Addressing the Rust shooting, he said: "I'm looking forward to some aspects of this being behind me, of course for everyone who's involved in this it's never going to be behind us because someone died so tragically. I never lose sight of that, not a day goes by that I don't think about that."
"[I'm] just trying to move forward with my life and trying to get through a tough time, a really tough time," he added, noting that he was "lucky" to be home with his wife, Hilaria Baldwin, and their six children.
Admitting that he didn't have "anything smart or original to say," the screen star concluded his three-minute video by telling his followers: "Be safe, wear a mask, get the booster, and don't let Santa Claus down the chimney without a mask."
Last week, police in New Mexico filed a search warrant and affidavit in Santa Fe Magistrate Court, seeking access to Baldwin's Apple iPhone, in a bid to examine his communications over text, email and social media, as well as browser activity, among other information.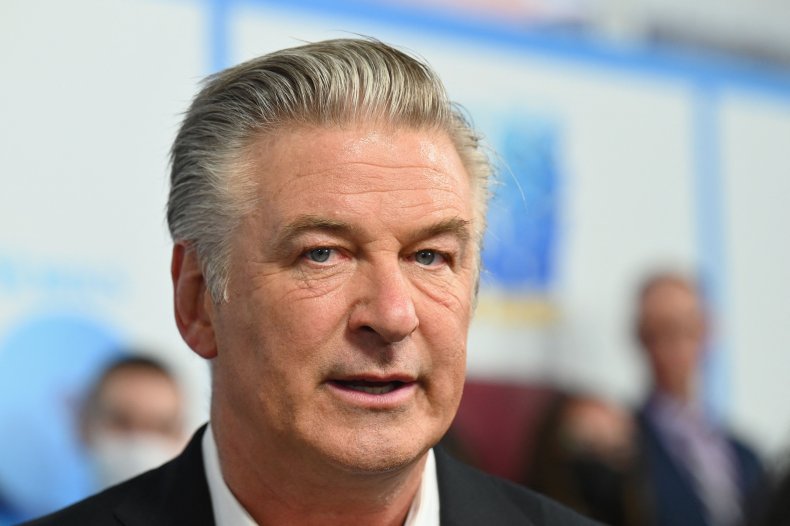 "There may be evidence on the phone, due to individuals using cellular phones during and/or after the commission of crime(s)," the document read, according to The Guardian.
"There were several emails and text messages sent and received regarding the movie production Rust in the course of (police) interviews," the affidavit continued.
In an interview with ABC News' George Stephanopoulos that aired at the start of December, Baldwin alleged that the gun he was holding—which he was unaware contained live rounds—fired without him pulling the trigger.
According to a previous search warrant affidavit, the gun in question was handed to the veteran actor by Rust assistant director David Halls, who shouted "cold gun" to indicate that the prop did not contain any live rounds.
Days after the shooting, Rust armorer Hannah Gutierrez-Reed broke her silence, insisting in a statement through her attorney that she had "no idea" where the live ammunition came from.
In a recent interview with British tabloid The Sun, Hutchins' father, Anatoly Androsovych, said of Baldwin: "[It's] hard for me to understand how he cannot be held partly responsible for my daughter's death."