Alec Baldwin's Daughter Slams Candace Owens for Calling Shooting 'Poetic Justice'
Alec Baldwin's daughter has slammed Candace Owens, after the conservative commentator called the actor's shooting "poetic justice."
On Thursday, Baldwin discharged a prop gun on the New Mexico set of his Western film Rust, leading to the death of cinematographer Halyna Hutchins and injuring writer-director Joel Souza.
The following day, the actor, who is also a producer on the movie, took to Twitter to express his "shock and sadness" following Hutchins' death, as he revealed that he is "fully cooperating" with the police investigation.
However, Owens shared her own statement on the micro-blogging platform, saying that the horrific incident was "poetic justice" for Baldwin's criticism of former President Donald Trump and his supporters.
She wrote: "Alec Baldwin spent 4 years dedicated to painting Donald Trump and his supporters as evil murderers. What has happened to Alec would be an example of poetic Justice if it weren't for the actual innocent people that were murdered by him. Pray for their families."
Owens, who appeared to delete her initial tweet, added in a follow-up message: "Will correct my tweet to say Alec Baldwin *killed* someone—not murdered someone, as murder carries a different legal definition."
A screenshot of Owens' tweet condemning Baldwin caught the attention of his daughter, Ireland Baldwin, who took to her Instagram Story to slam the TV personality on Monday.
Posting a photo of Owens, Ireland Baldwin wrote: "You are the most disgusting, hateful, cancerous human being I've ever come across. Regardless of your foul opinions most of the time, the fact that you would disrespect the life of a woman who was accidentally and tragically killed... Shame on you."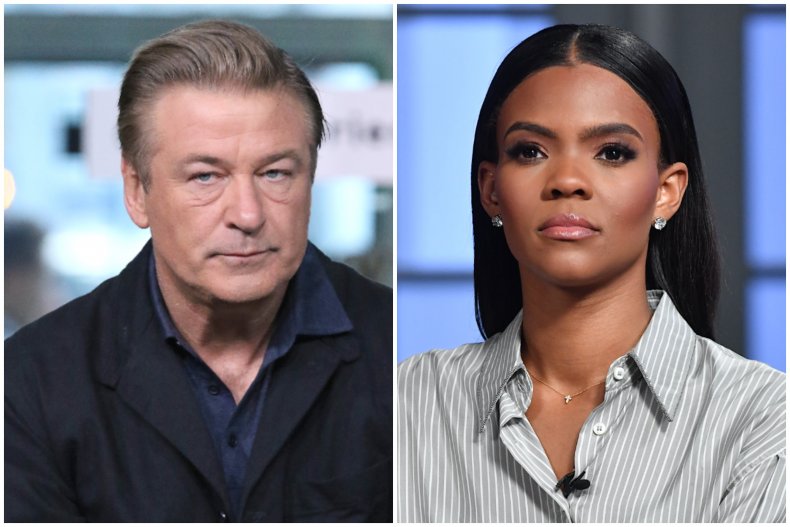 Sharing a screenshot of the tweet in question, Ireland Baldwin added the caption: "Yup... I'm going to go ahead and take that Instagram break. I am ashamed to [breathe] the same air as this woman."
In a stream of messages, she continued: "Be a republican. Be unvaccinated. I don't give a f***. There are plenty of republican values that I support and plenty of liberal ones that I support as well. But one f****** thing I find myself doing is being RESPECTFUL.
"But we aren't debating masks and vaccines and abortion and trans rights here..."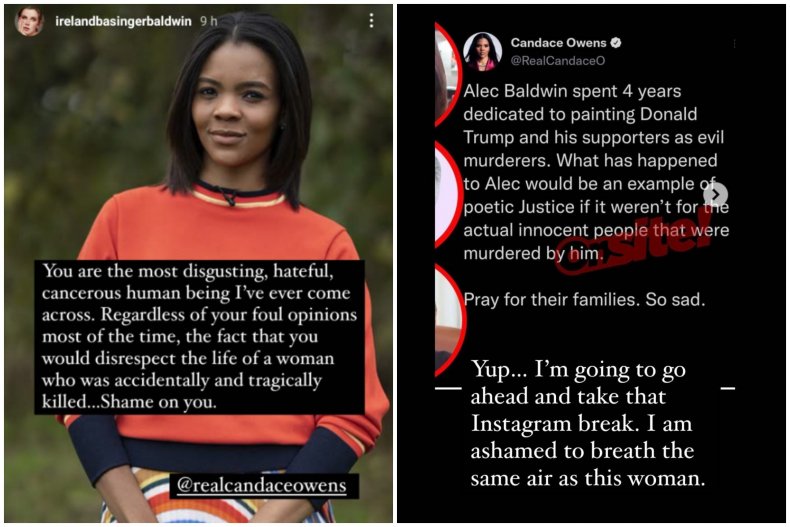 Also taking aim at alt-right activist Jack Posobiec, Ireland Baldwin continued: "A woman's life was lost. Your tweets, lack of information, and ignorance are hurting people.
"You and that scumbag @jackmposobiec don't have a clue what you're even talking about and you usually never do. I respect people's opinions... but if you support these absolute clowns... people don't follow me any more. I beg."
"If you simply don't RESPECT people... then unfollow me," she went on. "It's so simple. Unfollow me if you don't support trans rights. LGBTQ rights as a whole. Human rights. But reeeeaaaalllyyy hit that unfollow button if you're trying to defame my father and tweet such horrific statements about this tragic situation. It breaks my heart that people are so hatefully ignorant..."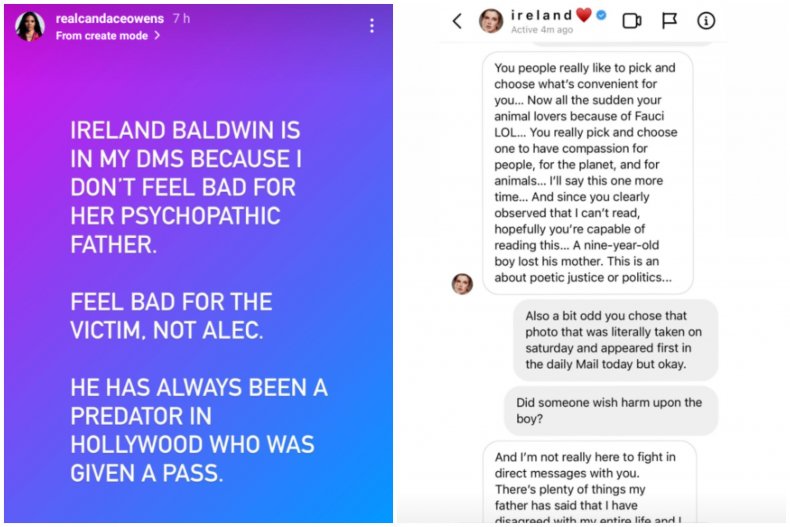 Amid the rant, Owens posted to her own Instagram Story as she doubled down on her attack on Alec Baldwin, branding him "psychopathic."
"Ireland Baldwin is in my DMs because I don't feel bad for her psychopathic father," Owens wrote. "Feel bad for the victim, not Alec. He has always been a predator in Hollywood who was given a pass."
She also shared screenshots of their conversation, showing Ireland Baldwin criticizing Owens for her comments against Dr. Anthony Fauci, amid allegations he signed off on controversial dog experiments.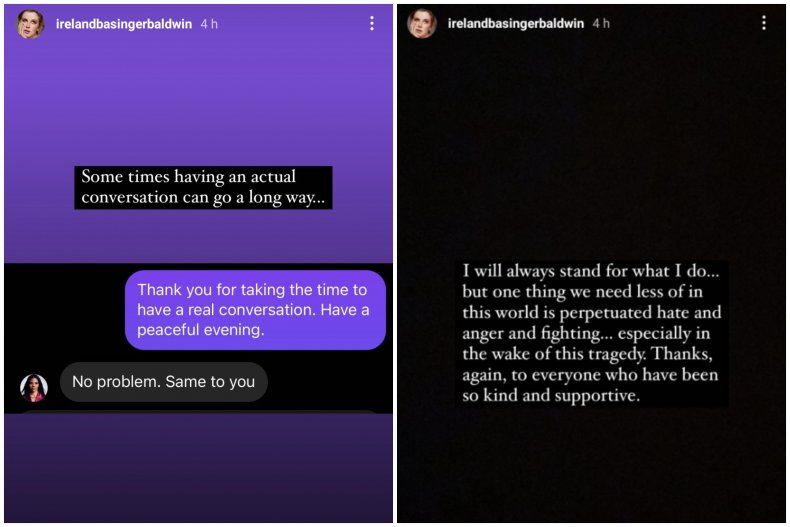 "Not sure why she suddenly shifted gears to defend Fauci out of nowhere," wrote Owens, "but you don't exactly need to be an 'animal lover' to think torturing puppies is pretty sick."
Hours after the social media back-and-forth started, it appeared that things had been resolved, as Ireland Baldwin shared a screenshot of a message exchange in which she told Owens: "Thank you for taking the time to have a real conversation. Have a peaceful evening."
"No problem. Same to you," Owens responded in the post, as Ireland Baldwin added the caption: "Some times having an actual conversation can go a long way..."
It has been announced that production on Rust has been suspended at least until the police investigation into the shooting has concluded.