Video: Moment Shows Alec Baldwin Discovering Woman Died in 'Rust' Shooting
Newly released footage shows the moment actor Alec Baldwin learned of cinematographer Halyna Hutchins' death in October 2021 after her accidental death on the New Mexico set of the Western film, Rust.
In an interview with ABC News in December, Baldwin, who was also one of the film's producers, said that he was pointing the gun at Hutchins at her instruction during rehearsals on October 21 when it went off without his pulling the trigger, shooting and killing Hutchins and injuring writer-director Joel Souza.
Footage from an interview last year with Baldwin in the Santa Fe County Sheriff's Office was recently released to the public, showing deputies telling Baldwin that Hutchins had died.
"I do have some very unfortunate news to tell you," a deputy told him. "She didn't make it." Baldwin shouted, "No!" before putting his hand over his mouth and sitting in silence.
He sat for several moments, covering his face with his hand as the deputy asked if "There was anything we could do for you." Later in the video, Baldwin stands and says, "I want to go call my wife."
Law enforcement recently released multiple pieces of video evidence, including body-cam footage from police who arrived at the scene on set moments after the shooting.
Santa Fe County Sheriff Adan Mendoza told Newsweek that the release of the footage was "in response to a public records request. This was also an effort to be as transparent as possible in regards to the investigation."
A clip of the filmed scene that allegedly shows the moment Hutchins was shot was also released. The video is muted and shows Baldwin doing a quick-draw stunt before the camera falls backward.
Baldwin has denied that he and the producers on the set were "reckless" in the events leading up to the shooting, claiming that they had been told that the gun was a "cold gun," meaning it was not loaded.
In a statement, Baldwin's legal team expressed that both Baldwin and Hutchins "and the rest of the crew relied on the statement by the two professionals responsible for checking the gun that it was a 'cold gun'—meaning there is no possibility of a discharge, blank or otherwise."
Last week, New Mexico's Environment Department's Occupational Health and Safety Bureau (OHSB) released a report that said the film's production company had "demonstrated plain indifference to the hazards associated with firearms" and could have "prevented the accident from occurring" if it had acted properly.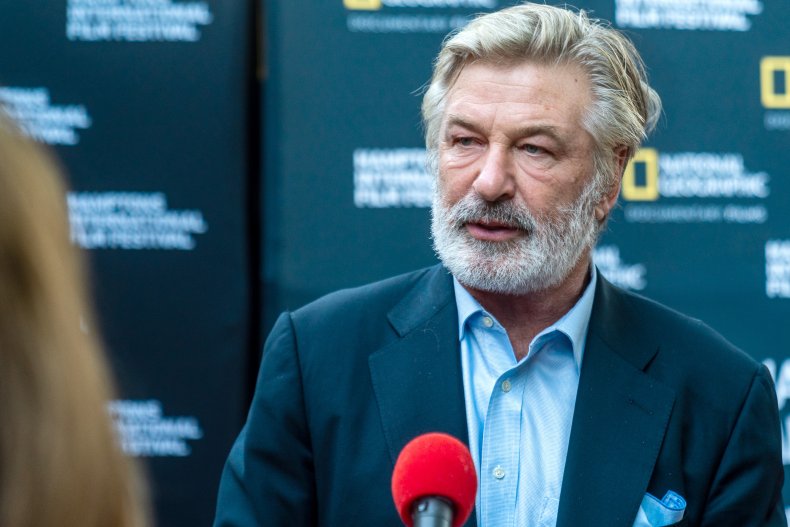 "We're hoping that the investigations are near completion, there are a few things that we're waiting on," Mendoza said. The investigation is waiting on several analysis reports regarding legal prints and DNA and analysis of the firearm before it can be finalized.
In an earlier report, Baldwin's attorney, Luke Nikas, told Newsweek that the actor "welcomes" the investigation and stressed that "Mr. Baldwin acted responsibly and did not have control over any production issues identified in the OSHA report."