Alec Baldwin Praises Wife for Support During 'Tough Times' After 'Rust' Tell-All
Alec Baldwin praised his wife for standing by him through "tough times" in a post shared hours after his interview about the tragic Rust shooting was aired.
In an interview with ABC News' George Stephanopoulos, Baldwin recounted the events that resulted in the death of cinematographer Halyna Hutchins on the New Mexico set of his movie after the actor was handed a gun on October 21.
During the emotional hourlong special, Baldwin alleged that the gun he was holding—which he was unaware contained live rounds—fired without him pulling the trigger, leading to the death of Hutchins and injury of director Joel Souza.
Hours after the interview aired on Thursday, Baldwin took to Instagram to shower his wife, Hilaria Baldwin, with praise, crediting her with giving him "a reason to live."
Sharing a photo of himself holding one of the six children he shares with his wife of nine years, he wrote: "No matter what happens to me. No matter what I suffer. If I win or lose, anything. Anything. No one can take away from me the joy and love you have given me, @hilariabaldwin.
"These are tough times. The world is choked with fumes of hate. But you have given me a reason to live. Our life with our family is all I care about. Nothing else. I owe that to you."
Days after the tragic shooting, the star's wife showed her support in an Instagram post, writing: "My heart is with Halyna. Her husband. Her son. Their family and loved one. And my Alec.
"It's said, 'There are no words' because it's impossible to express the shock and heartache of such a tragic accident. Heartbreak. Loss. Support."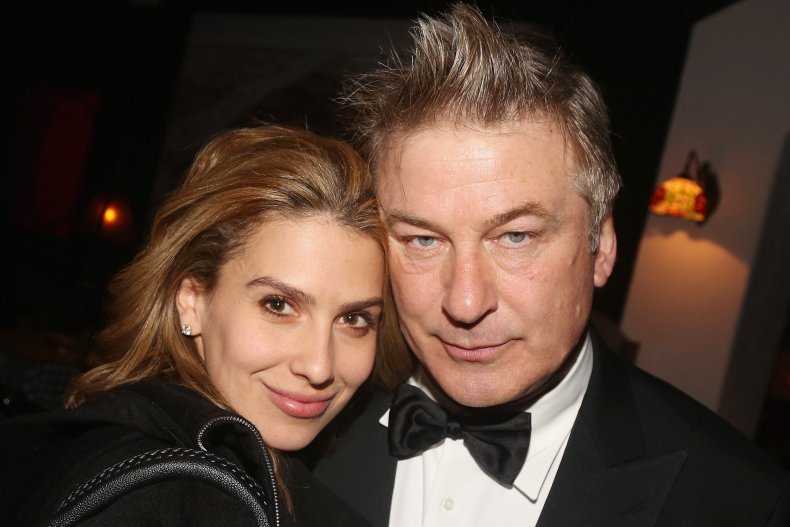 The yoga instructor and podcaster also discussed how the incident had affected life at home with the couple's young children in a post on her Instagram Story.
"I've had to have some conversations, explaining recent events to my oldest children recently," she wrote on Wednesday, per People. "You can imagine how heart wrenching it has been. I'm grateful to The Child Mind Institute, for guiding me. I'm grateful to my friend, Anne, for encouraging me to reach out to them.
"Sometimes, I just freeze, knowing I'm the adult, who must guide my family, but so lost as what the right direction is. There is no manual we are provided. Sometimes I catch myself, surprised that I'm in the adult position and I'm like: shouldn't I know what to do??"
She added: "You have no idea how much all of your kindness, love, and support mean. Yes, you who are reading this. I know how lucky I am to have you."
During his ABC News interview, Alec Baldwin explained that he agreed to sit down for the primetime special to clear up "a number of misconceptions" about the events that occurred on the Rust set.
"I wanted to come to talk to you to say I would go to any lengths to undo what happened," he said. "I want to make sure that I don't come across like I'm the victim, because we have two victims here.
"All of what happened that day leading up to this event was precipitated on one idea, and that idea is that Halyna and I had something profound in common, that is we both assumed the gun was empty, other than those dummy rounds."
When asked by Stephanopoulos if he had pulled the trigger, the actor responded: "The trigger wasn't pulled. I didn't pull the trigger. I would never point a gun at someone and pull the trigger on them, never."
Stating that he had "no idea" how a live bullet made it onto the movie set and into the prop gun, he went on: "Someone put a live bullet in a gun. A bullet that wasn't even supposed to be on the property."
According to a search warrant affidavit, the actor was handed the gun by assistant director David Halls, who shouted "cold gun" to indicate to others on the set that the prop did not contain any live rounds. Halls' lawyer has said that the assistant director backs Baldwin's statement that he did not pull the trigger on the set.
Following the shooting, Rust armorer Hannah Gutierrez-Reed stated that she had "no idea" where the live ammunition came from.