Alec Baldwin Slammed for Upcoming Woody Allen Interview
Alec Baldwin is being slammed online for his upcoming Instagram Live interview with Woody Allen.
Baldwin, whose role in the fatal shooting of cinematographer Halyna Hutchins on the set of the movie Rust last October is under investigation by a sheriff's department, announced the interview with the controversial director on Sunday in an Instagram post. "This coming Tuesday, [June] 28th, I'm going to be doing an Instagram Live with... Woody Allen," Baldwin said in a video. "Who I love. I love you, Woody."
In a caption to the post, Baldwin wrote, "Let me preface this by stating that I have ZERO INTEREST in anyone's judgments and sanctimonious posts here. I am OBVIOUSLY someone who has my own set of beliefs and COULD NOT CARE LESS about anyone else's speculation. If you believe that a trial should be conducted by way of an HBO documentary, that's your issue."
After the news about Baldwin's Allen interview broke, social media users were quick to share their disapproval. The film director, 86, has been accused by his adopted daughter Dylan Farrow of child sex abuse. Angry users also brought up the Rust shooting.
TV writer Jen Kirkman wrote on Twitter, "I don't want to tell anyone how to live but after committing manslaughter - I would wanna just lay low and not do an IG live where I promote a pedophile."
Another user wrote, "Imagine being Alec Baldwin and thinking uncritically interviewing Woody Allen is great for your career."
Others criticized his PR team, including comedian Maisie Adam, who tweeted, "If you think you're rubbish at your job, remember there's always Alec Baldwin's PR team xxx."
"Imagine being Alec Baldwin's publicist," another user tweeted. "Like after accidentally (?) killing someone you go and decide publicly defend a director who has been disgraced for being a pedophile. I'd probably go f***ing crazy."
"Every time I see Alec Baldwin trend I hope [it's] news of a manslaughter charge. So far nothing," another user wrote.
Allen, whose many films include Midnight in Paris and Blue Jasmine, which Baldwin appeared in, was accused by Farrow in 1992 of molestation when she was 7 years old. Since then, he has denied the allegations and has never been prosecuted or charged. Allen, who had been in a relationship with Dylan's adoptive mother, Mia Farrow, went on to marry one of her other adopted children, Soon-Yi Previn.
The HBO documentary Baldwin mentions in his Instagram post refers to Amy Ziering and Kirby Dick's Allen v. Farrow, a four-part docuseries on the abuse allegations that aired in 2021.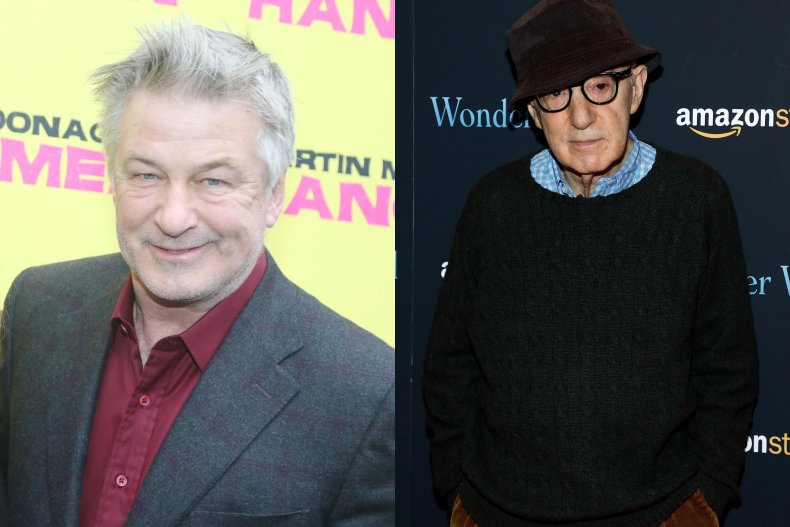 In October 2021, while filming Rust in New Mexico, Baldwin was handed a prop gun and pointed it at Hutchins, as she instructed, while rehearsing before filming started, he said. He also said the gun went off without his pulling the trigger. The film's writer-director, Joel Souza, was shot as well but survived the incident. Hutchins' family has filed a wrongful-death suit against Baldwin and the movie's crew and production company.
Newsweek reached out to a representative for Baldwin for comment.