Alec Baldwin Says Playing Trump on 'SNL' Is 'Agony,' Launches Plan to Take Him Down
With a new talk show on ABC around the corner, Alec Baldwin is eager to drop his presidential role on Saturday Night Live—as soon as humanly possible.
The 59-year-old actor has had a moment thanks to playing President Donald Trump on Saturday Night Live. His portrayal is so popular it even led to Baldwin co-authoring a book as the character. But in an interview with The Hollywood Reporter published Thursday, he said playing Trump was, well, not fun. Responding to a question about how much longer he would do the role, Baldwin said, "Every time I do it now, it's like agony. I can't. If things don't go in the right direction for the midterms…"
Baldwin didn't exactly say that he was hanging up his Trump impression, which won him an Emmy last year, but we're guessing his feelings aren't what Lorne Michaels wants to hear. Baldwin has been a highlight of the show since he debuted as Trump in October 2016—a month before the real Trump was elected—and has helped bump up SNL's ratings.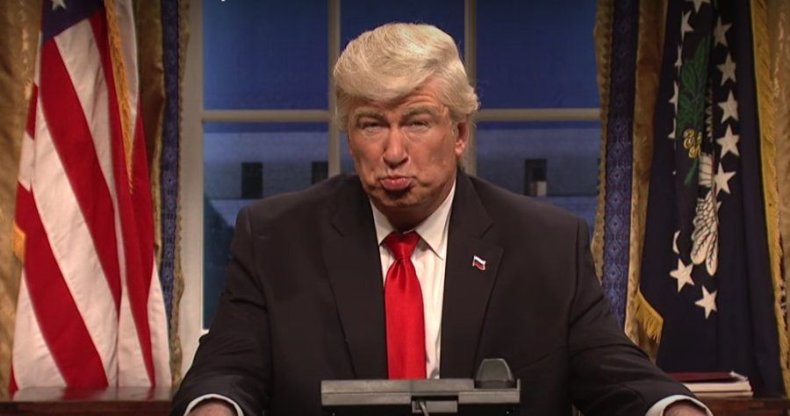 Regardless how much longer Baldwin will play Trump, he did say he'll do what it takes—electorally-speaking—to ensure he's not stuck playing the man until 2024. "I'll vote for Mitt Romney. I don't care. Anybody over this guy. It doesn't matter. We have to get rid of him," the actor said. "And that's another project I'm working on. I was the keynote speaker at the Democratic dinner in Iowa, and I'm gonna go do a couple more of those this year. My wife and I agreed that we're gonna give it everything we have."
As for Baldwin's plans if the Republican president wins a second term in 2020? "I'm wondering if I can host a game show in Spain," he joked.
The actor already has his plate full with his new ABC show, Sundays With Alec Baldwin. A sneak peek, though not an official series premiere, will air this weekend. A promo released Tuesday teased in-depth interviews with Baldwin's longtime friend Jerry Seinfeld and current SNL cast member—and on-screen Hillary Clinton—Kate McKinnon.
Trump will almost certainly be a topic of discussion, but we'll have to wait and see if Baldwin will take one for the ratings and bust out that personally agonizing impression.