Watch: Alec Baldwin Trolls Trump in Emmy Acceptance Speech, Says He'll Return as President on 'SNL'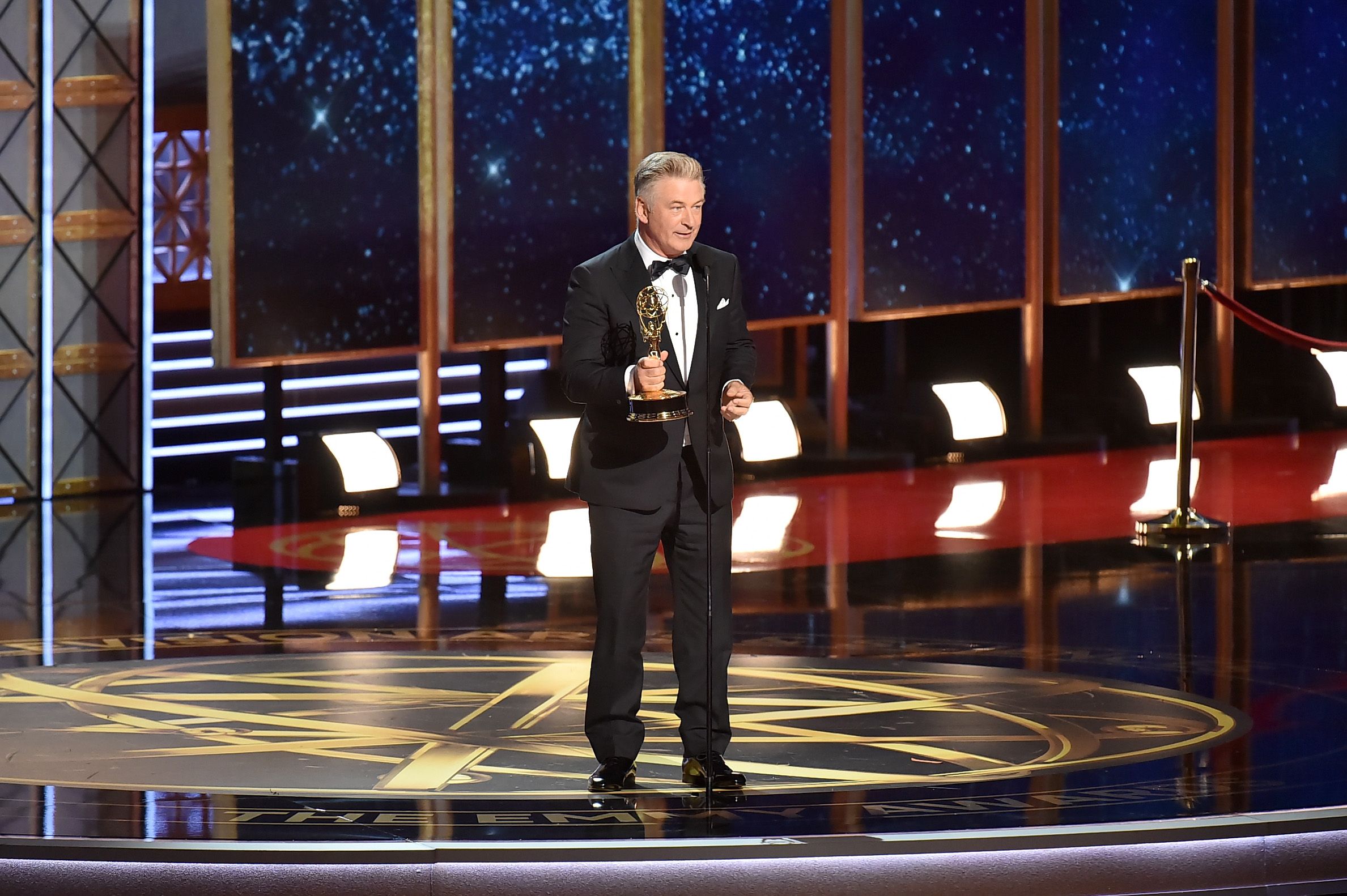 Updated | The Apprentice did not win Donald Trump any Emmys, but playing Trump helped Alec Baldwin win his third Emmy Sunday night.
Baldwin, who won best supporting actor in a comedy series for Saturday Night Live, offered up his Emmy to the president.
"I suppose I should say, at long last, 'Mr. President, here is your Emmy!'" Baldwin began his speech to a round of applause.
The comedian's biting portrayal of Trump during and after last year's presidential election helped SNL to its most-watched and most-talked-about season in seven years. The four-decade-old show won nine Emmys in all, the most of any one show.
During his speech, Baldwin continued the theme of the night by making cracks about Trump. He joked that the president had affected his sex life with his wife, Hilaria.
"My wife and I had three children in three years. We didn't have a child last year during the SNL season.... I wonder if there's a correlation there. All you men out there, you put that orange wig on, it's birth control, trust me," he joked.
Baldwin also congratulated SNL co-star Kate McKinnon, who won best supporting actress in a comedy series for her work portraying Hillary Clinton and Kellyanne Conway.
Baldwin confirmed that he will return as Trump for Season 43, which premieres September 30.
"I'm going to be available to do some of those shows this year," Baldwin said in the Emmy press room.
Will Trump ask to share Baldwin's Emmy, like Sean Spicer did with Melissa McCarthy? Probably not.
The president tweeted Baldwin's portrayal of him "stinks" last October:
In December, he said the impersonation "can't get any worse."
Speaking on behalf of the president during his tenure as White House press secretary, Spicer said the parody was "mean."
Then again, Spicer may have changed his mind. He appeared in the opening segment of the Stephen Colbert–hosted Emmy broadcast, rolling out on a White House–style podium to mock his own tenure as White House spokesman.
"This will be the largest audience to witness the Emmys, period—both in person and around the world!" Spicer said, parodying his own first press announcement back in January. Last week, in pre-show awards, McCarthy won an Emmy for her portrayal Spicer on, you guessed it, SNL.
At least one critic didn't appreciate Spicer's effort to make fun of his persona. During the Emmy broadcast, Democratic Senator Brian Schatz of Hawaii tweeted that Spicer "lied aggressively and frequently" during his tenure as Trump's official mouthpiece.
"He should not be treated like a celebrity," Schatz grumbled.
Story was updated to include Senator Schatz.