2017 Emmys Highlights: 'The Handmaid's Tale' Makes History, '9 to 5' Stars Reunite and Trump Gets Roasted on TV's Biggest Night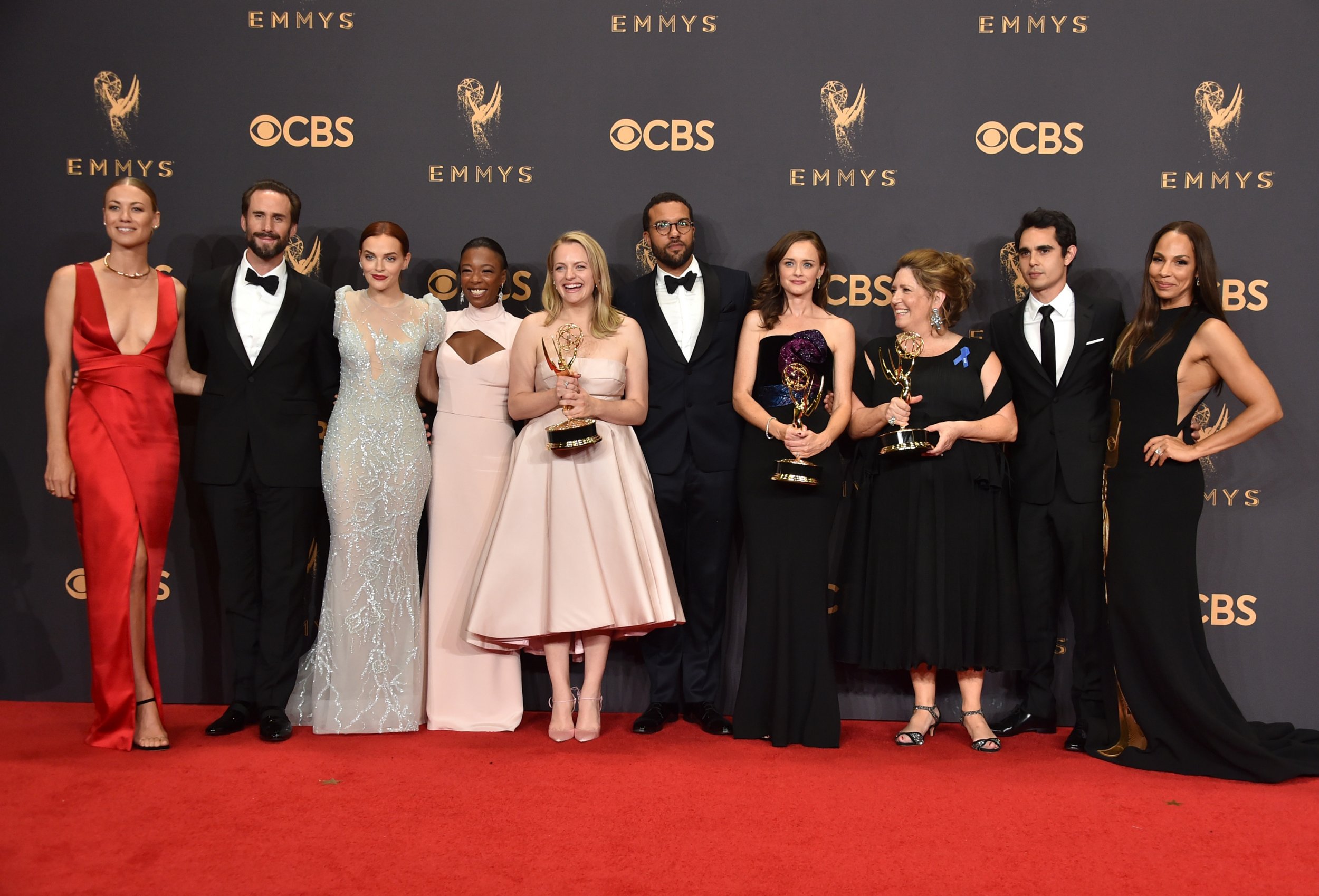 The Emmy Awards went by refreshingly quickly this year. Kidding. It was the same slog as always. But there were tremendous moments, some historic, and it was the most diverse night in the history of the event—in every way, from nominees to presenters to wins. It was a great night for women, too—though not for the broadcast networks: Only NBC's Saturday Night Live and This Is Us came up with awards, the rest going to HBO, Hulu and assorted cable networks.
Across the board, it was hard to complain about the winners; the choices were fantastic. Yes, even Julia Louis-Dreyfus winning her sixth consecutive Emmy for Veep (a record number of wins for a single role). Good news for her fellow comic actresses: There's just one more season of Veep.
A few of the highlights:
Stephen Colbert as host
Now begins the Stephen-Colbert-should-be-the-host-every-year conversation. And let's just end that here: There's no doubt that he should be. Colbert's opening musical number (with an unexpected cameo from Chance the Rapper) was terrific, his hilarious monologue (with an unexpected cameo from Sean Spicer) brazenly political, and his spoof of the often incomprehensible Westworld (do you know what that means?) a knockout. Even his unusually sweet interview with the real Emmy (played by RuPaul, naturally) worked. Trouble is, when someone as charismatic as Colbert leaves the stage, you're left with...a lot of tedious presenters. —MKS
Women win big
The two top dramas, The Handmaid's Tale, for outstanding drama series, and Big Little Lies, for outstanding limited drama series, were powerful, female-driven stories, one dystopian, one far too real. Reed Morano, who won for directing Handmaid's Tale, wasn't the first female to land the statue in that category (thank god), but it had been a long time: Mimi Leder won for ER in 1995. In the most moving victory of the evening, Lena Waithe won for writing the eighth episode of the second season of Master of None—a perfect half-hour of TV (if you haven't watched the show, it works as a standalone). She is the first black woman to win, and her speech was glorious. In a lovely gesture of support, show creator Aziz Ansari just stood by and smiled. —MKS
Handmaid's and Hulu make history
Speaking of The Handmaid's Tale, the drama series and its broadcaster, Hulu, made history Sunday night. It was the first time a streaming service has won outstanding drama series. A monumental occasion for Hulu, which had only made just a splash in the over-the-top game. But you have to wonder if there'll be some grumbles over at Netflix, which has been producing originals for nearly half a decade. The key here, it seems, is making quality, prestige series like Handmaid's and not just throwing money at every available script, like Netflix has in the last couple of years. —TA
Men of color cleaned up
Donald Glover (Atlanta), Riz Ahmed (The Night Of) and Sterling K. Brown (This Is Us) all won for acting. And Ahmed and Brown gave speeches that were elegant, gracious and powerful, with moving name checks of men who came before them: Ahmed thanked James Gandolfini for delivering what many consider to be the first great performance of prestige television TV with Tony Soprano; Brown gave a shout-out to the great Andre Braugher, the last black man to have won outstanding lead actor in a drama series, in 1998 for Homicide: Life on the Streets. How long had it been since a black actor won for a comedy? Glover was the first since Robert Guillaume, the star of Benson, in 1985. —MKS
Last Week Tonight's big night
Against considerable opposition from host Colbert's The Late Show, the buzzy Late Late Show with James Corden and Jimmy Kimmel Live, HBO's Last Week Tonight with John Oliver was the outsider to win outstanding variety talk series. But British host John Oliver came up trumps—and his win was well deserved. Oliver, with his acerbic take on news from both sides of the Atlantic, from Trump's America to Brexit, is one of the smartest and most necessary voices on late-night television. Hey HBO, how about changing it from a weekly show to a nightly one? —TA
Trollin' Trump 9 to 5
Dolly Parton, Lily Tomlin and Jane Fonda, the stars of the 1980 hit comedy 9 to 5, reunited onstage at the Emmys and made perhaps the night's most barbed Trump putdown. Fonda said that in their film, the trio, who played working women, did not stand for the misnomers of their "sexist, egotistical, lying, hypocritical bigot" boss—and they won't stand for it now. "In 2017, we still refuse to be controlled by a sexist, egotistical, lying, hypocritical bigot," Tomlin said to cheers from the audience. Expect a Trump tweet, ladies. —TA
SNL's best year ever
Alec Baldwin and Kate McKinnon both won supporting actor in a comedy series awards for their political parodies on Saturday Night Live this season. Baldwin's win was a sure thing, but Sunday's recognition for McKinnon—who embodied Hillary Clinton to riotous results—was a welcome result. —TA