Watch Anthony Scaramucci's Full Interview With Stephen Colbert: Firing Bannon, White Supremacy and Awkward 'Game of Thrones' Jokes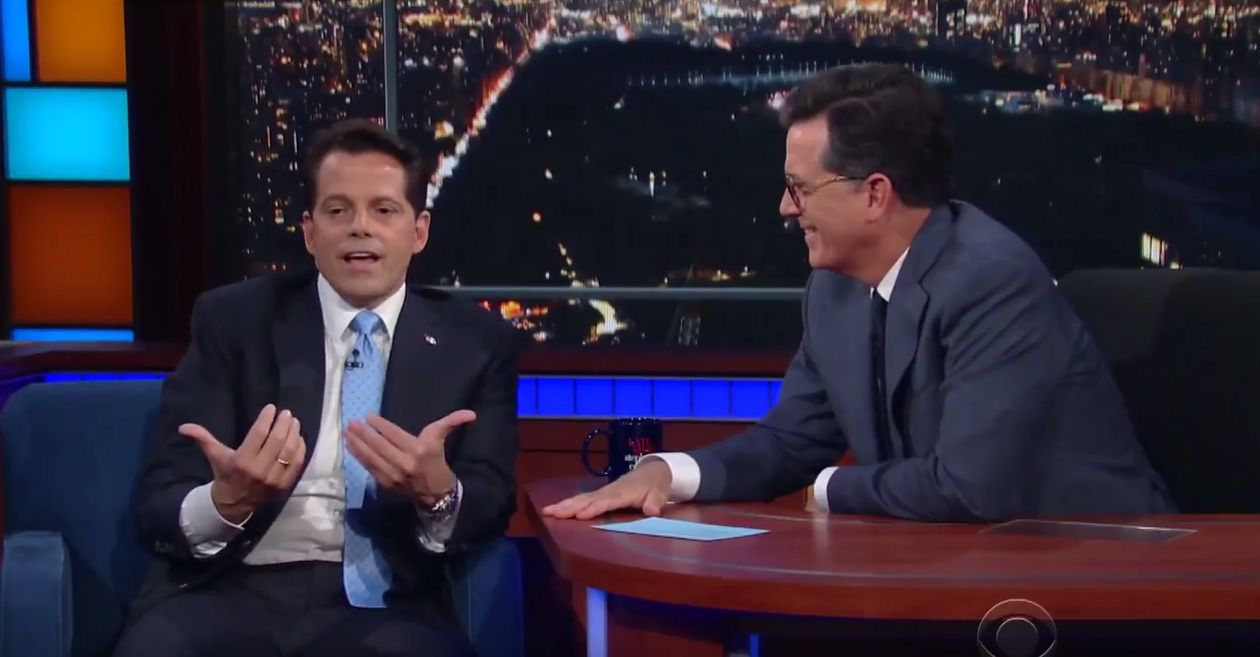 The Mooch is on the loose and spilling all to Stephen Colbert.
Anthony Scaramucci, fresh from his whirlwind 10 days as President Trump's communications director, appeared on Monday's episode of The Late Show on CBS in his second televised interview since being axed July 31.
Watch the full interview below:
The Mooch, who received a chorus of boos when he walked into the studio, attempted to pepper his interview with Stephen Colbert with humor, as if he was a celebrity guest promoting a movie or an album. Scaramucci quipped that like Game of Thrones favorite Arya Stark he made a "list of all your comedy writers for my kill list," referencing the weeks of jokes at his expense by Colbert. "I'm kidding, I'm kidding...I'm not allowed to joke anymore, I learned that," he added. Scaramucci also handed Colbert a framed knife engraved with his name—an apparently humorous gift in recognition of the late-night talk show host branding him "the front-stabber" who got backstabbed.
Colbert, to his credit, cut through the Mooch's attempts at silken flattery and pressed him with hard questions about Trump's delayed response to white supremacists violently protesting in Charlottesville, leaks in the White House and that unfortunate, supposedly off-the-record conversation with a New Yorker reporter in which he used colorful language to describe White House chief strategist Steve Bannon.
Scaramucci reiterated previous allegations that he believes Bannon leaks confidential information to the press. "Is he going to be gone in a week?" Colbert pressed. Scaramucci replied: "If it was up to me he would be gone."
Describing the chaotic inner workings of the Trump administration, the Mooch described it as a "tough place" with a "lot of in-fighting."
"I had a tendency to be very open and honest with people. What happens there, though, is that people don't do that. They go behind each other's backs and leak things to the press. And they say nasty things about each other to try to destabilize them or to influence the president's judgement of them," he explained.
Related: Anthony Scaramucci to Stephen Colbert: Trump Is Compassionate, Bannon Doesn't Belong in White House
Colbert also asked Scaramucci his opinion on Trump's initial softball response failing to condemn white supremacists who gathered in Charlottesville, Virginia, over the weekend. Trump said there was violence and hatred "on many sides" Saturday, and only condemned the race-fueled, violent protest by white supremacists Monday.
"He should have been harsher on that," Scaramucci said. "He should have condemned white supremacy and neo-Nazis."
"Let's be fair to him today, though. He did condemn the Nazis today," the Mooch said. Colbert quickly retorted: "Two days later. Does he order his spine on Amazon Prime? Why did it take so long?" Scaramucci said: "I said yesterday he should have been tougher. If he wants his legislative agenda to pass, he's got to move in a more moderate direction."
The topic of conversation returned to Bannon at the close of the interview. Colbert outright pressed Scaramucci on whether he thought Bannon was a white supremacist. "Are there elements of white supremacy in the White House right now? Is Steve Bannon a white supremacist?" he asked.
The Mooch responded: "I don't think he's a white supremacist, although I've never asked him if he's a white supremacist.
"What I don't like, though, is the toleration of it. It's something that should be completely and totally intolerated."