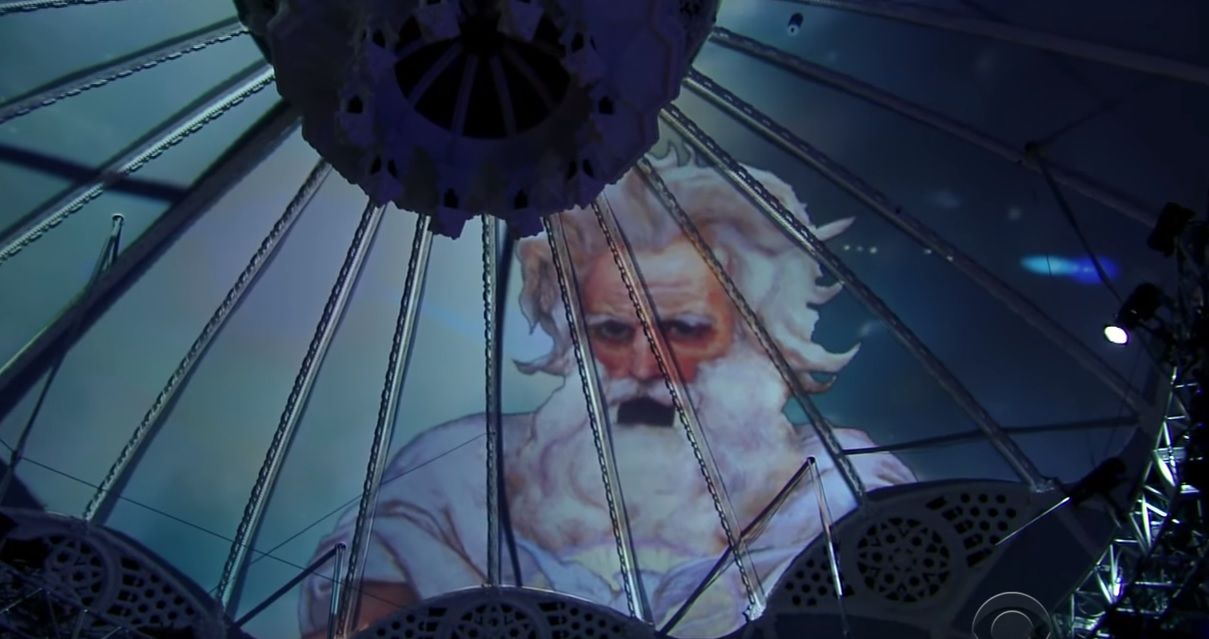 Did God really give President Donald Trump the authority to take out North Korean leader Kim Jong Un?
Well, conveniently, God appeared on Wednesday's episode of The Late Show with Stephen Colbert to respond to Trump religious adviser Robert Jeffress's claim that the commander-in-chief has divine authority to fight "evildoers."
Turns out, God is pretty on board with Trump's threat to unleash "fire and fury" on North Korea.
"Listen, Lord, is it true that you gave President Trump the authority to take out Kim Jong Un with nuclear weapons?" Colbert asked God.
"Oh, yeah, I'm always on America's side when it comes to blowing stuff up," the almighty responded.
Colbert then remarked, "But that goes against your whole message of peace and forgiveness...."
God said, "I never said that—that was my hippie son," referring to Jesus. "One semester at liberal arts college, and all of a sudden it's, 'Love thy neighbor' and 'Quinoa is a supergrain.'"
Stressing the gravity of nuclear attacks, Colbert then asked, "What about the future of civilization?"
"Eh, humans had a good run. Why not let giant radioactive toads have a turn?" replied God.
After Trump made his off-the-cuff "fire and fury" comments Tuesday, Jeffress, an evangelical pastor, said: "When it comes to how we should deal with evildoers, the Bible, in the book of Romans, is very clear: God has endowed rulers full power to use whatever means necessary, including war, to stop evil."
"In the case of North Korea, God has given Trump authority to take out Kim Jong Un," he added.
Meanwhile, over on The Late Show, Colbert continues to book heavy hitters. Following God's unannounced appearance Wednesday, the comedian has landed the first televised interview with Trump's former communications director Anthony Scaramucci.
The Mooch, who served under Trump for just 10 days before being ousted earlier in August, will appear on the CBS late-night talk show Monday.
Watch Colbert announce the exclusive interview below: