Sean Spicer Helps Melissa McCarthy Win an Emmy: Watch Her Best Moments as Former Press Secretary on 'Saturday Night Live'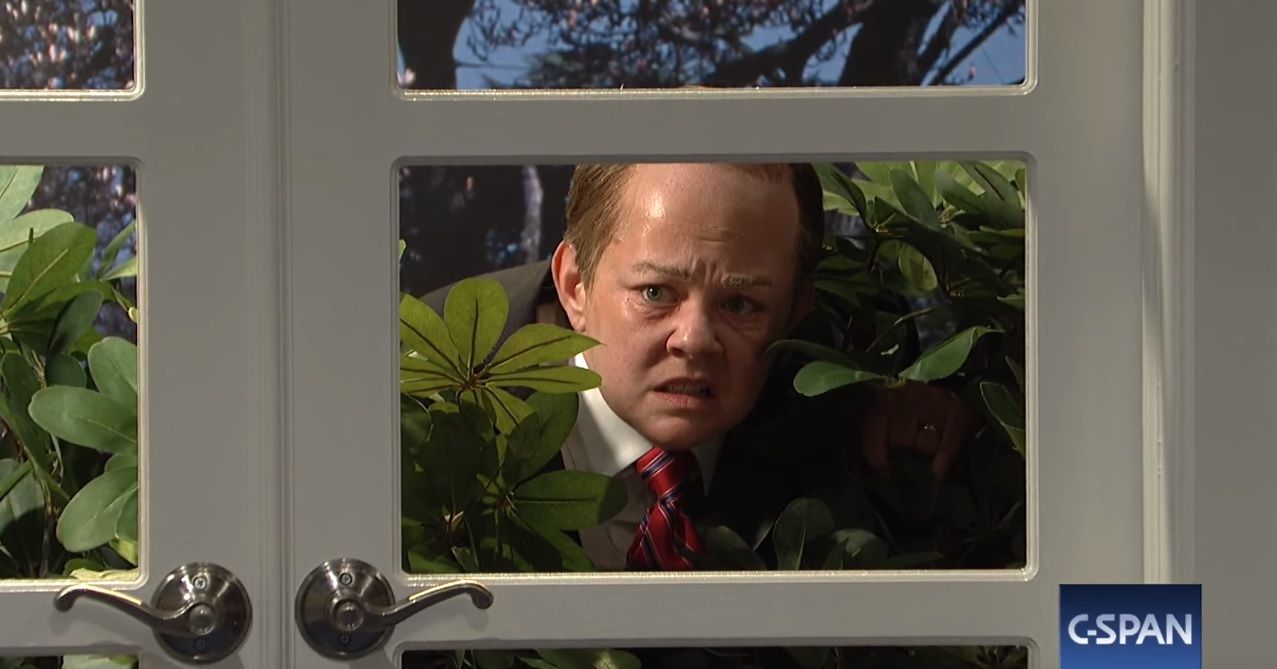 Sean Spicer: Not great for Trump, but a goldmine for Melissa McCarthy.
McCarthy, who portrayed President Trump's now former press secretary in a series of biting sketches on Saturday Night Live last season, was duly rewarded with an Emmy at the Creative Arts Emmy Awards Sunday night.
The actor and comedian won outstanding guest actress in a comedy series for hosting the May 13 episode of the NBC show. It was McCarthy's fifth stint as host. In February, she made guest appearances impersonating Spicer's abrasive, chewing gum-smacking press conferences during his brief stint as Trump's White House press sec.
McCarthy's May 13 sketch as "Spicey" infamously lampooned one of the more bizarre moments from Spicer's time in the communications role: Earlier that week, it was claimed Spicer hid in the bushes outside the White House to avoid press after news broke that FBI director James Comey had been fired.
Elsewhere, Dave Chappelle, who hosted the November 12 post-election edition of SNL, won outstanding guest actor in a comedy series. Fellow NBC hit, This Is Us, was also awarded outstanding guest actor in a drama series for Gerald McRaney, who plays Dr. K. Outstanding guest actress in a drama series was won by Alexis Bledel for her portrayal of rebellious handmaid Ofglen in Hulu's hit adaptation of The Handmaid's Tale.
But back to McCarthy, who, along with Alec Baldwin as Trump and Kate McKinnon as Hillary Clinton, helped guide SNL to its most-watched season in six years.
Here are the best moments from McCarthy's appearances as "Spicey":
"The slaughter at Fraggle Rock"
In this skit, McCarthy's Spicer holds the media to account for not covering atrocities such as "the Bowling Green massacre," the totally fake attack that Kellyanne Conway made up. "The horror at Six Flags, the slaughter at Fraggle Rock," Spicey continued.
"I'm here to swallow gum and take names"
McCarthy's first appearance as Spicer has been viewed more than 29 million times on YouTube. The actor masterfully captured Spicer's caustic style and apparent disdain for the assembled press corps in the White House. "I'd like to start by apologizing on behalf of you, to me," Spicer said. "I'm not here to be your buddy. I'm here to swallow gum and take names," he continued before downing an entire pack of gum.
Related: The Most Popular Political Sketches on 'Saturday Night Live' This Season
Spicer makes out with Trump
Melissa McCarthy's Spicer finally shared a scene with Alec Baldwin's Trump on the May 13 episode of SNL. The sketch, which featured Spicer cruising down New York streets on a motorized podium, ended with the two swapping spit.
As well as being minted as an Emmy winner, McCarthy can also add annoying Trump to her list of achievements. The president was said to be upset that his press sec was being parodied by a woman.