The Most Popular Political Sketches on 'Saturday Night Live' This Season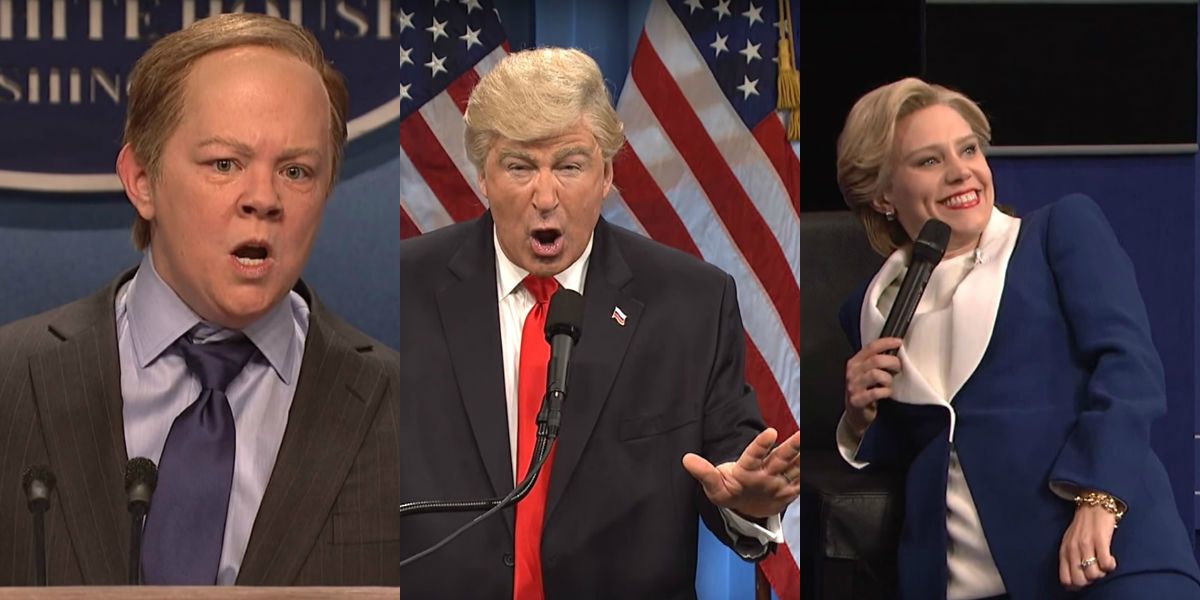 Saturday Night Live has always thrived during presidential election season, delivering some of the most memorable moments in the show's 42-year history: Will Ferrell as former President George W. Bush and Tina Fey's turn as Sarah Palin, the 2008 vice presidential candidate for the Republican Party, immediately stand out. But for Season 42, which wrapped Saturday, the NBC sketch show really hit it out of the ballpark.
Lorne Michaels's long-running creation enjoyed its highest ratings in over 20 years this past 2016-17 season, buoyed by its prime positioning in the midst of the most bizarre—and satire-worthy—election race in U.S. history and the subsequent installment of U.S. President Donald Trump in the White House.
Trump may find the show "unwatchable" and "not funny," but, all told, SNL ended its latest season hitting a six-year high for its finale hosted by Dwayne "the Rock" Johnson, and critics say the show has been revitalized into cultural relevancy.
Related: Baldwin's Trump leads all-star cast in "Hallelujah" rendition for "SNL" season finale
SNL's boon in ratings, media coverage and social media chatter is attributable to the spot-on, buzzy casting of Alec Baldwin as Trump, Scarlett Johansson as first daughter Ivanka Trump and the inspired choice of Melissa McCarthy as White House Press Secretary Sean Spicer. Series regular Kate McKinnon's portrayals of Hillary Clinton and Trump counselor Kellyanne Conway, as well as Beck Bennett's perpetually shirtless Russian President Vladimir Putin, also carried the show to creative highs.
Now that SNL has wrapped its best season in years, let us not forget the treasure trove of sketches it has given us this year, spanning pre-election debates, Trump's inauguration and White House press briefings.
Newsweek gauged the 10 most popular political skits from SNL Season 42 by measuring the YouTube views of videos posted to the show's official channel.
Here are the 10 most popular moments:
1. Melissa McCarthy is Sean Spicer — 27.7 million views
Bridesmaids star McCarthy's first appearance as antagonistic press secretary Spicer on the February 4 episode of SNL, two weeks into Trump's already divisive presidency, provided the humor that America needed. This is not only the most popular sketch of the season, but SNL's most-watched clip on its YouTube page, ever.
2. The first presidential debate — 23.6 million views
SNL's spoof of the first debate between Trump and Clinton in its October 1 episode, in hindsight, seems out of touch. McKinnon's Clinton is overly confident about her chances of victory against the politically incorrect Trump that she lets him dominate the debate and put his foot in his mouth. If only she knew.
3. The second presidential debate — 21.2 million views
McKinnon's Clinton was introduced in this town hall debate as, "Can we say this yet? President Hillary Clinton." Only in this parallel reality.
4. The third presidential debate — 19.9 million views
Tom Hanks lent some added star power as Fox News's Chris Wallace in the final debate between Clinton and Trump. The ripped-from-the-headlines skit came complete with Baldwin's Trump calling Clinton "such a nasty woman" and defending himself against multiple allegations of sexual assault.
5. Spicey's back — 16.3 million views
McCarthy's "Spicey" returned to SNL in the week that Nordstrom dumped Ivanka Trump's clothing and jewelry line. Spicer's answer? To turn a press briefing into a pseudo-QVC.
6. Election night — 15.1 million views
Guest stars Dave Chappelle and Chris Rock's election night sketch was the perfect visual lesson in being woke. Watching the results come in surrounded by a group of white friends, the pair weren't in the least surprised by the result.
7. Trump prepares for office — 13.5 million views
McKinnon proved she isn't just the perfect Hillary Clinton. The comedian's Kellyanne Conway felt the burden of helping elect Trump in a post-election night sketch. "Is there something on your shoulder?" he asked. "Yes, all of this."
8. President-elect Trump's first press conference — 12.9 million views
"Yes, this is real life. Yes, this is really happening," said Baldwin's Trump in his first press conference as president-elect.
9. Trump introduces himself to fellow world leaders — 12.8 million views
Trump's first act of business in the White House, according to SNL? Declaring war on Australia, Mexico and Germany. SNL also had its own theory about who really sits in the president's chair—Steve Bannon.
10. Trump on "People's Court" — 12.3 million views
In a February skit, Trump took the 9th Circuit judges who overturned his travel ban to court. Only it was The People's Court, the TV courtroom show. "Mr. Trump, you understand this is a TV court?" the judge asked. To which he responded, "That's OK. I'm a TV president."