Alec Baldwin's Wife Hilaria Tells Paparazzi to 'Stay Away' As Search Warrant Issued
Alec Baldwin's wife has spoken out in defense of the actor, amid increased attention over police issuing a search warrant in connection with the fatal shooting on the set of his movie, Rust.
On Thursday, police in New Mexico filed a search warrant and affidavit in Santa Fe Magistrate Court, seeking access to Baldwin's phone as the investigation into the accidental shooting death of cinematographer Halyna Hutchins continues.
The actor's wife, Hilaria Baldwin, took to her Instagram Story hours later to show her own footage of camera-wielding men taking images of them as they entered a building.
Accusing them of "trying to taunt" her husband—with whom she shares six children—Hilaria Baldwin said the constant pursuit affected his post-traumatic stress disorder.
"These people are trying to taunt Alec," she wrote over footage of a man angling his camera in her direction. "This is not good for ptsd. I'm sure that comes as no surprise when you see this."
Addressing the paparazzi directly, she went on: "I get you guys want to make money...but this is disgusting. And those of you who pay for these photos—shame."
In a follow-up post, the Massachusetts native vowed to "protect" her family "until the end," as she demanded that her husband of nine years be left alone.
"Stay away from him," she said. "Stop it right now. Have some humanity. Stop thinking about money and attention. Let the investigation do [its] process and it will play out. You don't need to come and traumatize him more every single step of the way. This is my family and I will protect them until the end."
The posts come weeks after a clip of Jon Levine of the New York Post shared video of himself running into the actor and his wife that subsequently went viral on social media. In the clip, Levine was seen bombarding the star with questions while his wife asked the journalist to leave.
On October 21, a gun Alec Baldwin was handed on the set of Rust went off during rehearsals, leading to the accidental killing of Hutchins and the injury of writer-director Joel Souza.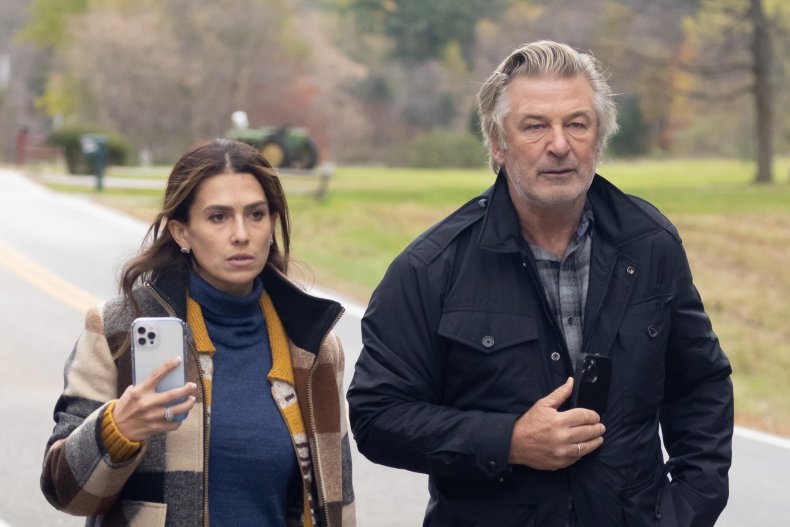 In Thursday's affidavit, investigators probing the case have since requested access to the actor's Apple iPhone in a bid to examine his communications over text, email and social media, as well as browser activity and other information, according to The Guardian.
"There may be evidence on the phone, due to individuals using cellular phones during and/or after the commission of crime(s)," the document read.
"There were several emails and text messages sent and received regarding the movie production Rust in the course of (police) interviews," the affidavit went on.
Earlier in December, Alec Baldwin thanked his wife for standing by him through "tough times" hours after his interview about the shooting aired.
During his interview with ABC News' George Stephanopoulos, the star alleged that the gun he was holding—which he did not know contained live rounds—fired without him pulling the trigger. The production was immediately shut down.
Following the broadcast, the actor wrote in an Instagram post: "No matter what happens to me. No matter what I suffer. If I win or lose, anything. Anything. No one can take away from me the joy and love you have given me, @hilariabaldwin.
"These are tough times. The world is choked with fumes of hate. But you have given me a reason to live. Our life with our family is all I care about. Nothing else. I owe that to you."
According to a previous search warrant affidavit, the gun in question was handed to Alec Baldwin by Rust assistant director David Halls, who indicated that the prop did not contain any live rounds by shouting "cold gun."
One week after the shooting, Rust armorer Hannah Gutierrez-Reed said in a statement through her attorney that she had "no idea" where the live ammunition came from.