Aleppo: Now Is the Time for Action, Not More Hand-Wringing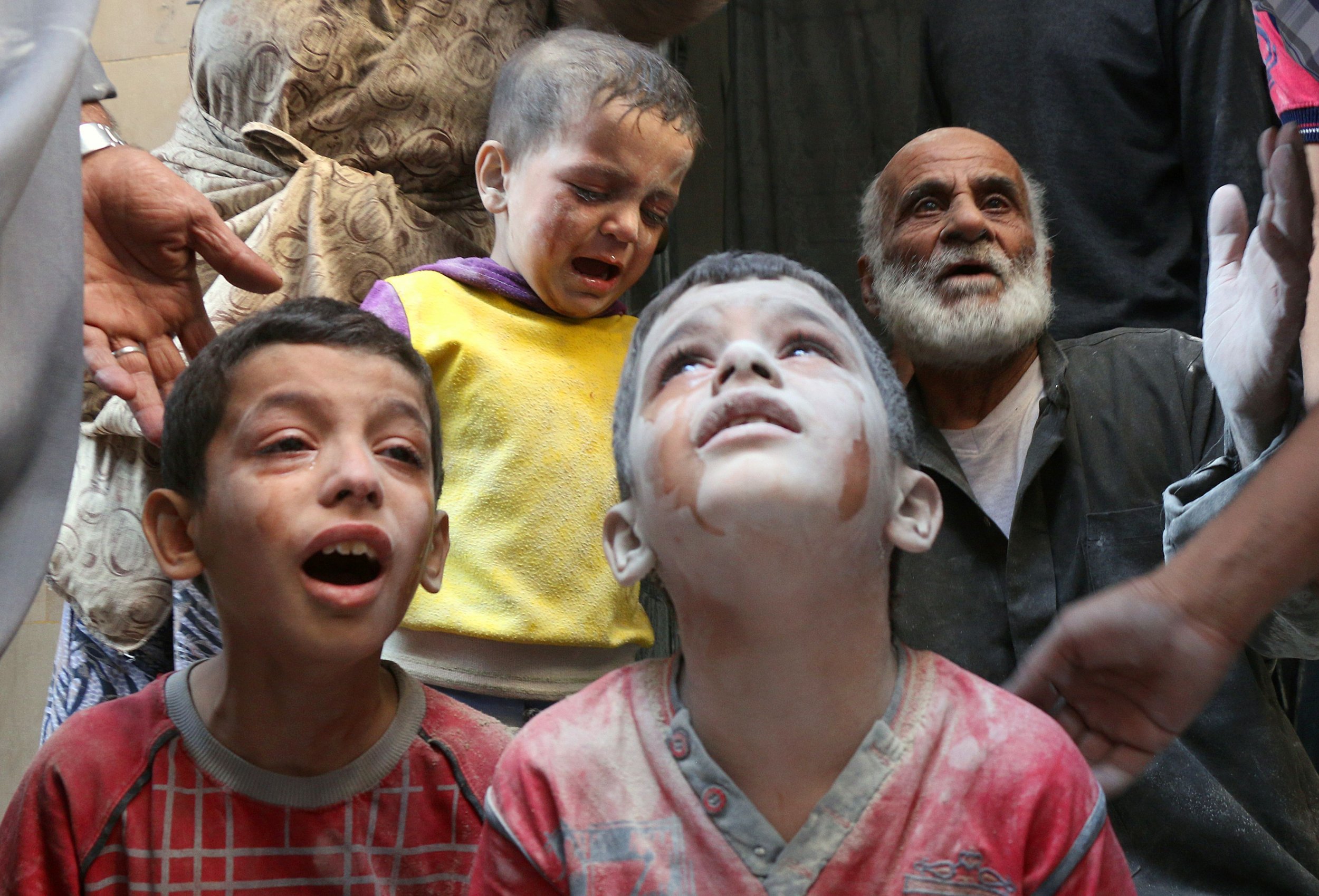 It's sometimes hard not to be numbed by the frequency of the stories which come out of Syria—of hospitals being hit by bunker busting munitions, barrel bombs being used to maximize civilian casualties, or the sheer number of people trying to flee the fighting. But it is very difficult to ignore the scale of the tragedy now unfolding in Aleppo. The eastern half of the city is now effectively under siege. Around 300,000 civilians—100,000 of whom are children—are trapped, subjected to almost constant bombardment, and without power and water supplies that have been deliberately cut off.
More than five years of attacks like these have had a profound and distressing impact on Syria's children. The children that War Child supports in the camps to which they have fled are suffering extreme psychological trauma, with many having lost parents and family members. One 10-year-old girl called Nawja, who we are providing with trauma counseling, has to care for her two brothers who suffered acute psychological damage from the war, and who need constant care and medication. She has no father to help her—he died during the siege of her town, after going out to find food for his starving family and never making it back alive. This is the daily reality for thousands of children in Syria at the moment.
In an emergency debate held in the House of Commons on Tuesday, new details emerged about the scale of the suffering in Aleppo. They reported that 75 percent of the children trapped in the city are displaying signs of Post Traumatic Stress Disorder. They claimed that the targeting of the city's hospitals, some with bunker busting munitions, was to so systematic that it appears to be a deliberate military tactic—a clear war crime.
In the debate, calls were made for the U.K. to commit to more concrete actions to prevent suffering in a conflict that has been raging for over five years—five years during which the international community has done little more to end the attacks on Syria's children than condemn them. In particular, these calls focused on tougher sanctions on Russia to dissuade it from carrying out airstrikes in support of the Assad regime's attacks, and the enforcement of a no-fly zone to prevent those military attacks that cause the greatest number of civilian casualties.
What is clear is that the severity of the crisis that has enveloped Syria and its children now demands more from the international community than a reiteration of appeals for a cessation of hostilities—appeals that have so far proven to be toothless, and have allowed the perpetrators of gross violations of international humanitarian law to operate with impunity. Any continuation of these attacks must now entail significant consequences for those who are purposely targeting civilians and children.
This is why War Child U.K. is calling on the U.K. government to develop a clear strategy that will help end the assault on civilians in Syria. Such a strategy should consider the feasibility of a range of options—including the introduction of robust economic sanctions; the proper monitoring and recording of flight paths of military aircraft involved in assaults on civilian areas; the implementation of a no-fly zone that prevents attacks by helicopters on population centres (and which are estimated to cause 90 percent of civilian casualties); and the implementation of a "no-bombing zone" that answers any future air attacks by the Syrian regime with carefully targeted strikes against the regime's military assets.
Whatever the merits and drawbacks of these various responses, the time for rhetoric is well and truly over, and it is now urgent to send a clear signal to those who attack children and bomb hospitals that there will be consequences. As with other crises in the past—such as the conflict in Bosnia in the 1990s—we have reached a point in Syria in which a bold intervention is vital if thousands of civilian lives are to be saved. We understand the imposition of sanctions and no-fly zones are significant political steps to take, and could have considerable political and diplomatic ramifications—which is why they must be considered carefully.
But we strongly believe that the lives of the Syrian population—particularly its children—must be prioritized. Five years of inaction and hang-wringing by the international community has emboldened groups in Syria to commit atrocities that have resulted in deaths of hundreds of thousands of civilians, and the displacement of millions. Now is the time for action, and for the U.K. to take a lead.
By Colin Walker, head of policy and advocacy at War Child U.K., a charity protecting children in war zones.