Twitter Says Alex Jones, Infowars Are Not Currently Breaking Any Rules
Twitter will not imminently ban Infowars host Alex Jones from its Periscope platform and streaming service, because the talk show host is not currently in violation of any rules.
A spokesperson told Newsweek that Infowars and its associated accounts may still be hit with restrictions if found to be breaking its policies in the future. But the company said that Infowars content posted to rival social media websites did not always find its way to Twitter users.
When it did, the spokesperson claimed, the replies to tweets were often filled with counter-narratives and challenges from journalists and public citizens in real time.
The website said its policies and how they are enforced are constantly under review. Twitter said it was working to ensure that quality content rose to the top of users' feeds and search results.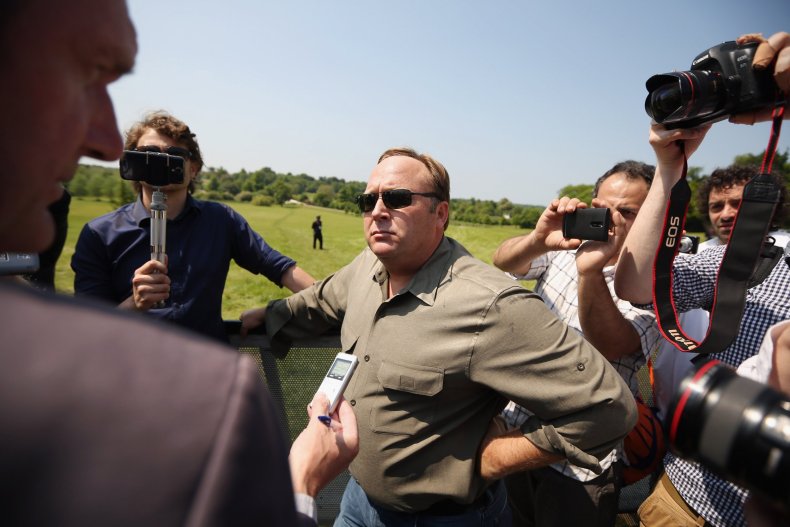 The news came after Apple, Spotify, Facebook and YouTube each hit Jones and his related accounts with social media restrictions earlier Monday. One editor at the controversial website, which is known for spreading false news stories and peddling conspiracy theories, branded the move as "political censorship" and claimed it was a "co-ordinated move" to help the Democratic Party.
Contributor Paul Joseph Watson tweeted: "This is unprecedented. This is political warfare." Infowars regularly broadcasts to thousands of viewers on the Twitter-owned streaming app Periscope. On Monday, it posted links to other services, including LiveLeak and Vimeo, and labeled the social media restrictions an "unprecedented crackdown of political discourse."
WikiLeaks, the whistleblowing organization, tweeted support on Monday: "Regardless of the facts in this case, the ability of Facebook to censor rival publishers is a global anti-trust problem."
Facebook said it had removed four pages for "glorifying violence" and "using dehumanizing language to describe people who are transgender, Muslims and immigrants." Spotify and Apple both took action against Jones for breaking its policies on hate speech by removing podcasts.
After the bans, Twitter users asked why the Jack Dorsey–led platform was silent.
Brianna Wu, a candidate for the U.S. House of Representatives, tweeted on Monday: "Twitter has a choice. They can act with Facebook, YouTube and Apple and ALSO ban Alex Jones. Or they can do nothing. Which will devastate all the work Twitter has done to combat hate speech on their platform." Directly addressing Dorsey, Wu added: "The world is watching."
It seems that Jones and his Twitter profiles are safe—for now.