Alex Jones Claims His Colloidal Silver Toothpaste Kills Coronavirus, Despite Jim Bakker Being Sued Over Similar Product
InfoWars radio host Alex Jones is attempting to cash in on the coronavirus pandemic by selling toothpaste he claims will "kill" the virus, despite televangelist Jim Bakker recently being sued for making similar claims about a product with the same ingredient.
"Superblue Fluoride-Free Toothpaste," which is infused with an ingredient called "nanosilver," was promoted on Tuesday's edition of The Alex Jones Show. The right-wing conspiracy theorist insisted that the key ingredient had been vetted by the U.S. government, while suggesting that it could prove effective in combating coronavirus.
"The patented nanosilver we have, the Pentagon has come out and documented and Homeland Security has said this stuff kills the whole SARS-corona family at point-blank range," said Jones. "Well, of course it does, it kills every virus. But they found that. This is 13 years ago. And the Pentagon uses the product we have."
Newsweek reached out to the Pentagon and the Department of Homeland Security for comment but had not received responses by the time of publication.
The Missouri Attorney General's office announced Tuesday that they were suing Bakker for making similar claims about a similar product called the "Silver Solution." Bakker has long touted the $125 tincture, promoting it as a miracle cure for a variety of ailments. Before Missouri's lawsuit, officials in New York state sent the televangelist a cease-and-desist letter for false advertising.
The U.S. Centers for Disease Control and Prevention insist that "there is no specific antiviral treatment for COVID-19," but Jones claimed that the effectiveness of his toothpaste is backed by unspecified "research."
"I just go with the research. Go with the spirit and we always have it. The nanosilver toothpaste in the Superblue with the tea tree and the iodine... the Superblue is amazing," said Jones.
Nanosilver is also known as colloidal silver, a popular alternative medicine infamous for potentially causing agyria, a condition causing skin to become permanently tinted a blue-gray color. The product is "not safe or effective for treating any disease or condition," according to the Food and Drug Administration.
The InfoWars website also sells a host of doomsday preparation products and emergency food supplies. Prices for the products reportedly rose dramatically as the coronavirus pandemic emerged and several items on the site are currently sold out. Other health products offered include "Immune Gargle," a mouthwash that also contains nanosilver.
A closer look at Jones's website reveals several disclaimers stating that although the products were supposedly developed with the help of "top doctors and experts," they are also not intended to "treat, cure or prevent any disease." InfoWars will "not held responsible for the irresponsible use of this product," the page offering the toothpaste warns.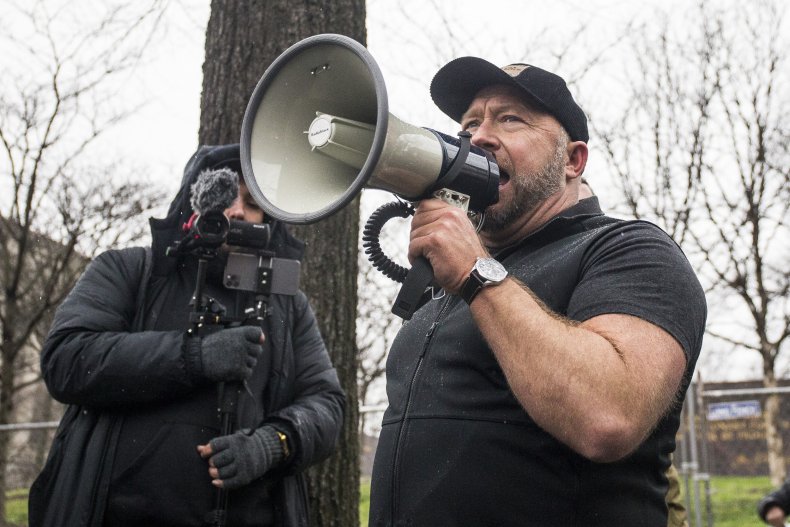 Jones was also arrested for driving while being intoxicated on Tuesday. He suggested the arrest could be a conspiracy, claiming the incident was "suspicious" in an unusual video statement that also noted his love for enchiladas.
"I'm empowered by freedom. I have to take depressants like alcohol to suppress how empowered I am, because I'm into freedom," said Jones. "I'm a human being, man. I'm a pioneer, I'm a father. I like to fight. I like to eat enchiladas. I like to cruise around in a boat, like to fly around in helicopters, I like to kick tyrants' ass politically."
Conspiracy theories and dubious claims promoted by Jones and InfoWars have led to bans from multiple mainstream online platforms including Facebook, Twitter and YouTube.
In December, he was ordered to pay $100,000 in legal fees to the parents of a 6-year-old victim of the 2012 Sandy Hook school shooting after being sued for promoting the false claim that the massacre was a hoax.
However, a child custody battle between Jones and his ex-wife revealed that the radio host's entire persona could be less than authentic.
"He's playing a character," Jones's attorney Randall Wilhite said during a 2017 court hearing, according to the Austin American-Statesman. "He is a performance artist."