InfoWars host Alex Jones claimed this week that President Donald Trump both requests and receives transcripts of his show. Jones's comments came as he faces backlash for a segment of his show in which he claimed without evidence that Robert Mueller, the special counsel heading up the investigation into Russia interference in the 2016 election, was part of a child-sex ring and mimicked shooting him.
Jones has since been suspended by both Facebook and YouTube. InfoWars has attracted a large following on the right while peddling unfounded conspiracy theories, such as claiming the 9/11 attacks were a false-flag operation and calling the 2012 shooting at Sandy Hook Elementary School that killed 20 first-graders and six educators in Newtown, Connecticut, a hoax.
According to Jones, though, Trump is a regular follower even if he can't tune in.
"If you were the president's adviser—I know a lot of what we talk about here does get to the president in the form of reports. I'll leave it at that. They send him transcripts. He asks for it, and I haven't been asked to keep that secret, so I can tell you that he gets reports. I don't know if he reads them all," Jones said, according to a video compiled by Right Wing Watch.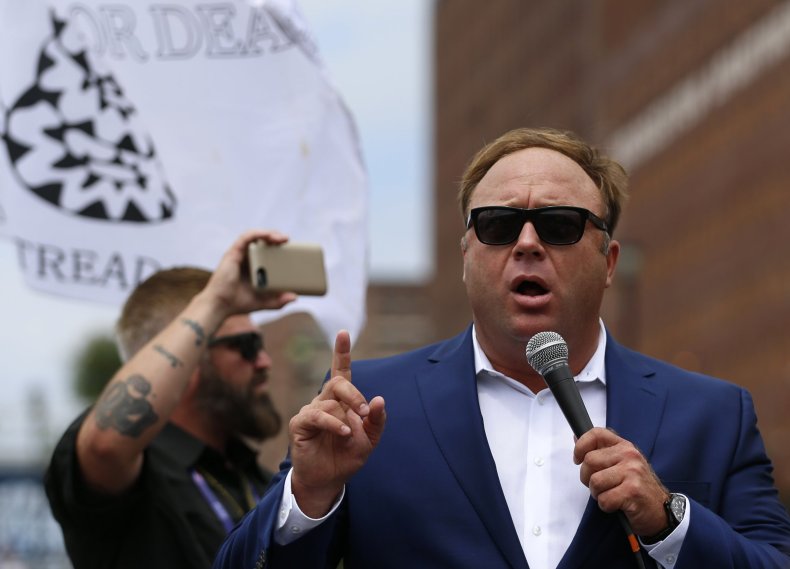 The White House did not immediately respond to a request for comment on the claim. Trump has, though, previously endorsed Jones, despite Jones's history of making false and incendiary statements.
In December of 2015, while campaigning for the White House, Trump appeared on InfoWars and said to Jones, "Your reputation is amazing. I will not let you down."
Jones responded in kind, saying, "My audience, 90 percent of them, they support you."
When White House Chief of Staff John Kelly took over the role last year, one of the first things he did was to bring some order to the information that came across Trump's desk on a daily basis. As part of that process, Axios reported at the time, was stopping Trump from reading material from InfoWars.
Following the reports, Jones went on the offensive against Kelly, including falsely claiming that he voted for Hillary Clinton in the 2016 election.
Jones has 2.4 million subscribers on YouTube, but the company took down four videos on Tuesday, stating that they violated its policies on hate speech and child endangerment. Facebook followed suit on Friday, suspending Jones, but not InfoWars, for 30 days after finding that four videos violated its community standards.