Alex Jones: YouTube Suspends InfoWars Host From Live-streaming and Deletes 'Hate Speech' Videos
YouTube deleted four videos posted to its platform by notorious extremist Alex Jones, the man behind the conspiracy theory website InfoWars, and temporarily banned him from live-streaming. Jones is known for denying the Sandy Hook school shooting and spreading other misinformation.
Critics have long called for platforms such as YouTube, Twitter and Facebook to permanently ban the likes of Jones, whose misinformation and hate-spewing content can inspire violence, such as the shooting related to the "Pizzagate" conspiracy.
According to the InfoWars website, Google-owned YouTube said the videos violated its policy on violent or graphic content. InfoWars said the videos were "critical of liberalism," giving the channel—which has 2.4 million subscribers—a "strike."
It is not the first time InfoWars has received a strike from YouTube over the content it posts. Accounts with a strike are often restricted from live-streaming for 90 days, per YouTube's policy, among other feature restrictions. "We have long-standing policies against child endangerment and hate speech," a YouTube spokesperson told Newsweek by email.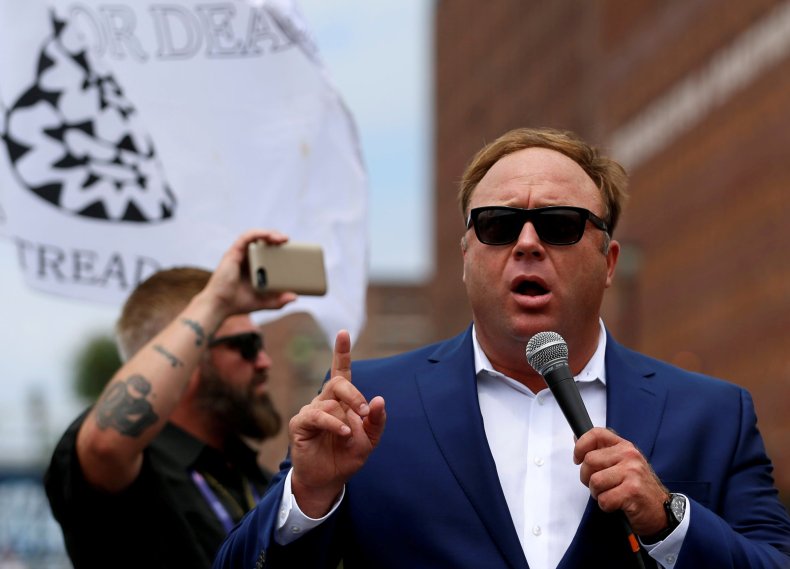 "We apply our policies consistently according to the content in the videos, regardless of the speaker or the channel. We also have a clear three strikes policy and we terminate channels when they receive three strikes in three months."
In one of the removed videos, titled "How To Prevent Liberalism: A Public Service Announcement," a large man grabs a child swinging punches by the throat and throws the boy hard to the floor. The child bangs his head and begins to cry.
Another of the deleted videos, titled "Shock Report: Learn How Islam Has Already Conquered Europe," has Jones say North Africans "don't work, they commit massive crime, they're extremely caveman-like and war-like," and making other generalizations about Muslims.
A third video, titled "Video: French President Macron Pretends Crime Rates And Migrants Are Not Related," has Jones claiming "almost all the crime in London of the type of raping and acid attacks and all this is Islamic."
Jones also claims Muslims are being imported as a bloc vote and are corrupting democracies, and "now dominating, they're allowed to rape women in public everywhere, and nothing is done."
The fourth video, titled "Shocking 'Drag Tots' Cartoon Sparks Outrage," rails against an animated spin-off of RuPaul's Drag Race in a quasi-religious rant about hell and fire, and suggests those involved in the LGBT community are Satanists.
It also includes footage of a documentary about children who dress in drag, and Jones draws a parallel with pedophilia.
One recent broadcast that grabbed attention had Jones calling special counsel Robert Mueller—who is investigating possible collusion between the Trump 2016 campaign and Russia—a pedophile and mimicked shooting him.
"It's going to happen, we're going to walk out in the square, politically, at high noon, and he's going to find out whether he makes a move, man make the move first, and then it's going to happen," Jones said as he pretended to shoot at Mueller.
"It's not a joke. It's not a game. It's the real world. Politically. You're going to get it, or I'm going to die trying, bitch. Get ready. We're going to bang heads," Jones continued, fake-firing at Mueller