A video of InfoWars' Alex Jones being confronted by a Sandy Hook family's lawyer about a mistake Jones' lawyers made has gone viral on social media.
Attorney Mark Bankston asked Jones, founder of far-right conspiracy theory and fake news website InfoWars, if he was aware that his lawyers had sent Bankston an entire digital copy of all the text messages Jones had sent over the last two years.
Jones had previously said, under oath, that he had looked through his phone and there were no text messages about the school shooting that took place at the Sandy Hook Elementary School on December 14, 2012, in Newtown, Connecticut.
The shooting was the country's worst-ever elementary school shooting, resulting in the deaths of 20 children and eight adults, including the shooter and his mother.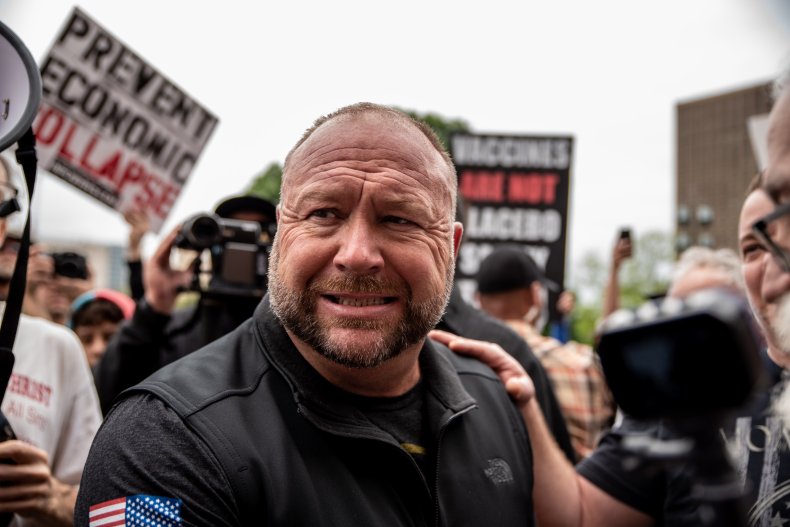 After the revelation of the mistake by Jones' lawyers, Bankston asked the conspiracy theory host whether he was aware of what perjury was.
Perjury, according to Merriam-Webster, is "the voluntary violation of an oath or vow either by swearing to what is untrue or by omission to do what has been promised under oath."
The clip has been viewed more than 11 million times so far on Twitter after being posted by user Acyn on Wednesday.
Bankston is representing Neil Heslin and Scarlett Lewis, who lost their 6-year-old son, Jesse, in the Sandy Hook shooting. The parents are seeking $150 million in damages at the Travis County Courthouse in Austin, Texas.
Both spoke in court on Tuesday about the harassment they said they faced after Jones helped spread the conspiracy theory that the deadly shooting was faked.
Of the $150 million in damages they are seeking, $75 million is for damage to their reputation and $75 million is for emotional distress.
When the judge prompted Jones to answer Bankston's question on whether he was aware of what happened with his text messages, he said that he wasn't.
Bankston questioned him further on what he indicated was a disparity between what Jones said about his messages not relating to Sandy Hook and what they actually contained.
"Mr. Jones, in discovery, you were asked, 'Do you have Sandy Hook text messages on your phone,' and you said, 'No,' correct?" Bankston said.
"I was mistaken," Jones replied.
Bankston then asked Jones if he knew what perjury was, saying that he wanted to make sure the defendant knew before they went any further, and Jones responded that he did.
"I mean, I'm not a tech guy," Jones said. "I told you I gave—in my testimony—the phone to the lawyers before whatever."
Newsweek has contacted F. Andino Reynal, Alex Jones' lawyer, for comment.