Alex Jones Says DOJ Wants to Seize His Cat for Sandy Hook Families
Infowars host Alex Jones has said that the U.S. Department of Justice (DOJ) is trying to seize his cat after the defamation lawsuits he lost against the Sandy Hook shooting victims' families. According to Jones, the DOJ suspects that he used the pet to hide cash.
In a video shared on Twitter by attorney Ron Filipkowski, Jones speaks to viewers while holding and petting a large Ragdoll cat. Talking about appearing at his bankruptcy hearing—which he said lasted a total of three hours—Jones added that the DOJ spent "probably five minutes of the meeting" on the topic of his cat.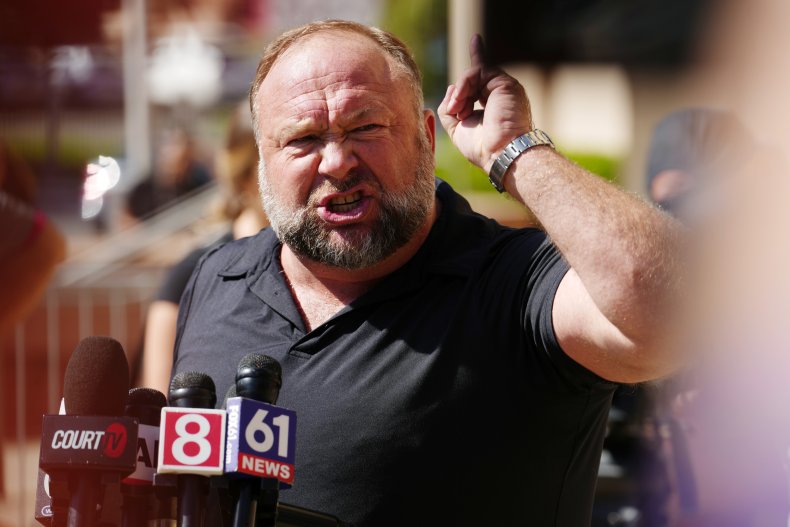 "They wanted to know if assets were hidden in the cat," Jones said. "The cat was like $200. It's a Ragdoll cat. We really do love it. But they were really serious about the cat and its value, and they may want the cat for the Sandy Hook families."
Twenty children and six teachers were killed in the Sandy Hook elementary school shooting in Newtown, Connecticut, on December 14, 2012. For years, Jones spread and supported a conspiracy theory falsely claiming the shooting was staged and that the grieving parents were actors.
Last October, Jones was ordered by a Connecticut jury to pay nearly $1 billion to the families of eight victims of the Sandy Hook shooting—the deadliest elementary school killing in U.S. history. This was part of three defamation lawsuits filed against Jones for falsely claiming that the 2012 tragedy was a hoax.
In November 2022, he was ordered to pay $473 million more in damages.
Jones had already been found guilty in a different case in August 2022 in Texas, when he was ordered to pay $50 million to the parents of 6-year-old Sandy Hook victim Jesse Lewis.
The Infowars host has been unrepentant in the face of the exemplary punishment ordered by the Connecticut court. Earlier in 2022, Infowars and its parent company, Free Speech Systems, had filed for bankruptcy protection.
In December, the far-right radio host filed for personal Chapter 11 bankruptcy protection in Texas. According to the court filing, Jones would have between $1 and $10 million of assets and between $1 and $10 billion of liabilities.
Jones called the alleged idea of giving up his cat at the order of the DOJ "harassment."
"You guys aren't getting the cat," he said. "This is next level. This is harassment. No one has ever heard of this. My lawyer has never heard of this. This is just insane."
Newsweek could find no evidence that the DOJ requested to seize Jones' cat. Newsweek has contacted Infowars and the Department of Justice for comment.