Alex Murdaugh's 'Surprise' Testimony Signals His Desperation: Ex-Prosecutor
Alex Murdaugh took the stand on Thursday for "surprise" testimony that might signal his desperation in the ongoing trial in which he is accused of killing his wife and son.
"Murdaugh's decision to take the stand is a huge surprise, and the entire case will rise or fall on his testimony," former federal prosecutor and West Coast Trial Lawyers President Neama Rahmani told Newsweek on Thursday. "Whenever a defendant testifies, the jury will base its decision on the credibility of the defendant.
"Murdaugh has already admitted to lying to law enforcement and is trying to explain away the bad cellphone and other forensic evidence against him. He's an experienced lawyer and the prosecution has a difficult circumstantial case, so his decision to testify means that Murdaugh and his team think the case is getting away from them."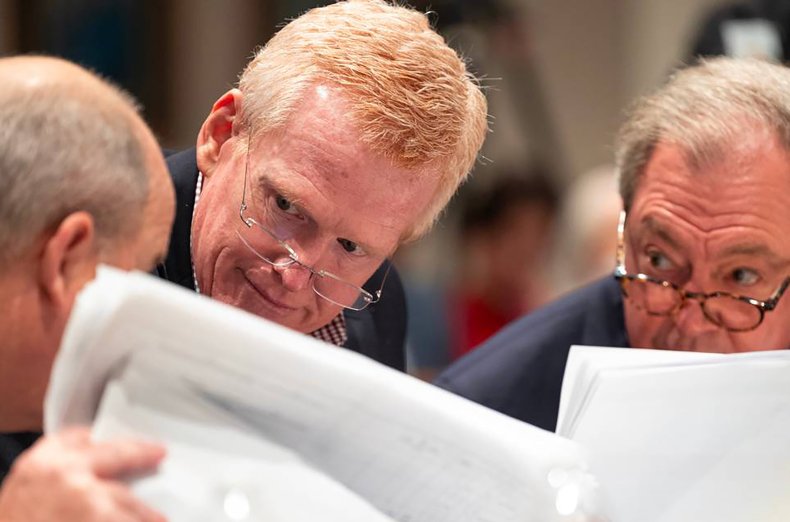 On Thursday, Murdaugh decided to testify in his own trial and revealed new aspects of the case involving the death of his son, Paul, and wife, Maggie, on June 7, 2021. Murdaugh, a former lawyer in South Carolina, has maintained his innocence.
During his testimony, Murdaugh admitted that he initially lied to law enforcement about his alibi on the night of the killings, citing paranoia from an opioid addition he suffered from.
"Normally when these paranoid thoughts would hit me, I could take a deep breath real quick, think about it, reason my way through it, just get past it," he said. "On June 7, I wasn't thinking clearly. I don't think I was capable of reason and I lied about being down there and I'm so sorry that I did."
"I would never intentionally do anything to hurt either one of them," Murdaugh said during his testimony.
Murdaugh also testified that he used his phone after the murders to call his brother, as well as Paul's friends. However, phone records previously shown detailed that Murdaugh searched on the internet for a restaurant.
"I'm doing something with my phone trying to call people, but I'm not trying to call those people. I'm not doing a Google search for any Whaley's restaurant and I'm certainly not reading any texts," Murdaugh said.
Earlier this week, Murdaugh's other son, Buster, also testified in court and spoke about his father after the killings.
"He sounded odd, and then he told me that my mom and my brother had been shot," Buster said, recalling a phone call he had with his father. "He was heartbroken...I walked in the door and saw him, gave him a hug."
"He was destroyed," Buster added.