Biggest Bombshells From Alex Murdaugh Testifying at His Own Trial
Alex Murdaugh revealed new information Thursday in the double-murder trial for allegedly killing his wife and son as he took the stand to testify.
Murdaugh is accused of killing wife Maggie and son Paul on June 7, 2021, in South Carolina. Murdaugh, who maintains his innocence, made the 911 call to alert law enforcement of the deaths. He was later charged with both killings.
Murdaugh's tearful testimony, which spanned many hours, revealed several key components of the case.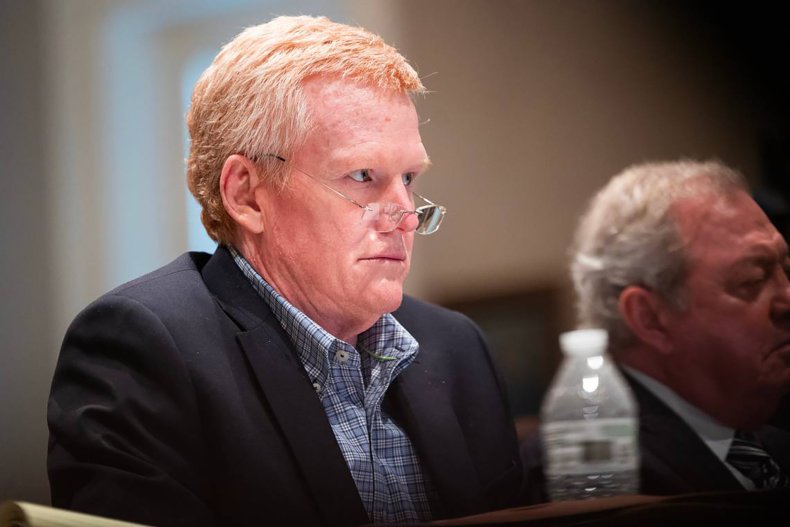 Murdaugh Admitted That His Alibi Was a Lie
Murdaugh admitted that he lied in his alibi when questioned by police. He originally claimed he didn't see either Paul or Maggie after the family had dinner together, but testimony and phone records from his phone revealed what appeared to be Murdaugh speaking with Paul shortly before the killings.
Murdaugh explained that his opioid addiction was the reason he lied to law enforcement, saying it made him paranoid. He said after speaking with Paul and Maggie at the dog kennel, he returned to the house to lay down. That was when the shootings happened.
Palm Beach County (Florida) State Attorney Dave Aronberg told Newsweek that he believes Murdaugh testified despite advice from his defense team.
"I don't believe him," Aronberg said. "I think the reason he testified is because he knew he needed to explain his voice on the video recording, and it was a piece of evidence he didn't account for."
Murdaugh Interfered With the Crime Scene
Murdaugh also testified that he touched both bodies before law enforcement arrived. He said he attempted to turn over Paul, who was lying face down. He said he tried to check Paul's pulse as well.
While he tried to turn his son over, Murdaugh said Paul's phone fell out of his pocket.
Murdaugh admitted that he picked up Paul's phone and put it back. Murdaugh also admitted that he touched Maggie but couldn't specify where. He said he thought it was around her waist area.
During the exchange, blood from the bodies was transferred to Murdaugh's fingertips. He said he thought the blood came from both bodies.
Murdaugh's Use of the Word "Intentionally"
People pointed out Murdaugh's use of the word "intentionally" when he responded to defense attorney Jim Griffin's questions.
"I would never do anything intentionally to hurt either one of them," he said in his testimony.
Many people on Twitter have been critical of Murdaugh's testimony, saying they were disgusted that he referred to Paul and Maggie by nicknames. Others pointed out that Murdaugh appeared to act more like an attorney on the stand than someone who was testifying in his own trial.
Murdaugh previously worked as an attorney. During his testimony, he repeatedly referred to other testimony before his.
Murdaugh's Actions After the Killings
Murdaugh testified that he called his two brothers, one of Paul's friends and a man who did videography services for him in the past after the killings. Phone records show he also opened a group text message and conducted a Safari browser search for Whaley's restaurant.
Murdaugh testified that he tried to call his brothers and Paul's friend because he wanted somebody to be with him at the scene. As for the other actions, he said they were unintentional.
"Obviously, they're unintentional," he said. "I'm doing something with my phone trying to call people, but I'm not trying to call those people. I'm not doing a Google search for any Whaley's restaurant and I'm certainly not reading any texts."
Aronberg said that Murdaugh could reveal more information when the cross-examination occurs.
Newsweek reached out to Murdaugh's defense team for comment.