Alex Trebek's Handpicked 'Jeopardy!' Successor Laura Coates Says Producers Rejected Her
CNN legal analyst Laura Coates said Jeopardy! producers wouldn't let her try out to host the show, despite the fact she had been handpicked by Alex Trebek.
Before his November 2020 death, beloved presenter Trebek discussed who he would like to replace him on the long-running show, mentioning Los Angeles Kings TV play-by-play voice Alex Faust, as well as Coates.
He told TMZ founder Harvey Levin on his show Objectified back in 2018: "There is an attorney, Laura Coates. She's African American and she appears on some of the cable news shows from time to time. Very bright, very personable."
After Trebek's statement was made public, Coates tweeted in July 2018: "Incredibly honored & humbled @Jeopardy Alex Trebek 1) knows who I am 2) thinks I'd be a great host of my fave game show ever that I grew up watching w/ my family & still watch w/ my own kids (who saw him say this & now think I'm a genius) #Dying."
During an appearance on Tamron Hall, which aired on Monday, Coates told the titular host that as a lifelong Jeopardy! fan, the endorsement from Trebek for the coveted job was hugely flattering.
"I actually was as shocked as anyone else was when he first said it," she recalled. "I never met him. I'm a lifelong fan of Jeopardy! I mean, I sometimes watch it twice in a night and play it back for my kids so I have all the actual answers so I look even smarter to my children.
"And I was thrilled when he said my name, and I thought, 'My God. This person that I have watched my whole life really, even knows my name let alone thinks that I would be worthy enough to fill his shoes, which frankly can't be filled?'"
However, the author of Just Pursuit: A Black Prosecutor's Fight for Fairness said that when she reached out to the powers that be, in an effort to make her dream a reality, she was flatly denied.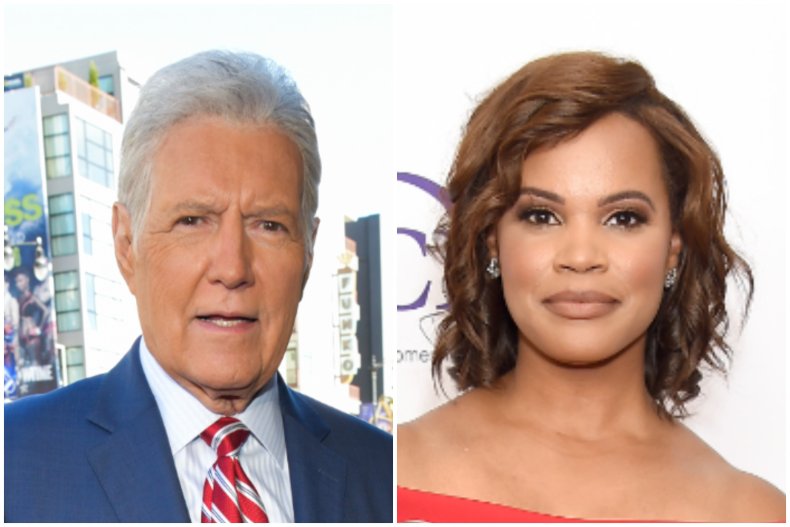 Princeton alum Coates said: "I asked for the opportunity when it came time, when they were looking for people to possibly fill in. I certainly raised my hand and knocked on doors and found them closed. And I asked for the opportunity.
"I was told 'no,' which is one of those moments... when you have to remember to wear your own jersey."
She went on: "You have to remember to continue to be your own champion in other respects and sometimes the vision that you have for yourself, or those that surprise you – other people – don't align with what happens and that happened there.
"But I tell you, with the work I do now, do you know how much easier my life would be if I had the answers in advance?"
Newsweek has contacted a representative of Jeopardy! for comment.
While Coates wasn't seen standing at the lectern, a host of stars—including Robin Roberts, Anderson Cooper, Katie Couric, LeVar Burton, Savannah Guthrie and Aaron Rodgers did step in to guest host Jeopardy! over the bulk of Season 37.
In August, it was announced that Jeopardy! Executive Producer Mike Richards had landed the job, with Mayim Bialik hosting specials and tournaments.
Just nine days later, Richards stepped down from his hosting role, amid a scandal surrounding previous sexual harassment and discrimination lawsuits, as well as the resurfacing of offensive comments he made while hosting a now-defunct podcast.
Richards was out of Jeopardy! altogether by the end of August, when it was announced that he was no longer serving as the show's executive producer.
Amid the scandal, Coates took to Twitter in August to share one of her "favorite" quotes from Trebek.
The text post, paired with an image of Trebek, read: "Don't tell me what you believe in. I'll observe how you behave and I will make my own determination."
Call Me Kat star Bialik stepped in to replace Richards, who had taped just one week of Season 38 in his role as permanent host. Bialik is sharing hosting duties with Jeopardy! all-time champ Ken Jennings for the remainder of the season.