First Sentence in Mueller Investigation: Alex Van Der Zwaan Gets 30 Days
A lawyer who once did work for a pro-Russian political party in Ukraine was sentenced Tuesday to 30 days in prison and a $20,000 fine, the first punishment announced in special counsel Robert Mueller's investigation into Russian meddling in the 2016 election.
Alex van der Zwaan pleaded guilty in February to lying to federal agents involved with the Mueller probe. He is a Dutch lawyer who in 2012 helped prepare a report about former Ukrainian Prime Minister Yulia Tymoshenko on behalf of the Ukrainian Ministry of Justice. At the time, he worked for the high-profile law firm Skadden, Arps, Slate, Meagher & Flom. In February, the firm said it was cooperating with authorities and had fired van der Zwaan.
Related: Who is Alex van der Zwaan?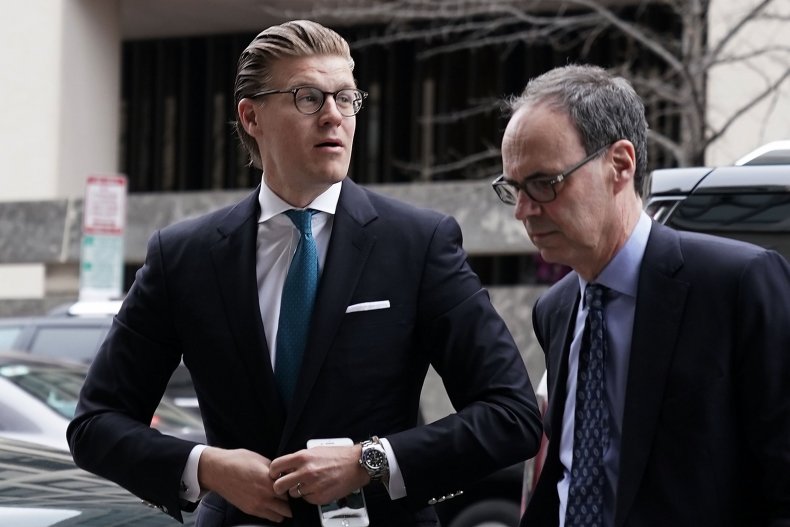 Van der Zwaan lied to the FBI about his contacts with Rick Gates, who was an official on President Donald Trump's 2016 campaign, and an individual in Ukraine whom prosecutors referred to as "Person A." Mueller's team had charged Gates with financial crimes, and days after van der Zwaan pleaded guilty, Gates pleaded guilty too.
In a March 27 sentencing memorandum, Mueller's prosecutors did not suggest a specific sentence. But they noted that "van der Zwaan is a person of ample financial means" and can "pay any fine imposed," citing the fact that his father-in-law is a Russian oligarch. The prosecutors also said that his wife's pregnancy "would not preclude a term of incarceration," though they wrote that a sentence enabling him to be in the United Kingdom for the birth in August "would be within the recommended guidelines' range."
In a court filing March 28, lawyers for van der Zwaan requested that the 33-year-old not serve any prison time and noted that his wife is pregnant. "Alex van der Zwaan is a loving husband, expectant father, devoted son and caring friend and godparent," the lawyers wrote. "A few months ago, he was a successful attorney with bright career prospects. Now, his world has collapsed as a result of his decision to lie to law enforcement."
The lawyers added, "Alex has already suffered severe consequences from his offense," noting that he has had to stay in the United States during the court proceedings. "He lives alone in a hotel in a city where he has no close friends. His days are empty and lonely." The lawyers called for "a non-custodial sentence with an appropriate fine."
During the sentencing hearing on Tuesday, van der Zwaan reportedly told the court, "What I did was wrong. I apologize to the court for my conduct."
Tuesday's sentencing is the first in the Mueller probe, which now has named 19 defendants.