Former Trump Aide Pleads Guilty to Conspiracy Against the United States, Making False Statement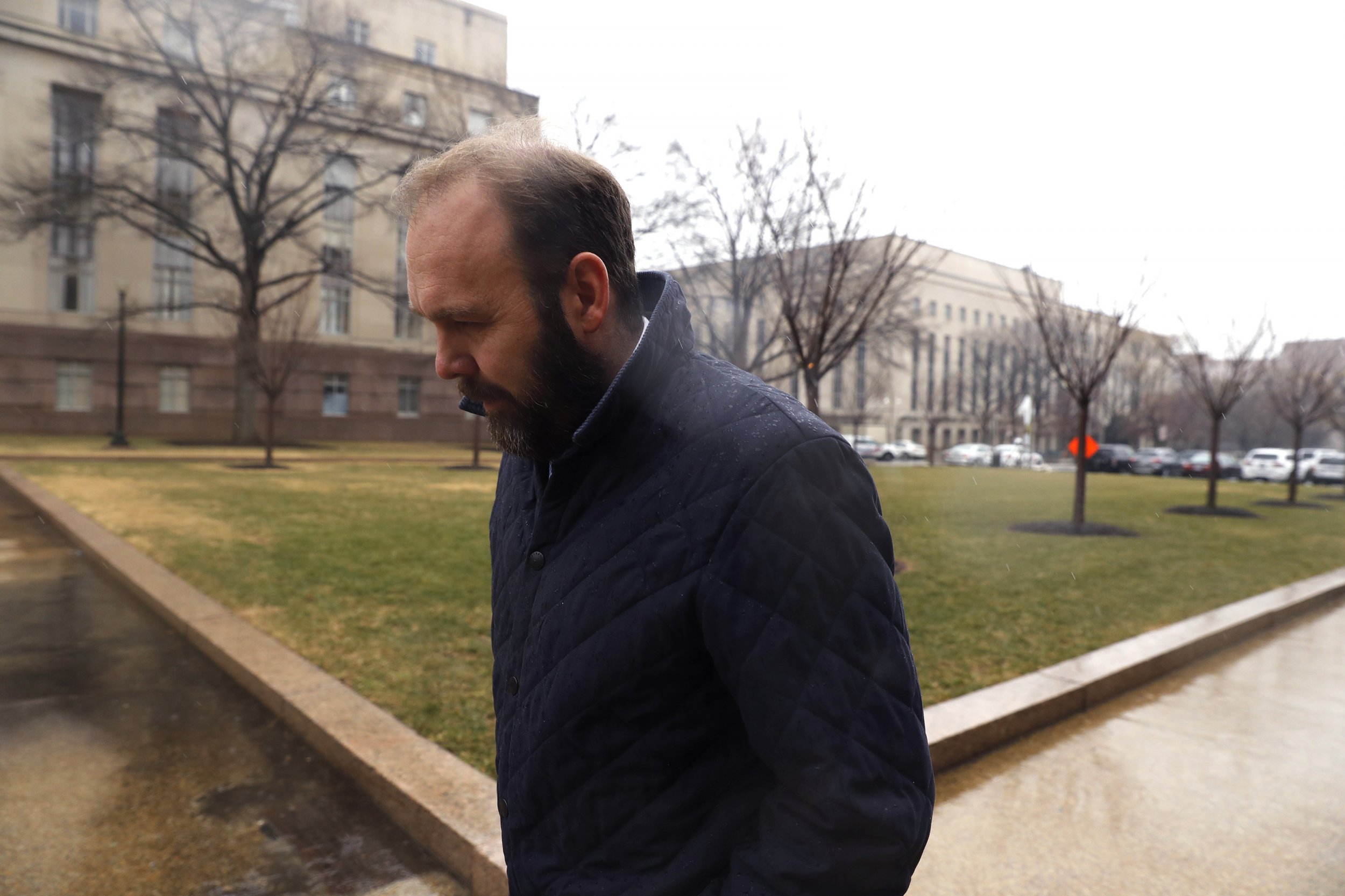 Updated | Former Donald Trump campaign aide Rick Gates pleaded guilty at a hearing Friday to charges of federal conspiracy and making false statements.
Mueller's team first indicted Gates and his longtime associate, Paul Manafort, Trump's former campaign manager, last October on charges including Foreign Agents Registration Act (FARA) violations. On Thursday, a grand jury in Virginia issued a new indictment against the pair, containing new charges that include income tax violations.
The charges to which Gates pleaded guilty on Friday relate only to the October indictment filed in Washington, D.C., and not the one filed Thursday in Virginia. That suggests Gates will still face the charges in Virginia.
Related: Read Mueller's new indictment against Manafort and Gates
Manafort responded in a statement Friday afternoon to Gates's guilty plea by questioning why his former business partner would not continue to fight against the charges against them.
"Notwithstanding that Rick Gates pled today, I continue to maintain my innocence. I had hoped and expected my business colleague would have had the strength to continue the battle to prove our innocence," Manafort said. "For reasons yet to surface he chose to do otherwise. This does not alter my commitment to defend myself against the untrue piled up charges contained in the indictments against me."
Later on Friday, following the guilty plea and the Manafort statement, the special counsel announced a superseding indictment against Manafort in Washington, D.C. The new indictment contains five counts, related to money laundering, false statements and FARA violations.
Gates is the fifth person to publicly plead guilty in the Mueller probe. There had been speculation for days that such a plea was forthcoming. Thomas Green, a lawyer listed on the court docket for Gates, did not respond to requests for comment on Friday.
Gates has been a less public figure than Manafort, who has filed an ongoing lawsuit against the Department of Justice, Deputy Attorney General Rod Rosenstein and Mueller, claiming that the special counsel's investigation has gone beyond its legal authority.
On Tuesday, Gates's name surfaced in a special counsel charge against Alex van der Zwaan, a Dutch lawyer. Van der Zwaan pleaded guilty to lying to federal agents about contact he had with Gates when they were involved with compiling a report on behalf of the Ukrainian government.
Trump does not appear to have commented publicly about Gates. In October, following the initial indictment, he tweeted about the allegations, "Sorry, but this is years ago, before Paul Manafort was part of the Trump campaign. But why aren't Crooked Hillary & the Dems the focus?????"
During a meeting in the Oval Office with Australian Prime Minister Malcolm Turnbull on Friday afternoon, Trump did not respond to a question from a reporter about Gates.
Additional reporting by Greg Price. This article has been updated to reflect Rick Gates's guity plea and to include a statement by Paul Manafort. It was later updated again to include information about a superseding indictment returned Friday against Manafort.
Gates Information by Max Kutner on Scribd