Alexandria Ocasio-Cortez, Bernie Sanders and Elizabeth Warren Pledge Together to End U.S. 'Forever War'
A group of eight congressional lawmakers have signed a pledge put forward by veterans to end the United States' involvement in "forever war."
Common Defense, which has more than 20,000 veteran members in all 50 states, launched the pledge on Monday with the backing of three senators and five members of the House of Representatives. All those who have sponsored the pledge thus far are part of the Democratic caucus in each chamber, primarily hailing from the party's more progressive flank.
They are Senator Bernie Sanders from Vermont (an independent who caucuses with Democrats), Senator Elizabeth Warren from Massachusetts, Senator Jon Tester from Montana, Representative Ilhan Omar from Minnesota, Representative Alexandria Ocasio-Cortez from New York, Representative Rashida Tlaib from Michigan, Representative Ro Khanna from California and Representative Mark Pocan from Wisconsin. Notably, two of the signatories, Sanders and Warren, are also 2020 presidential candidates.
"The United States has been in a state of continuous, global, open-ended military conflict since 2001. Over 2.5 million troops have fought in this 'Forever War' in over a dozen countries—including Afghanistan, Iraq, Syria, Yemen, Jordan, Niger, Somalia, and Thailand," reads the pledge signed by the lawmakers.
It goes on, "I pledge to the people of the United States of America, and to our military community in particular, that I will (1) fight to reclaim Congress's constitutional authority to conduct oversight of U.S. foreign policy and independently debate whether to authorize each new use of military force, and (2) act to bring the Forever War to a responsible and expedient conclusion."
Alexander McCoy, political director for Common Defense, told The Intercept that the politics behind endless wars are deeply personal to the members of his organization.
"We're watching the Taliban govern areas [in Afghanistan] where we deployed, and where our friends died," McCoy pointed out. "We're watching Trump destabilize entire regions. We're watching our friends who we served with now on their eighth and ninth deployments. We're seeing our kids now will be old enough to enlist and having to have hard conversations about that," he explained.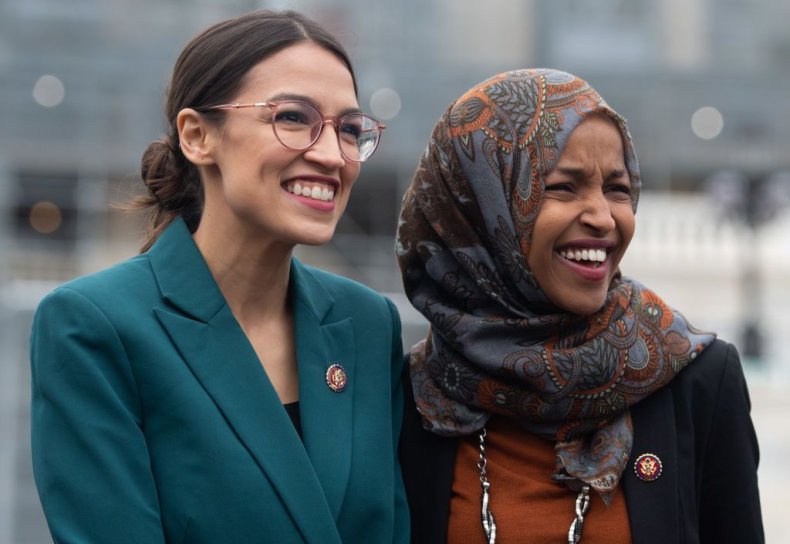 Omar, who immigrated to the U.S. as refugee of a war-torn country, told The Intercept that her meeting with the veterans made her emotional.
"I don't really spend a lot of time with people who have engaged in war," said Omar, who has been bold in her criticism of U.S. foreign policy since taking office in the House. "I suppose we're all ultimately survivors and we all have to live with the aftermath of what took place. I had not really heard a clear perspective from people where we're the ones with the guns."
Trump has also repeatedly criticized U.S. involvement in foreign conflicts, often citing the economic cost to the country. But his decision in December to withdraw troops from Syria and his efforts to pull out of Afghanistan have drawn significant pushback from many Republicans and Democrats in Washington.
Warren and Sanders both said publicly said they supported the decision to withdraw from Syria, although they took issue with the abrupt and seemingly unplanned manner in which the announcement was made. Army General Joseph Votel, the top U.S. military commander in the Middle East, told the Senate Armed Services Committee last month that he "was not consulted" prior to Trump's decision, according to The Wall Street Journal.
Posting about the Common Defense pledge on Twitter, Sanders pointed out that "American troops have been in Afghanistan for nearly 18 years, Iraq since 2003 and in Syria since 2015."
"The American people do not want endless war," he wrote. "Congress must reassert its Constitutional authority over the use of force and responsibly end these interventions."