Alexandria Ocasio-Cortez Blasts Jeanine Pirro, Fox News After Ilhan Omar Receives Death Threat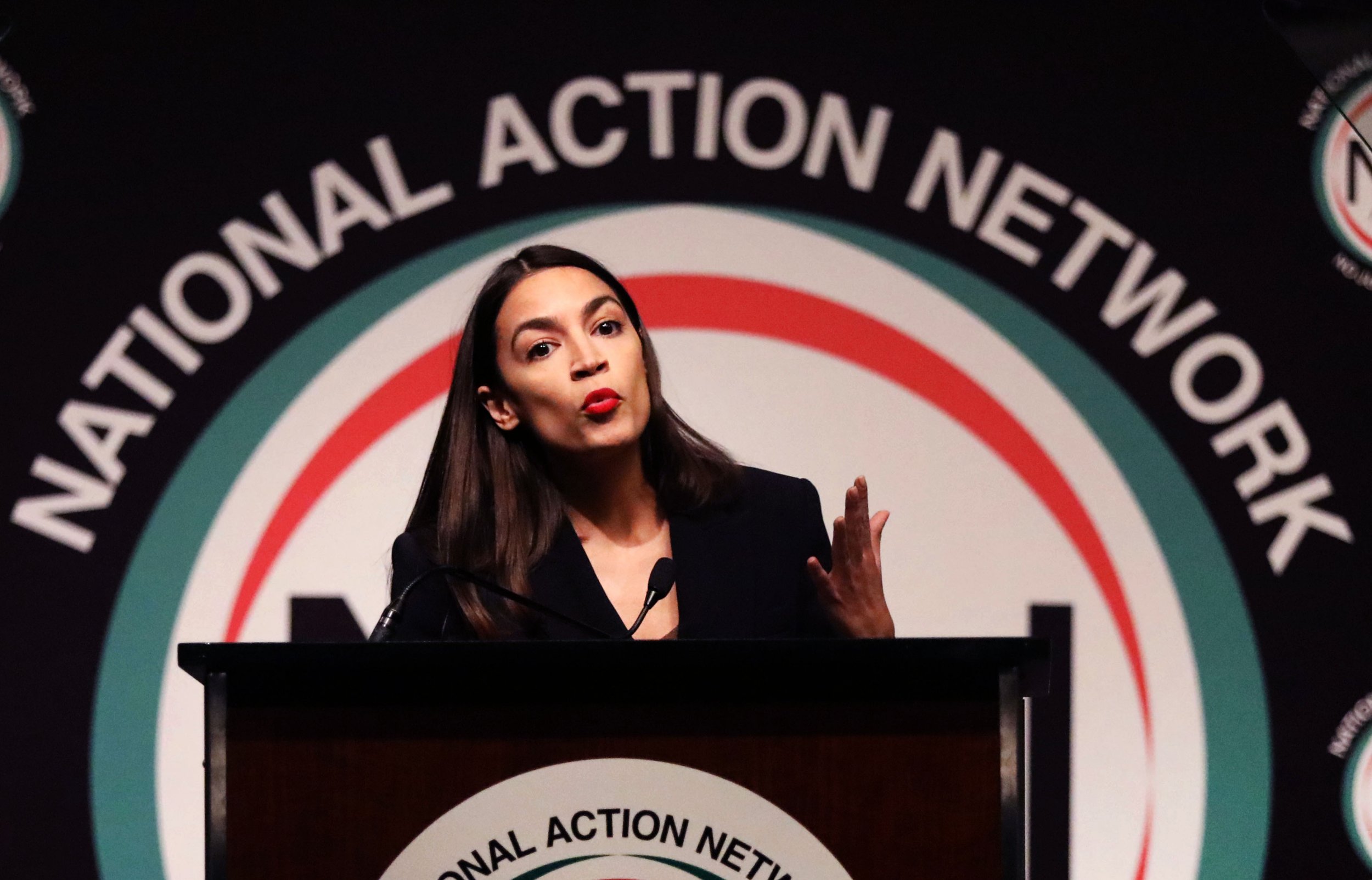 The fallout continues weeks after Fox News host Jeanine Pirro made comments that saw her temporarily bumped from the network for comments some called Islamophobic.
Last month, freshman Rep. Ilhan Omar received a call to her Washington D.C. office where Patrick Carlineo Jr. threatened to "put a bullet in her f--king skull" and asked if the Minnesota congresswoman was working for the Muslim Brotherhood.
While the call from Carlineo hasn't been linked to comments Pirro made during her March 9 Justice with Judge Jeanine television show, New York Rep. Alexandria Ocasio-Cortez used a tweet to discuss both situations on Saturday.
"Understand when Jeanine Pirro goes on Fox + rallies people to think hijabs are threatening, it leads to this. Folks who imply we're "bad" for politics, the party, the country, etc. have no idea the threats we deal w/ because of that kind of language. Talk policy, not personal," the New York congresswoman said.
Pirro's comments on March 9 stemmed from remarks made by Omar that some have said were anti-Semitic.
"[Democrats are] not anti-Israel — she is. Think about this. She's not getting this anti-Israel sentiment doctrine from the Democrat party. So, if it's not rooted in the party, where is she getting it from? Think about it. Omar wears a hijab, which according to the Koran 33:59, tells women to cover so they won't get molested. Is her adherence to this Islamic doctrine indicative of her adherence to Sharia law, which in itself is antithetical to the United States Constitution?," Pirro said, addressing her comments to Speaker of the House Nancy Pelosi.
Omar has pledged her support for Ocasio-Cortez's cornerstone legislation, the Green New Deal, and the two women have frequently been paired with Michigan Rep. Rashida Tlaib as ground-breaking freshman lawmakers.
The threat called into Omar's office last month is not the first for the congresswoman. Omar was among several politicians and media personalities on a hit list compiled by U.S. Coast Guard lieutenant Christopher Hasson who was arrested in February on drug and weapons charges and believed to have been planning acts of domestic terrorism, though he has not been charged.
Pirro's show was missing from Fox News' schedule on March 16 and 23 but returned on March 30 following repeated calls from President Donald Trump to put Pirro back on the air.
"Bring back @JudgeJeanine Pirro. The Radical Left Democrats, working closely with their beloved partner, the Fake News Media, is using every trick in the book to SILENCE a majority of our Country. They have all out campaigns against @FoxNews hosts who are doing too well. Fox must stay strong and fight back with vigor. Stop working soooo hard on being politically correct, which will only bring you down, and continue to fight for our Country. The losers all want what you have, don't give it to them. Be strong & prosper, be weak & die! Stay true to the people that got you there. Keep fighting for Tucker, and fight hard for @JudgeJeanine. Your competitors are jealous - they all want what you've got - NUMBER ONE. Don't hand it to them on a silver platter. They can't beat you, you can only beat yourselves!," the president wrote in a series of tweets.
Following Pirro's comments, Fox News issued a statement saying that the network "strongly condemns Jeanine Pirro's comments about Representative Ilhan Omar. They do not reflect those of the network and we have addressed the matter with her directly."
This story has been updated to add a statement from Fox News about Jeanine Pirro's comments on Rep. Ilhan Omar.
Alexandria Ocasio-Cortez Blasts Jeanine Pirro, Fox News After Ilhan Omar Receives Death Threat | U.S.